German Jugenstil
Grand Silvered Vanity Mirror
Ca. 1900
Dimensions: Height: 18-3/4 inches Width: 28-1/2 inches Depth: 14-15/16 inches
This grand vanity mirror in the secessionist taste features three laconically designed but highly functional sections. The upper section is a large round swiveling pane of mirrored glass with beveled edges. The middle section is decorated with a head of a mythical animal, drinking water from a semi-circular reservoir, which is a removable vide poche. The bottom section is a large and semi-circular compartment, deep-indented into the base of the mirror.
$7,500
French Belle Époque
Wall Mirror
in Hand-Carved Gilded Wood Frame
~ ca. 1875-1914 ~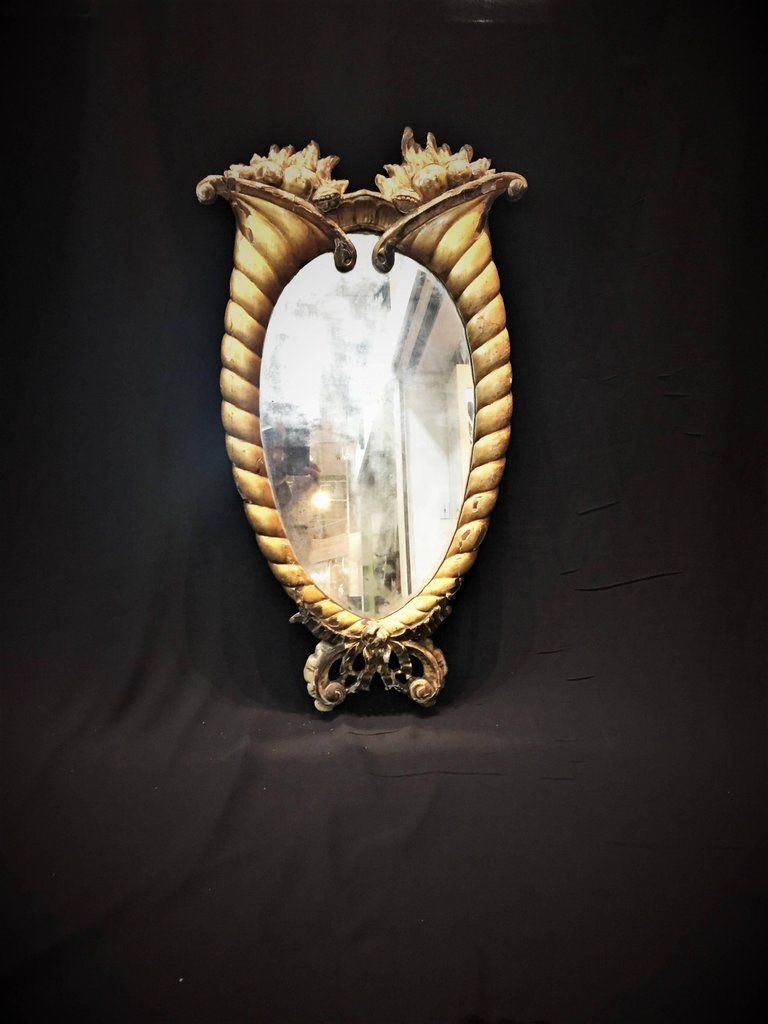 Dimensions
2 ft. 11 in. H x 19 in. W x 3 in. D 89 cm H x 48 cm W x 8 cm D
This very unusual wall mirror has most non-trivial design in the playful style of La Belle Époque. In all likelihood, it hung in the foyer of some elegant Paris apartment sometime in the last quarter of the 19th century. The hand-carved and 24-carat gilded wooden frame in the form of a pair of crossed cornucopia encircles the original oval reflecting glass. Despite the fact that the old gilding showered in some places and the state of the glass is not ideal, it is this untouched original state and the patina of time that gives this object a unique charm of antiquity.
$3,500