Franz Xavier Bergman
Austrian Jugenstil
Vienna Bronze Sculptural Desk Inkwell
Ca. 1900s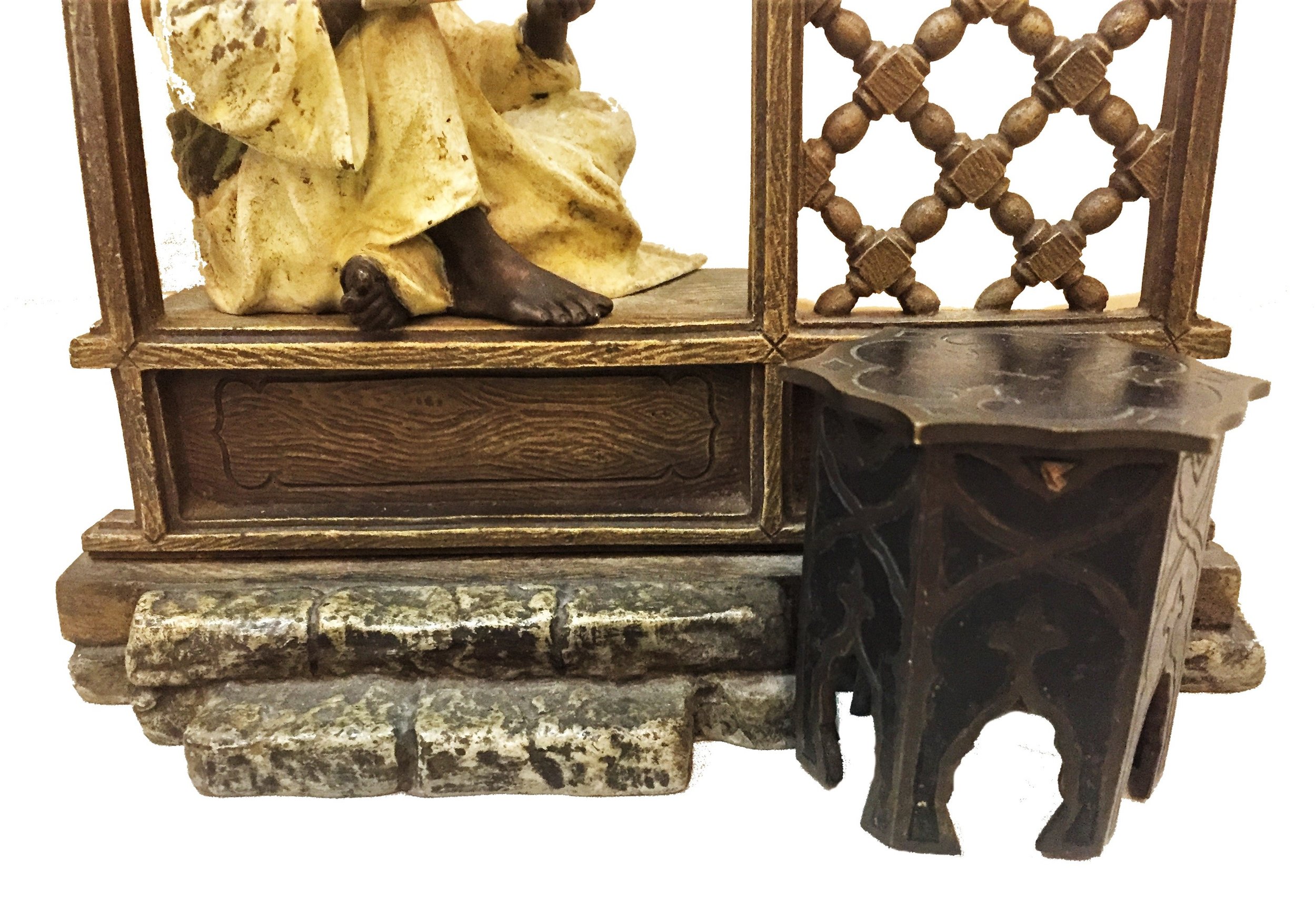 Dimensions:
Height: 9.33 inches Width: 6.75 inches Depth: 2.5 inches
This rare and highly collectible desk inkwell is made of cold-painted bronze in the best traditions of the world-famous Viennese foundry of Franz Xavier Bergman.
The composition consists of an oriental man sitting in a relaxed and natural position in the doorway of his home and writing a letter, his gaze fixed on the distance. He thinks of what he would write next. To one side of him is a small tea table, the top of which is a hinged lid of the inkwell. The inkwell itself, made of white porcelain with a gilded rim, is original to the inkwell and in excellent antique condition.
Franz Xaver Bergman (1861–1936) was the owner of a Viennese foundry who produced numerous patinated and cold-painted bronze oriental, erotic and animal figures, the latter often humanized or whimsical, humorous objects d'art. Cold painted bronze refers to pieces cast in Vienna and then decorated in several layers with so-called dust paint; the expertise for the mix of this kind of paint has been lost. The color was not fired hence "cold painted". Mainly women working at home, a typical cottage industry, carried out the painting. Noted for his detailed and colorful work, Bergman was signing his creations with either a "B" in an urn-shaped cartouche, or "Nam Greb" - for "Bergman" in reverse. These marks used to disguise his identity on the erotic works.
$1,600
Jugendstil
Bronze Letter Opener
Germany, ca. 1900
Dimensions: 10" long x 1.75" wide | Marked: BRONZE on the edge of the handle.
Probably German, this is large original Jugendstil fine cast bronze figural nude letter opener, circa 1900.
The frontal side of the handle is a relief representation of happiness and good fortune - a young woman, holding an angel on one of her shoulders.
The reverse side of the handle has an engraved monogram 'WM'.
$750
Vintage
Cartier
18-Karat Gold
Small Picture or Photo Frame
1950s
The base is stamped 'Cartier-18K-Italy' and bears a model number.
Dimensions:
Height: 3-7/16 inches Width: 2-7/8 inches Depth: ¼ inches
This small-scale 18k gold elegant picture frame by Cartier was made in Italy, in the 1950s. The backside of the frame trimmed with the finest morocco, and the inside is covered with moiré. The simplicity of its lines and nobility of the gold turn this purely utilitarian into a precious object! Perfectly sized for luxury traveling!
sold
A L'Emeraude
Swiss Art Deco
Brass and Enamel Photo Frame
1920s
Dimensions:
Height: 9-7/16 inches Width: 6 inches
A l'Emeraude Chronometry & Jewelery, founded in 1909, has forged a reputation for excellence in Switzerland and internationally. It has welcomed many crowned heads, an increasingly diverse, and numerous clientele. Still in existence today after over 110 years in business, since June 2017 it now houses a new unique space in Lausanne, Switzerland, entirely dedicated to Patek Philippe and Rolex watches.
$950
Franz Xavier Bergman
Cold-Painted Vienna Bronze
Tiger Skin Throw ~ Vide Poche
Late 19th Century
The bottom is stamped with a "B" in an urn-shaped cartouche for "Bergman", and "Geschützt" ("Protected"), serving the same purpose as "Copyright" today.
Dimensions:
Length: 6 1/2 inches (appr. 16.25 cm)
Width: 3 9/16 inches (appr. 9.5 cm)
Max height: 1/2 inches (appr. 1.25 cm)
This unique objet d'art of cold-painted bronze done in the tromp l'oeil technique, depicting a tiger skin, as if carelessly thrown on the floor. Besides meticulously detailed painting, the likeness with the real thing is further enhanced by a few 3-D folds, as well as one of the paws and tail messily thrown on the floor. This most original decorative objet d'art can serve multiple purposes - a coaster, a jewelry tray, a desk valet, or simply a beautiful desk or table decoration!
Made in the last quarter of 19th century in the best traditions of the world-famous Viennese foundry of Franz Xavier Bergman, it is in excellent antique condition with only some light wear characteristic of its age of approximately 120 years!
Franz Xaver Bergman (Austrian, 1861–1936) was the owner of a Viennese foundry who produced numerous patinated and cold-painted bronzes - Oriental, erotic and animal figures, the latter often humanized or whimsical, humorous objects d'art. "Cold painted bronze" refers to pieces cast in Vienna and then decorated in several layers with so called dust paint, where the color was not fired hence "cold painted". The know-how for the mix of this kind of paint has been lost since then...
$1,900
Pavel Sazikov
Silver Box with Gilt Interior
St. Petersburg, Imperial Russia
Ca. 1856
This fine work of a silversmith art was made during the era of Pavel Sazikov, the original establisher of the firm, which makes it especially valuable and important for the collectors of the Russian pre-Revolutionary silver objects and applied arts. The straight sided rectangular box minimalist design is striking, especially given the time of manufacture, and the perfect rendering. The most noteworthy element of this unique design is the pool on top of the lid, in the form of a simple ring on the loop. Another big surprise is that when the lid is removed, the interior of the box and the inside of the lid are richly gilded, powerfully contrasting with the simplicity of the overall design.
Dimensions:
Length: 2 15/16 inches (7.5cm) Width: 1 3/4 inches (4.5cm) Height: 1 1/2 Inches (3.75cm)
Weight:
5 troy ounces (142.1 grams)
Markings:
84° Russian Silver Standard: The Russian silver standard is based on the zolotnik, a word derived from the
Slavonic word for gold. The zolotnik was originally a gold coin circulating in Kievan Rus in the late 11th century,
And was originally pegged to 1/96th of a Russian pound, which was later changed to 1/72nd of a Russian pound.
One zolotnik is equal to 4,266 grams.
City hallmark of St. Petersburg: Two crossed anchors and a scepter.
Master's hallmark: In Cyrillic: "PS" (ПС) for Paved Sazikov (Павел Сазиков)
Assay master mark: In Cyrillic: "EB" (ЭБ) for Eduard Fyodorovich Brandenburg (Эдуард Федорович Бранденбург), and dated: 1856.
Pavel Sazikov (1793-1877)
A contemporary of Carl Fabergé, Pavel Sazikov is a highly important and respected 19th century Russian silversmith. The firm of Sazikov was founded as a workshop in Moscow by Pavel Sazikov in 1793. Though it remained family run, the business quickly expanded. After Pavel's passing, his son Ignatti (1796-1868) succeeded him in running the business. Ignatti expanded the firm to Saint Petersburg in 1842. Around that time, Sazikov was appointed the title of court supplier, and the firm was given the right to incorporate the imperial double eagle into the Sazikov trademark.
After Ignatti's passing in 1868, his three son continued to run the business in Saint Petersburg, until that branch was closed in 1877. The Moscow branch continued for another ten years before it was taken over by another firm
$1,400
Enameled & Gilt Silver
Snuffbox with Hunting scenes Miniatures
India, 19th Century
Dimensions:
Height: 1 1/16 inches Width: 2 3/8 inches Depth: 2 inches
Weight: 3 ounces
This amazingly beautiful precious 19th century bauble from India is an octagonal silver casket, completely covered with hand-painted ornamental and miniature multicolored enamels and features a gilded interior. Fitting one's hand very comfortably, it was intended, in all probability, to serve as a snuffbox.
The top hinged cover of the snuffbox is decorated with symmetric floral ornament and medallions. The lateral surface along the entire perimeter is filled with very thinly executed four miniatures with scenes of hunting and animals, alternating with four floral ornamental miniatures. The most interesting are, of course, miniatures with hunting, scenes which alternately depict a lion torturing a bleeding bull, a horse, a tiger bent over a deer and a hunted down buffalo.
As the silver hallmarks were not found, therefore, judging by the fineness of the jeweler, painter and engraver workmanship, one can assume with a high degree of certainty that this box was made on special order – probably, as a gift to a wealthy man.
Since the state of the snuffbox is almost perfect and two engraved vignettes (one on the inside of the lid for the owner's initials, and the other on the bottom of the box for the inscription) are unfilled, one can assume with even greater confidence that this gift was never given.
sold
Meiji Period
Satsuma FLOWER Vase
A Fine Japanese Hand-Painted, Enameled and Gilded Porcelain
~ 1000 Faces of Immortals, Samurai and Dragon ~
Ca. 1890
Dimensions:
Height: 8 3/4 inches Width: 7 1/2 inches Depth: 6 1/2 inches
The bottom of the vase has the distinct Satsuma porcelain Meiji period markings with the circle around the cross at the top.
Excellent antique condition, with minor age-appropriate wear. No cracks, chips, repair or restorations.
~
The originality of this sophisticated hand-painted and enameled & gilded vessel is in its absolutely unique form, certainly Japanese in its esthetics and proportions; but, which already carries in itself the unmistakable elements of the Art Nouveau era that just has began in Europe.The exterior of the vase is decorated with the classic Japanese plot of 1000 Faces of Immortals, Samurai and Dragon in the best tradition of Japanese Art, a blend of beauty and ferocity. The abundant use of gold color in the design sets a beautiful stage for the multi-color portrait depictions. The Meiji period (明治時代, Meiji-jidai), also known as the Meiji era, is a Japanese era which extended from September 8, 1868 through July 30, 1912.
sold
French Art Nouveau
Etched & Hand-Engraved Crystal and Silver Repose
~ Perfume Bottle WITH IRISES ~
Body Lotion or Bath Salt Jar
Ca. 1900
Dimensions:
Height: 5 1/2 inches Max. width: 3 1/2 inches Bottom diameter: 2 7/8 inches
This fine and unusual French antique perfume bottle of a superb quality and workmanship and can also function as a body lotion or bath salt jar/bottle. After over a hundred years, today this elegant object is ready to be used for the intended purposes, and would be an exquisitely tasteful decoration for a dressing table, dresser or vanity of the most demanding of the ladies. It is made of a very thick crystal and has a sterling silver hinged round lid. The crystal part of the bottle is masterfully etched and hand-engraved throughout its perimeter with the Irises pattern, a floral motif made one of the most popular during the Art Nouveau era. The top of the sterling silver hinged round lid is also decorated with a charming bouquet of the same flowers, rendered in the repose technique. Both, the neck and the top cover of the lid are stamped with a full set of French hallmarks, half-erased due to long-term use and therefore illegible. The repose bouquet of Irises on the cover is stamped additionally with an essayist' hallmark with artist initials "RD". This beautiful perfume bottle is in fine antique condition consistent with age, with minimal wear to crystal and silver parts, no cracks, no hairlines, no damages, no restorations.
$450
Renée Mayot
French Commemorative Bronze Medal
~ Rudolf Nureev ~
Ca. 1996
Dimensions:
Diameter: 3 1/4 inches / 81mm Thickness: 1/4 inches / 7mm Weight: 10.77oz / 305.3g
This beautiful commemorative bronze medal was created in 1996 by the world-famous "artiste médailleur", Renée Mayot and minted by the Monnaie de Paris (Mint of Paris) for the Association of Friends of Rudolf Nureeev.
Side I: Rudolf Nureeev profile seems to spring out of the surface of the medal with great tension that animates and structures the whole composition in a very deliberate way.
Side II: In contrast, the reverse of the medal is extremely delicate, depicting a scene from Nureev's ballet "Le Corsaire". His pose is full of elegance and lightness, but also shows the strength of the character.
Renée Mayot
Born in 1947, a graduate of the Ecole Nationale Superieure des Beaux Arts in Paris and winner of the Casa Velasquez award, Renée Mayot is the author of numerous medals, edited or produced by the Monnaie de Paris. In her works, she combines her passion for drawing , modeling, engraving and composition creations. Bearing witness to this very personal artistic approach, each of Renée Mayot works reconnects us with the world around us.
Education and Achievements
- School of Fine Arts of Reims - C.A.F.A.S.
- School of Decorative Arts in Strasbourg - Diploma sculpture.
- National School of Fine Arts in Paris - Higher National Diploma of Visual Arts, medals engraving section.
- Pierre David-Weill Drawing Award.
- Casa Velasquez Award. - - Georges Wildenstein Prize.
$550
Austrian Jugenstil
Silver-Plated Inkstand & Rocker Blotter
~ MEN'S Writing Desk Set ~
Ca. 1900
Wonderful in its unique Austrian Jugenstil style and very strong masculine design, this stunning desk set of inkstand and ink rocker blotter was made in Austria (probably, Vienna), circa 1900. Unmarked. Excellent condition with minor signs of usage. For more details, please refer to photos.
Dimensions:
Inkstand base: H:6 x W:9 x D:6 inches Rocker Blotter: H:3 1/4 x W:5 1/4 x D:2 3/4 inches
Austrian Jugendstil The Austrian Jugendstil differs dramatically in style from the other European styles. Vienna was the heart of an independent movement. In contrast to the floral patterns and shapes of the French artist Charles Plumet a special unique style was developed in Vienna.; clear lines were introduced into architecture (Adolf Loos: Villa Steiner/ House at Michaelerplatz; Otto Wagner: Vienna`s City Railway/ Post Office and Interior in Vienna) as it was also introduced into furniture design (Josef Hoffmann, Kolo Moser).The Vienna artists joined together with writer Hermann Bahr, the painter Gustav Klimt and the architect Otto Wagner to form the "Wiener Secession". Artistic disciplines were not separated from each other in Jugendstil, but flowed together. The artists endeavored to complete a "Gesamtkunstwerk" (total art work). They brought their Avant Garde ideas into all fields of art and daily life: Literature – Music – Painting – Architectur – Furniture design – Cloth weaving – Wallpaper – Lighting – Jewelry – Cutlery – Glass – Heating systems. Their appreciation of details in their work is expressed in the use of: Faceted Glass, decorative and ornamented wood and metalwork.
A Brief History of Ink Blotters Back in the days when everyone used quill pens and fountain pens the one thing that could be found on every office or writing desk was an ink blotter. Ink blotters were usually made of a soft absorbent paper formed into a card and were used to dry up excess ink. With the invention of ballpoint pen in the 1950s, ink blotters disappeared from the average office desk. Today, these vintage blotters, made in the 1930s and 1940s, are very highly prized and sought after collectibles. Ink Blotters were a very popular form of advertising that were often given away by fountain pen manufacturers, banks, merchants and especially Insurance Companies. Antique Ink blotters were as common as business cards are today. Written references to ink blotting paper in America have been found beginning in the late 1700s. It was not until the 1850s that blotting paper came into common use in America, when Joseph Parker and Son started manufacturing blotting paper. In the late 1800s, a patent was issued for improved blotting paper which featured a smooth surface on one side and a blotting surface on the other. Rocker blotters were an important piece of desk equipment from the late 1880s until the 1950s. This type of blotter had a handle 2 to 5 inches long and a rounded surface 2 to 3 inches wide where the blotting paper was attached. Some of these rocker blotters were very ornate and made of wood, glass, silver or brass and are also sought after by collectors.
$600
Dutch baroque
~ silver Niello Snuff Box ~
Ca. 1825
Presented here is an early 19th century Dutch silver snuff box (ca. 1825) of an oval form. The stand-away hinged oval cover is beautifully decorated with black niello enamel, depicting a tavern scene, with peasants dancing and having a great time. The interior of the box is gilded. The miniature on the cover is surrounded byan elegant design of leaves and vines. The sides and underside of the box are completely covered with fine geometric pattern in the niello technique..
DIMENSIONS
Length: 3 3/8 Width: 2.5 inches Height: 1 inch Weight: 3.56oz (101g)
NIELLO Niello is black metallic alloy of sulfur with silver, copper, or lead that is used to fill designs that have been engraved on the surface of a metal (usually silver) object. Niello is made by fusing together silver, copper, and lead and then mixing the molten alloy with sulfur. The resulting black-colored sulfides are powdered, and after the engraved metal, usually silver, has been moistened with a flux, some of the powder is spread on it and the metal strongly heated; the niello melts and runs into the engraved channels. The excess niello is then removed by scraping until the filled channels are clearly visible, and finally the surface is polished. The contrast of the black niello against the bright silver surface produces an attractive decorative effect.
SNUFF BOXES Inhaling snuff, or snuffing, as it is also called, was first witnessed by a European in 1493, when Friar Ramón Pane, who had arrived in the new world courtesy of Christopher Columbus, was living as a missionary among Haiti's indigenous Taino. Until then, tobacco had been unknown to Europeans, but the use of tobacco spread like a weed on the continent during the 1500s. By the second half of the 17th century, ornate boxes were being produced to keep the precious powder dry. At the beginning of the 18th century, French jewelers began making snuff boxes out of silve and gold set with diamonds, amethysts, and sapphires. By 1740, specialized artisans took over the production of these ornate tabatières, which they engraved, chased, and enameled. A close cousin of the tabatière was the tabatière à cage, whose sides, tops, and bottoms featured gold or metal frames holding panels of decorated ivory, agate, tortoiseshell, or porcelain. The shapes of these boxes was not limited to simple rectangles. Porcelain containers resembling trunks were common, as were ovals, but tabatières shaped like shells were more rare. And while materials were often enough for their decoration, sometimes these snuff boxes were hand painted, depicting everything from miniature landscapes and bucolic scenes to tiny portraits or grisaille cameos of their owners.
$1,300
AUSTRIAN Art Deco
Patinated Bronze and Green Agate
~ sculptural Ashtray ~
in the manner of Hagenauer
Ca. 1920's
Measurements
Max. Height: 8 1/2 inches Max. Length: 6 2/3 inches Max. Width: 6 inches
A charming carved green agate octagonal ashtray with green/black patinated bronze handle in shape of a superbly detailed and stylized slender tall man, wearing a scarf waving in the wind, and holding in his hands a little dog. Both, bronze and agate are in excellent condition.
$650
Austrian jugenstil
Vienna Cold-Painted Bronze & Marble
lizzard ~ Sculptural Paperweight
Ca. 1900
Dimensions:
Total height: 1.5 incheS Base width (max.): 4 inches Base width (max.): 6 inches
Cold-painting on bronze was a technique most popular in Austria during the Art Nouveau and Art Deco periods. Bronze figures, most of them made in Vienna, were actually covered with enamel paint. Each piece has approximately 5 to 10 coats of paint, normally of the naturalistic colors, and then skillfully patinated, or gilded. The result is a very colorful figure or lamp. The Vienna Bronze foundries have been in existence since 1850, and since then the Viennese cold-painted bronzes are famous and distinguished by their naturalistic and detailed representation of human figures, and all species of animals and insects.
$1,200
Vienna cold-painted Bronze,BONE & CANVAS
Paperweight Matchbox
Austria, XIX Century
Dimensions:
Height: 2 1/2 inches Length: 4 3/4 inches Width: 3 1/4 inches
Made in the 19th Century of bronze, marble, bone and canvas (still original!) in Vienna, this absolutely unique objet d'art is actually a very functional item - a desk Paperweight with a secret compartment, serving as matchbox. It is also very convenient for keeping all sorts of small things in it, like postage stamps, paper clips etc.
$1,200
mid-century American
Prize Trophy ~ Sales Master award
Ca. 1969
In Excellent Condition. No dings or dents.
The trophy has not been cleaned and selling as obtained.
Dimensions:
Height: 8 1/2 inches Width: 6 1/2 inches
$650
AUSTRIAN JUGENSTIL
Vienna Cold-Painted Bronze
~ MOOR'S HEAD inkwell ~
Ca. 1900
This highly collectible, original 19-Century Viennese cold-painted bronze inkwell of rare beauty and impressive size is made in the form of a Moor's head in a characteristic headdress which also serves as the lid.
Date of manufacture : c.1890

Period : ArtNouveau (1890 - 1914)

Country : Austria

Height : 7 1/2 inches

Width : 5 1/2 inches

Medium : Cold-painted bronze

Inventory number : COLL-0002
$1,350