French Belle Époque
Pierre-Eugène-Émile Hébert
The Wanderer
Patinated Bronze Sculpture
Ca. 1880s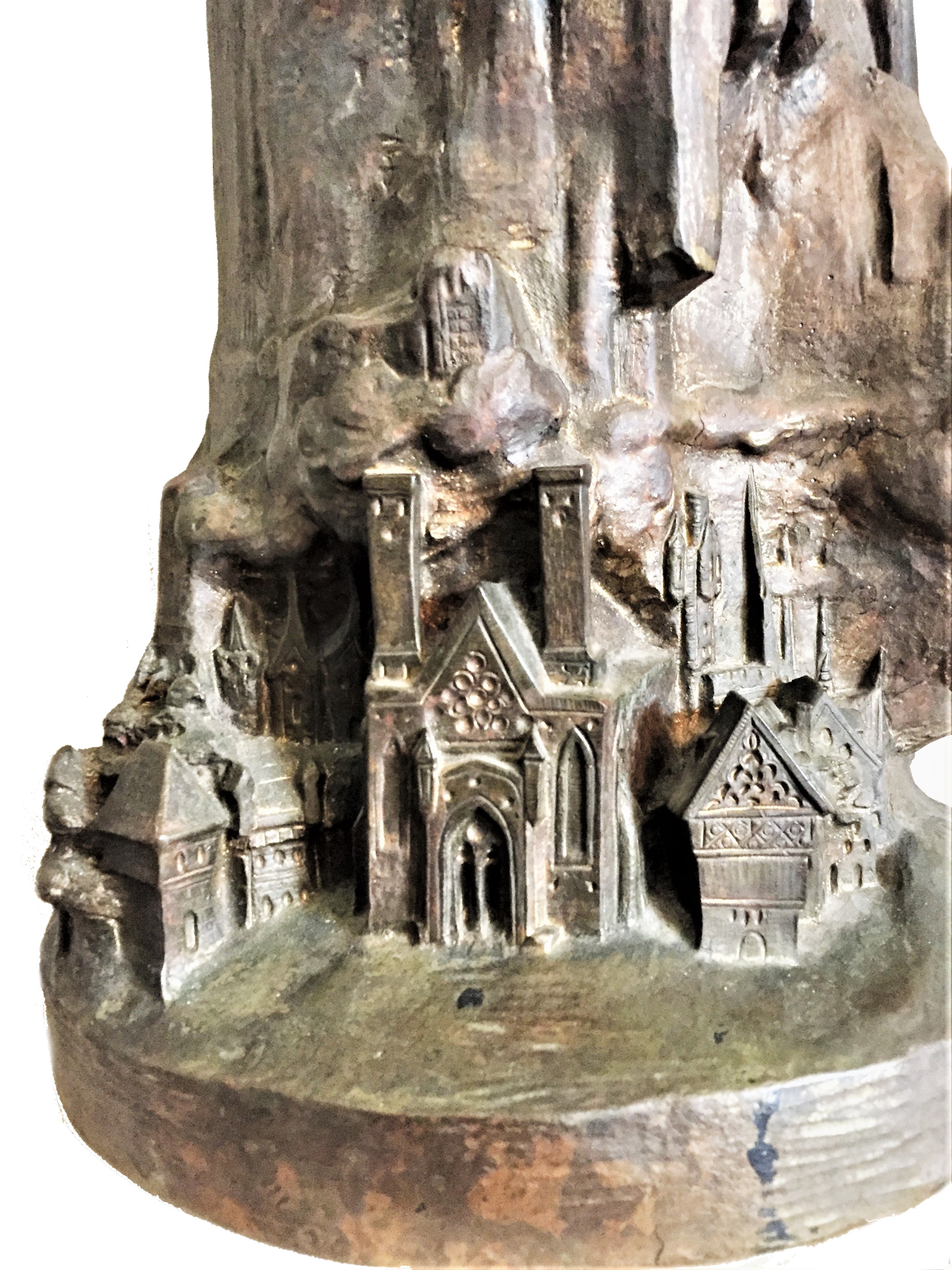 Height: 24.75" Width: 10.5" Depth: 5.75"

Pierre-Eugène-Émile Hébert (French, 1823 – 1893)
A native Parisian, Hébert apparently lived and worked in the capital until his death. He was born in 1828, and studied sculpture privately, with his father Pierre (1804-1869) and Jean-Jacques Feuchère (1807-1852), both of whom pursued modestly successful careers in the Salon and as public sculptors beginning in the 1830s. Hébert learned extensively from their very divergent paths. Whereas Pierre Hébert, a laborer's son, trained at the Ecole des Beaux-Arts, Feuchère emerged within the art-bronze industry of his family, where he also prospered, providing various founders with models throughout his career. The latter was, in fact, one of the most masterful practitioners of the romantic anti-classical historical idiom, and particularly of the neo-medieval macabre; Feuchère is best known today for his sinuous figure of Satan, a serial bronze in various sizes. Emile Hébert is the able successor to both sculptors in all such categories.
Hébert began his Salon career during the Second Republic, with portrait busts of eminent sixteenth-century figures that were immediately purchased by the government. He then exhibited statuettes representing a variety of subjects--genre, classical mythologies, and the satanic. Well respected in official circles by the mid-1850s, Hébert was chosen, along with his father, to represent France in the Fine-Arts section of the 1855 Paris Universal Exposition. The state commissioned or acquired several of Hébert's works: a Bacchus for the Tuileries Palace (1866, present location unknown); personifications for the facade of the théâtre du Vaudeville, Paris; The Oracle, a marble relief (vestibule, Musée de Vienne, Isère); portrait-statues of great French writers of the sixteenth and seventeenth centuries such as Jean-François Regnard (1880, facade, Hôtel de Ville, Paris) and François Rabelais (erected 1882, Quai Jeanne d'Arc, Chinon). Anne Pingeot discovered hitherto-unknown allegories by Hébert of anatomy and Etruscan art on the facade of the Nouveau Louvre (Pavillon Sully and between the Pavillons Daru and Denon, respectively, the latter signed and dated 1856). The sculptor showed regularly in the Salon until his death in 1893. Though he appears not to have had strong critical impact in Third-Republic exhibitions, the government of that time repeatedly chose Hébert's work to represent the nation internationally; his state-owned works appeared in the French Fine-Arts section of the 1873 Vienna Universal Exposition.
Thanks to Catherine Chevillot's unpublished research on nineteenth-century French foundries, it emerges that Hébert's lifetime reputation instead rests heavily upon his prolific work for the art-bronze industry throughout his career. Unlike most entrepreneurial animaliers and Carpeaux, who cast and marketed their own works, Hébert produced models for edition in bronze, plaster, and terracotta by other founders for at least thirty years. Though they frequently obtained reproduction rights, founders commonly identified Hébert as the sculptor in the catalogue and on the casts. He is recorded as providing models for a founder known only as E. Vittoz (a bronze Mephistopheles, for example); for another known only as E. Sévenier (a clock ornament of Hide-and-Seek, in addition to busts and groups); and for Auguste Gouge (Oedipus and the Sphinx, in bronze and plaster variants). Hébert's best-recorded and apparently longest-lived relationship, however, was with a founder today known only as G. Servant, whom the sculptor supplied with new models and variants of his Salon entries from the 1860s until Servant sold the business in 1882. Hébert's serial designs were thus seen and reviewed, possibly triggering orders at the founders' displays at the international exhibitions in London and on the continent through at least the 1870s. Nonetheless the studio sale after his death in 1893 reveals he retained reproduction rights and molds to many models, including his celebrated group Et Toujours!! Et Jamais!!
Known in various materials and sizes, Et Toujours!! Et Jamais!! remains Hébert's best-known work today. The plaster, shown in the Salon of 1859 (present location unknown), and the bronze, shown in the Salon of 1863 (possibly the 150-centimeter cast at the Spencer Museum of Art, University of Kansas, Lawrence), riveted the critics of the time, including Charles Baudelaire. Its poetically enigmatic title, darkly erotic "Death and the Maiden" treatment, Hugo-esque play on beauty and the grotesque, fluid, sinuous forms, and rippling textures reflect the mid-century romantic resurgence. Hébert, however, commanded a variety of modes. He was a superb modeler of the human form and of ornament, and manipulated both with great complexity, whether in monumental format or in small scale. Hébert's serial work especially reveals his modeling skill. His art bronzes range in subject from ancient mythologies--classical, Egyptian, and Mesopotamian--to contemporary athletes: boxers, rowers, champions. The sports figures often display the florid neo-baroque realism of his architectural decoration; so too the humorous moral allegories such as Ecole de filles [Girls' School]. Hébert often adjusted his style to historical subject: severe neo-Greek handling in his Thetis, Oracle, and Oedipus and the Sphinx; and stylized and rigid neo-Egyptian handling in his busts of Rameses and Isis. Some of his most intriguing work is in this historicizing mode, which provides especially useful insights into nineteenth-century French orientalism. Models in this vein for the founder Servant often reflect the eclecticism of better-known orientalist works by other artists in sculpture, painting, and theater that display an arresting mix of styles and ornament. However, Hébert also produced compositions that are tantalizingly advertised in sales catalogues as "restitutions" of known museum pieces: two sizes of the so-called Trophonius bust from the "Musée Assyrien" (the newly formed Assyrian collection at the Louvre), for example. Though unknown today, such a model could be a freely interpretative caprice on a known fragment or an earnest reconstruction.
Hébert's frequently poetic approach to his Salon works, sophisticated historicism of his serial work, and evident familiarity with museum collections suggest he was deeply engaged in the contemporary world of learning.


$7,800
French Belle Époque
Patinated Bronze Desktop
Sculptural Paperweight
19 Century
Signed illegibly | Original red marble base.
Dimensions: H: 8.25" x W: 3.25" x D: 4.25" | Base diameter: 2.75"
This beautiful and delicate desktop dark chocolate-brown patinated bronze sculptural paperweight depicts an angel, receiving a love letter from a dove. A perfect marriage between desk decoration and functionality.
$1,500
French Empire
Pair of Sphinx
Patinated Bronze Sculptures
1820s
Dimensions: Height: 17.5" Width: 6.5" Depth: 10"
This wonderfully cast, outstanding pair of black-patinated bronze Sphinx of the museum-quality are mounted on their original painted plaster bases.
Despite the fact that the sculptures are not signed, the finest exquisite workmanship and amazingly masterful study of all the details clearly gives away the hand of an outstanding artist-sculptor, who created them about two hundred years ago.
This matching pair of sculptures, in all likelihood, adorned a residence of one of the noblemen of that epoch; and today, more than ever, they certainly deserve a very close attention of most demanding connoisseurs and museums, representing 18th century European fine art.
$12,000
Carl Kauba
Native American with Tomahawk
Polychromed Vienna Bronze Sculpture
19th Century
Dimensions: Height: 16.75 inches Width: 4 inches Depth: 4 inches
Carl Kauba (Austrian, 1886 – 1922)
The son of an Austrian shoemaker , Carl Kauba was born on August 13, 1865. He began his studies at the Academy of Fine Arts in Vienna with professor Laufenberg, Carl Waschmann and Stefan Schwartz and beginning 1886, he spent 2 years in Paris.
Kauba was part of the nineteenth-century tradition of polychrome bronze sculpture, using several types of patinas on a single statue. His western polychrome bronze subjects are highly sought after, although it is highly debatable that he ever visited America. His sculptures appear to have been copied from period photos. (Certain anomalies such as shod horses ridden by American Indians would suggest this.) In particular, Kauba made numerous animal bronzes and Indian depictions. These then came mostly to the United States. In 1897 he presented in the Vienna Künstlerhaus the bust of Pallas in red and yellow bronze.
Kauba also worked under the name of T.Curts, and Karl Thenn -- quite possibly for copyright reasons in Vienna, as he worked for more than one foundry. Thus, it is quite normal to find identical sculptures with any of these signatures
Kauba's intricate bronzes, imported to the United States between 1895 and 1912, were cast at the Roman Bronze Works and Gorham Foundry.
Carl Kauba died in his native Vienna, in 1922.
SOLD
Franz Xavier Bergman
Praying Muslim Man
Vienna Bronze Sculptural Paperweight
Circa 1900
Vienna cold-painted bronze.
Marked with "B" in an urn-shaped cartouche and the model number: 4137.
Dimensions:
Height: 4 3/4 inches Width: 4 5/8 inches Depth: 5 3/4 inches
Franz Xaver Bergman (1861–1936) was the owner of a Viennese foundry who produced numerous patinated and cold-painted bronze - Oriental, erotic and animal figures, the latter often humanized or whimsical, humorous objects d'art. Cold painted bronze refers to pieces cast in Vienna and then decorated in several layers with so called dust paint; the know-how for the mix of this kind of paint has been lost. The color was not fired hence "cold painted". The painting was carried out mainly by women working at home, a typical cottage industry. Noted for his detailed and colorful work, Bergman was signing his creations with either a "B" in an urn-shaped cartouche, or "Nam Greb" - for "Bergman" in reverse. These marks were used to disguise his identity on the erotic works.
SOLD
Island of Cape Verde, Portuguese Colony
Sculptural Majolica BUST
MAMMY
1890s
Dimensions:
Height: 12 1/8 inches Width: 7 inches Depth: 4 1/2 inches
This exquisite and very unusual sculptural majolica bust of a woman, wearing a coral necklace and a bright head scarf with floral print was made in the last quarter of XIX Century in Portugal. Due to the peculiarities of the material and realistically rendered image, the skillfully selected colors under the well-preserved glaze are still pleasing to the eye with their brightness and freshness, creating an amazing life-like effect.
Though clearly marked on the bottom with a circular crest and a bee (fly?) on top, we could not establish the name of the artist/maker. In excellent antique condition with no breaks, repairs or restorations except some slight chips along back edges of both earrings (easy to restore, sold as is).
$3,500
- Napoleon III PERIOD -
A Garniture of a Pair
sculptural Marble & Bronze Urns
Dimensions:
Height: 14 3/4 inches Width: 5 1/2 inches Base diameter: 4 7/8 inches
A garniture is a decoration for the top of a fireplace mantel. Most antique garnitures are composed of a clock with two matching vases, candelabra or other pieces. Some sets have two, three or five vases and no clock. The garniture was first used in 18th-century France to decorate the lower mantelpiece that had become fashionable. Made of bronze, porcelain and marble, by the 19th century the garnitures were widely embellishing fireplaces in England and the United States. Presented here is a good example of such object(s) of richly patinated & gilded bronze and red marble in the style of Napoleon III, whose reign period was during the time of the Second French Empire; the period between the Second and the Third Republic, in France.. The Bonapartist regime ofNapoleon III that lasted from 1852 to 1870 and had developed a certain style in arts, easily recognizable in the decorations used for the garniture - heads of Greek goddesses with fancy gilded headdresses; lion heads with holding movable rings in their grinning mouths; as well as tall and graceful but richly ornamented vase handles.
$2,200
"La charmeuse de serpent"
French Art Nouveau Bronze Sculpture of a Snake Charmer
by Michel-Léonard Béguine, Ca. 1900
Presented here for your attention is a charming sculpture, depicting a semi-nude slender girl who plays two flutes at the time to bewitch a snake, wriggling at her feet. It is a fine example of the then-fashionable trends of Orientalism in Art Nouveau movement. Cast with amazing subtlety of dark-brown patinated bronze and signed by the artist, the sculpture is installed on the original red marble pedestal of an original asymmetrical form, dominating over four spherical bronze feet.
Dimensions:
Total height: 18 inches Width: 6 1/2 inches Depth: 11 1/2 inches
Michel-Léonard Béguine (French, 1855 - 1929)
Michel-Léonard Béguine, a renowned French sculptor was born on August 9, 1855 in Uxeau. A student of Aimé Millet and Auguste Dumont, in 1878 he won an honorable mention at the Salon des Artistes and then, in 1887 - a Second Class medal. He also received Silver medals at the Universal Exhibitions of 1889 and 1900. A First Class medal Béguine received at the Salon of 1902 crowned his artist career. In recognition of his achievements in Frech art, Michel-Léonard Béguine was named Knight of the Legion of Honor on October 4, 1904. There are several monuments by Michel-Léonard Béguine commissioned by the city of Paris - for example a monument to Ernest Rousselle on Boulevard D'Italie, opened on October 6, 1921. Ernest Rousselle (1836-1896) was President of the municipal council of Paris. The sculptor died on March 29, 1929 in Paris and was buried at the Montparnasse cemetery. Béguine's works can also be found at a few French and international museums, as well as private collections around the world.
$4,500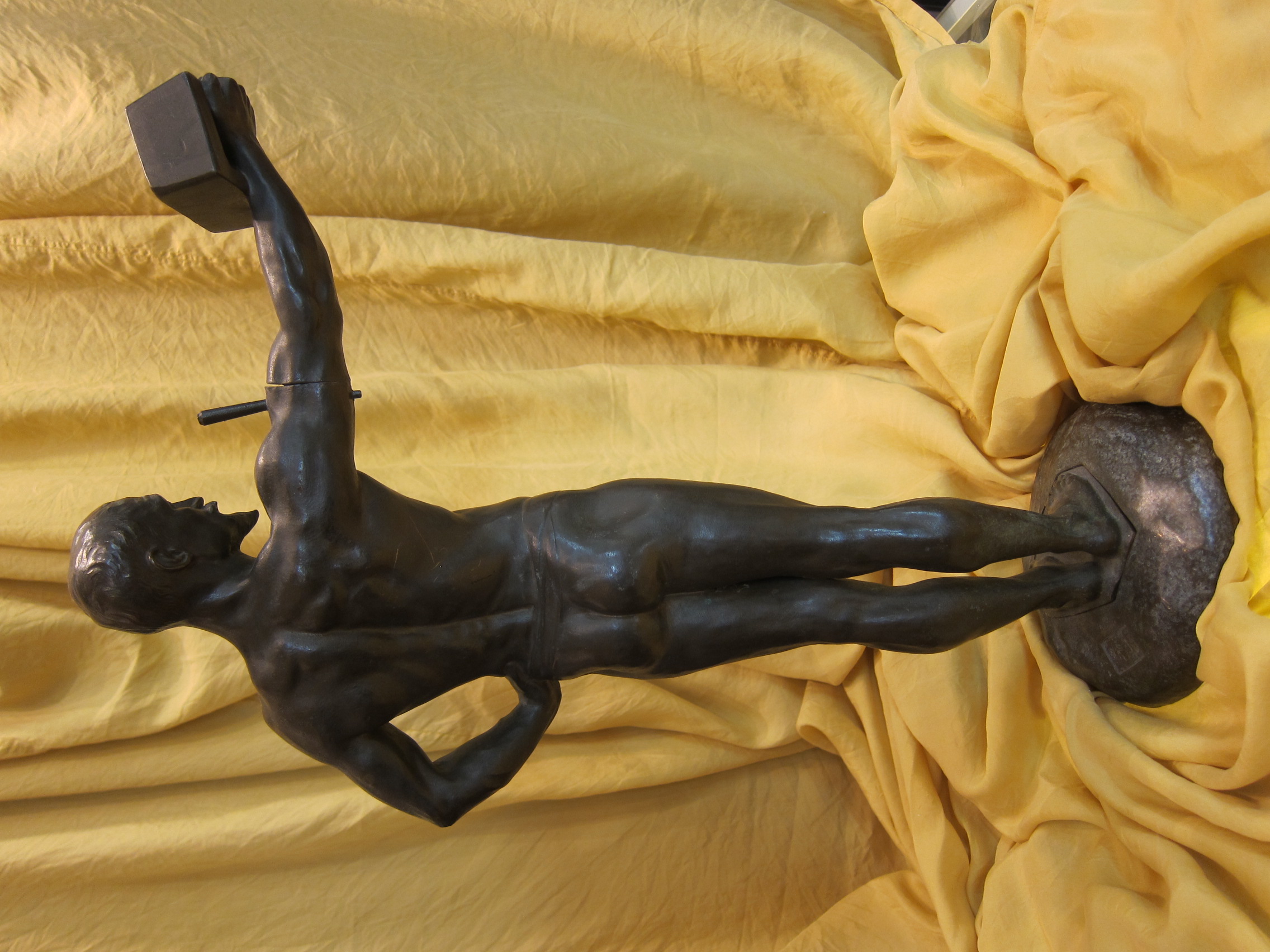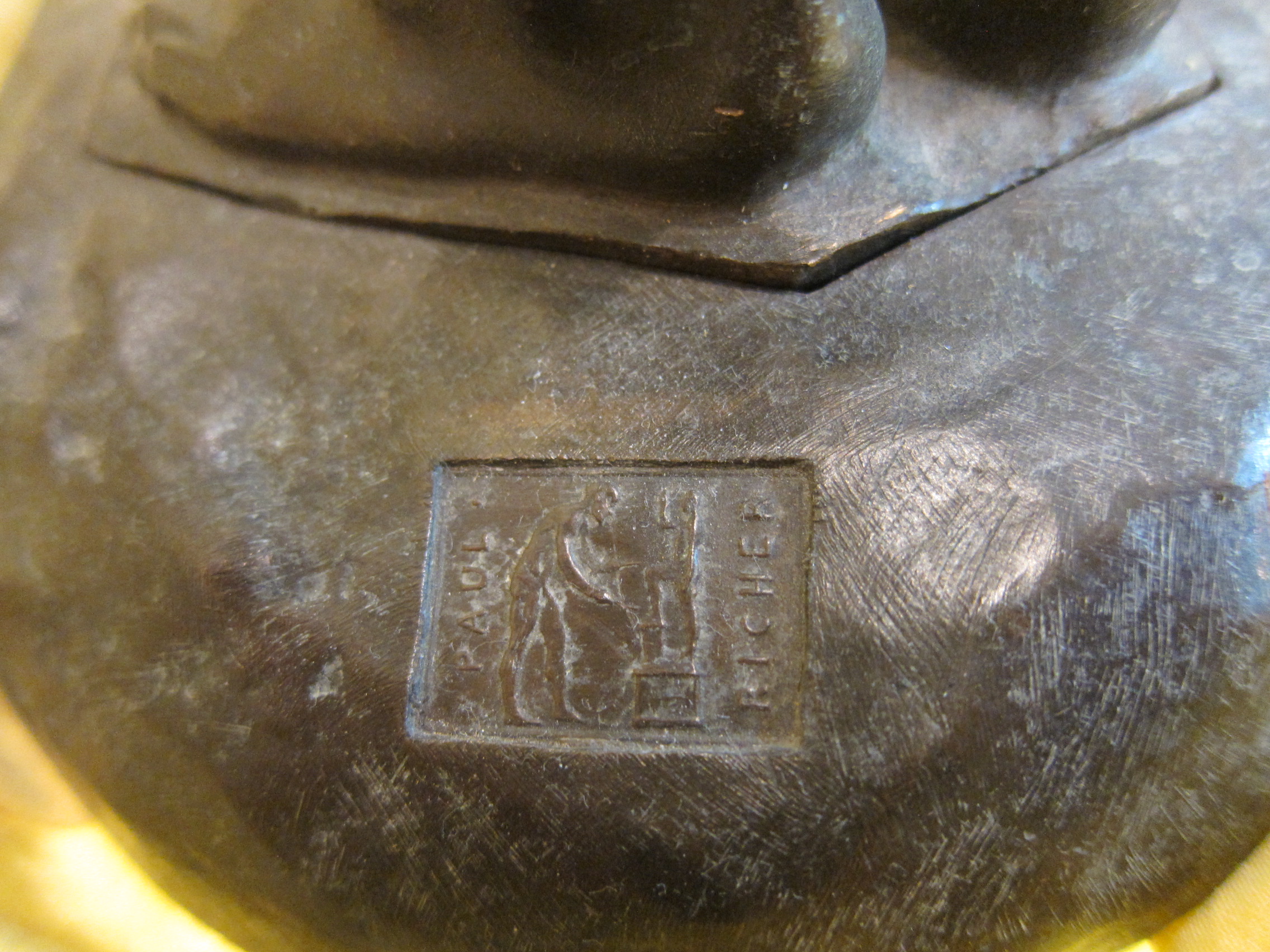 ABOUT THE SCULPTURE
This sculpture depicting a weightlifter, lifting a heavy weight in his outstretched arm, draws audience attention not only by its perfect anatomical proportions and perfection of the male body, but also by the unusual rendering: the figure of an athlete is in a moving state with respect to the base, and the outstretched arm is visibly connected to the forearm by a detachable stud in the biceps area. The reason being that it is a prototype, or the very first sculpture, made specifically for its further replication by a foundry.
weightlifter
ABOUT THE ARTIST
Paul Marie Louis Pierre Richer (1849 - 1933) was a French anatomist, physiologist, anatomical artist and sculptor. He was professor of artistic anatomy at the École des Beaux-Arts in Paris, beginning in 1903. Richer worked with Jean-Martin Charcot at the Salpêtrière, and from 1882-96 was chief of the Salpêtrière Hospital laboratory. His medical research, done in collaboration with Charcot, was primarily in hysteria and epilepsy but, most importantly, he also studied the relationship between medicine and art. Richer was a professor of artistic anatomy at the Ecole Nationale Superieure des Beaux-Arts in Paris, as well as a member of the Academie Nationale de Medicine (French Society for the History of Medicine) since 1898, and the president of which he became in 1907. The importance of his role as a teacher of many notable painters and sculptors in the 19th century Parisian art scene is difficult to overestimate. He also produced several sculptures that can be found in museums throughout Europe, including the Musee d'Orsay in Pasris. Paul Richer was also a prolific author in medicine, producing in his lifetime over 15 medical books with own outstanding illustrations.
Date of manufacture : c.1890

Period : End of 19th century

Country : France

Sculptor : Paul Marie Louis Pierre Richer (1849 - 1933)

Remarks : Signed "Paul Richer"

Height : 19 1/4 inches

Width : 12 1/2 inches

Depth : 4 1/4 inches

Medium : Bronze

Inventory number : S-19-0002
ABOUT THE SCULPTURE
This sculpture depicts a boxer in an English boxing pose of "direct punch", with his right arm outstretched in the direction of a imaginary rival. Audience's attention is not drawn only by the athlete's perfect anatomical proportions and, but also by the unusual rendering of the piece: the figure of an athlete is in a moving state with respect to the base, and his left hand is visibly connected to the wrist by a detachable stud. The reason being that it is a prototype, or the very first sculpture, made specifically for its further replication by a foundry.
sold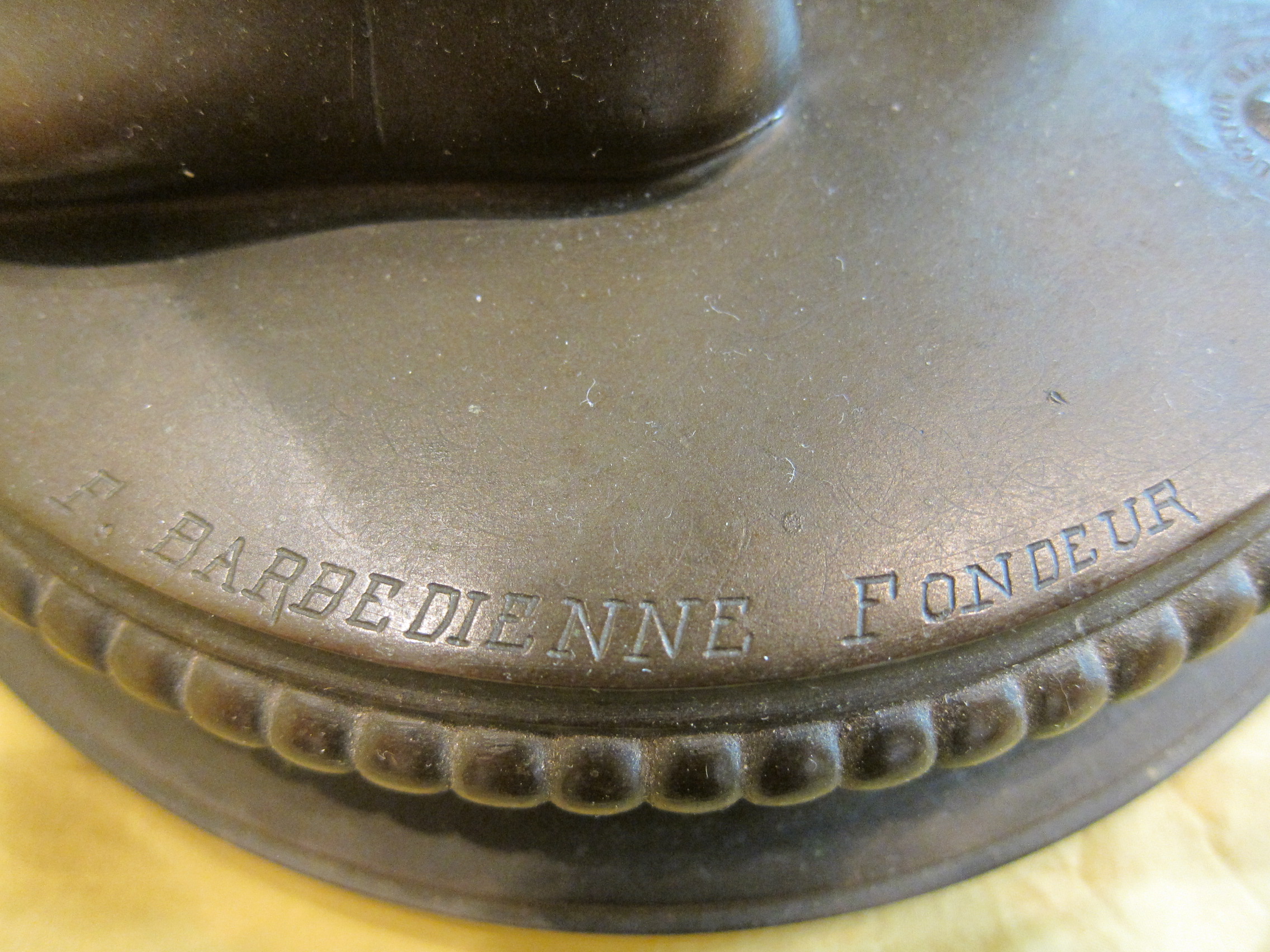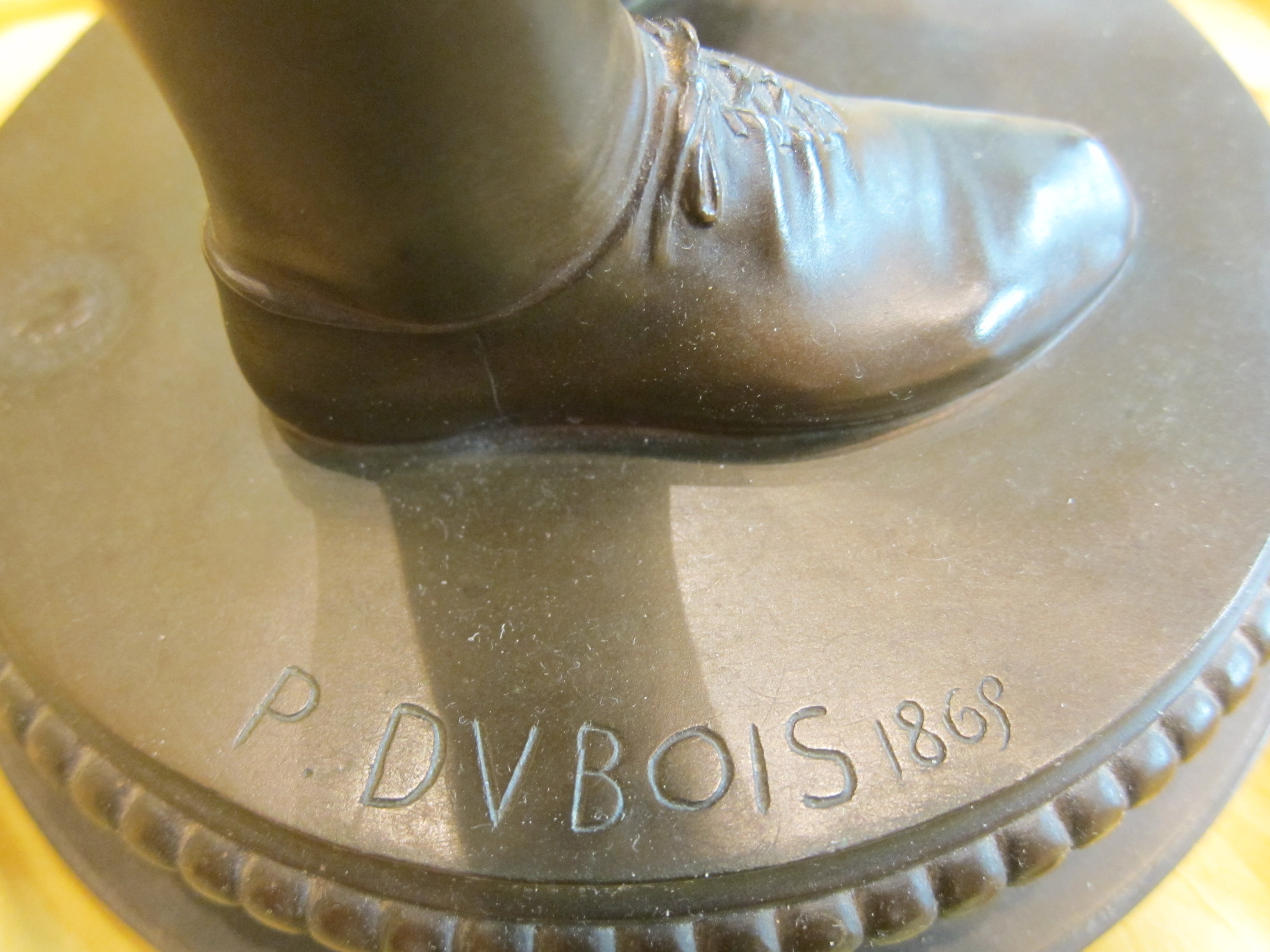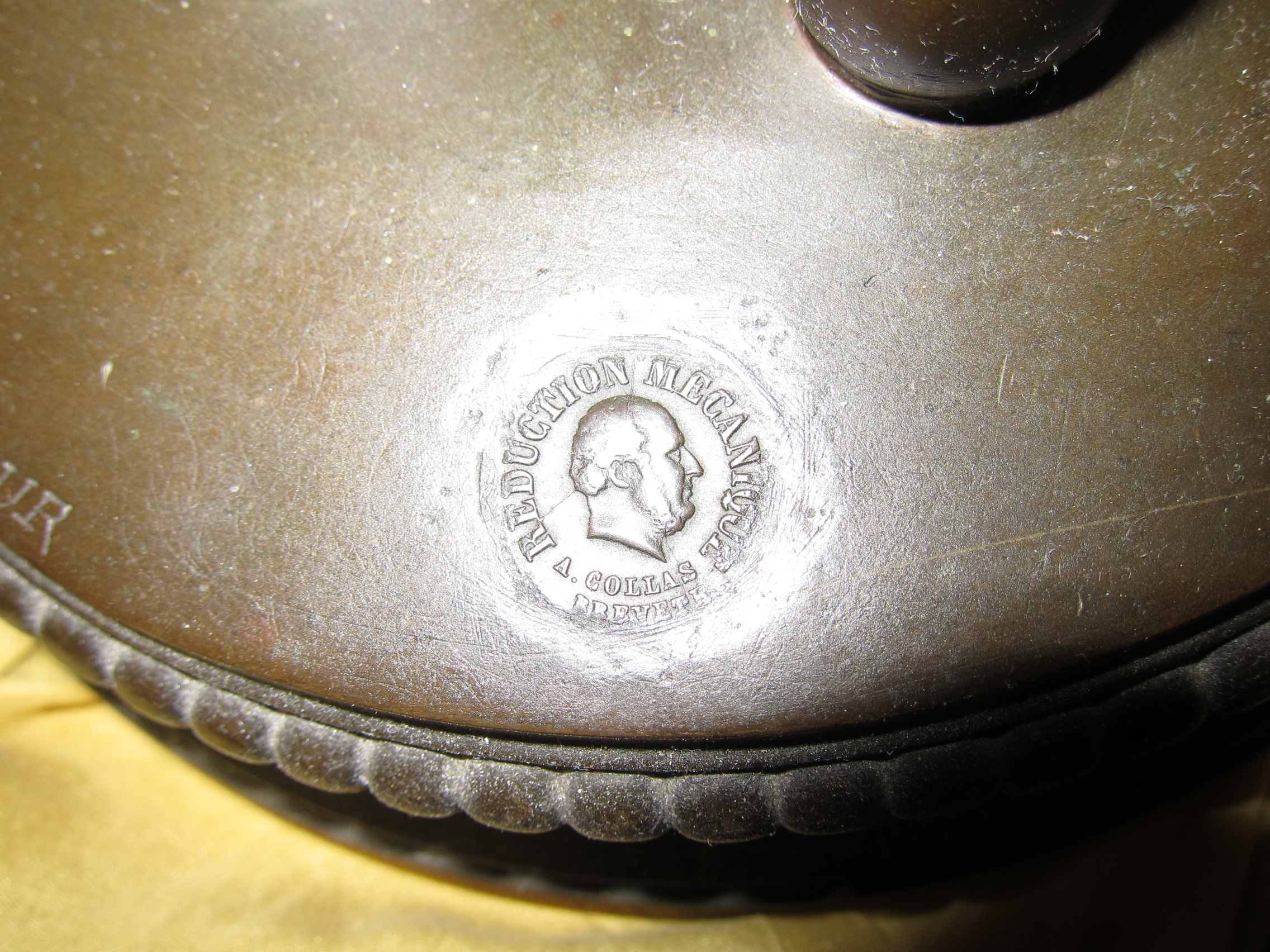 Florentine singer
This is one of Paul Dubois' best known works and the Musée d'Orsay holds a version in bronze cast by Maison Barbedienne, as well. It depicts a Florentine singer of the 15th century. The version in Orsay is 1.55 metres high. Dubois had put the plaster version of the work in the Paris Salon exhibition of 1865 and it had won him a "médaille d'honneur". Barbedienne produced limited editions in six different sizes between 1865 and 1953 and the Sèvres factory produced versions in biscuit in three different sizes. It is therefore a work often seen in France and it was also exhibited at the Exposition Universelle in Paris in 1867 and 1889.
Date of manufacture : 1869

Period : Second half of 19th century

Country : France

Sculptor : Paul Dubois (Belgian, 1829 - 1905)

Remarks : Signed "P.DVBOIS" and dated: 1869

Foundry stamp: F. Barbidienne Fondeur

Stamp: Reduction mechanique - A. Collas - Brevette

Height : 24 1/2 inches

Width : 10 1/2 inches

Depth : 7 1/2 inches

Medium : Bronze

Inventory number : S-19-00047
$5,500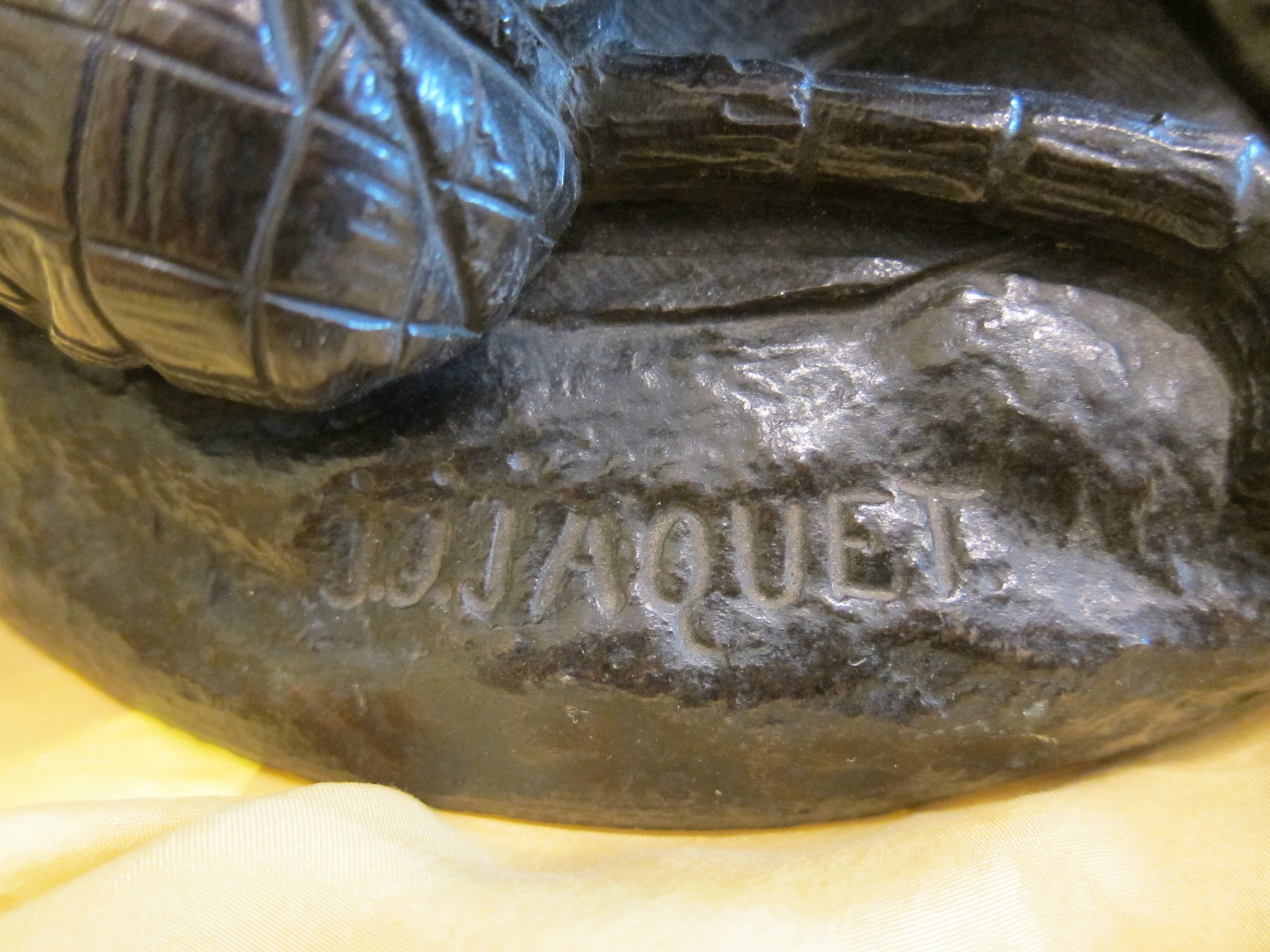 mother with sleeping child
Jan Jozef Jacquet (1822-1898) was born in Antwerp, Belgium, and was a son of a baker. After studying with famous Guillaume Geefs at the Brussels Academie Royale des Beaux-Arts, he became a very weill-respected Belgian artist, who took part in sculpture by his own productions for the Brussels Art Salons of 1843, 1854, 1860, 1872 and 1873. He was also a life-long professor at the Brussels Academie Royale des Beaux-Arts.
Date of manufacture : c. 1875

Period : Second half of 19th century

Country : Belgium

Sculptor : Jan Jozef Jacquet (Belgian, 1822 - 18987)

Remarks : Signed "J.J.JACQUET"

Height : 12 inches

Width : 10 1/2 inches

Depth : 7 inches

Medium : Bronze

Inventory number : S-19-0008
$4,000
FRENCH BRONZE SCULPTURAL GROUP
Jean-Baptiste Auguste Clesinger
~ Dione and Aphrodite ~
XIX Century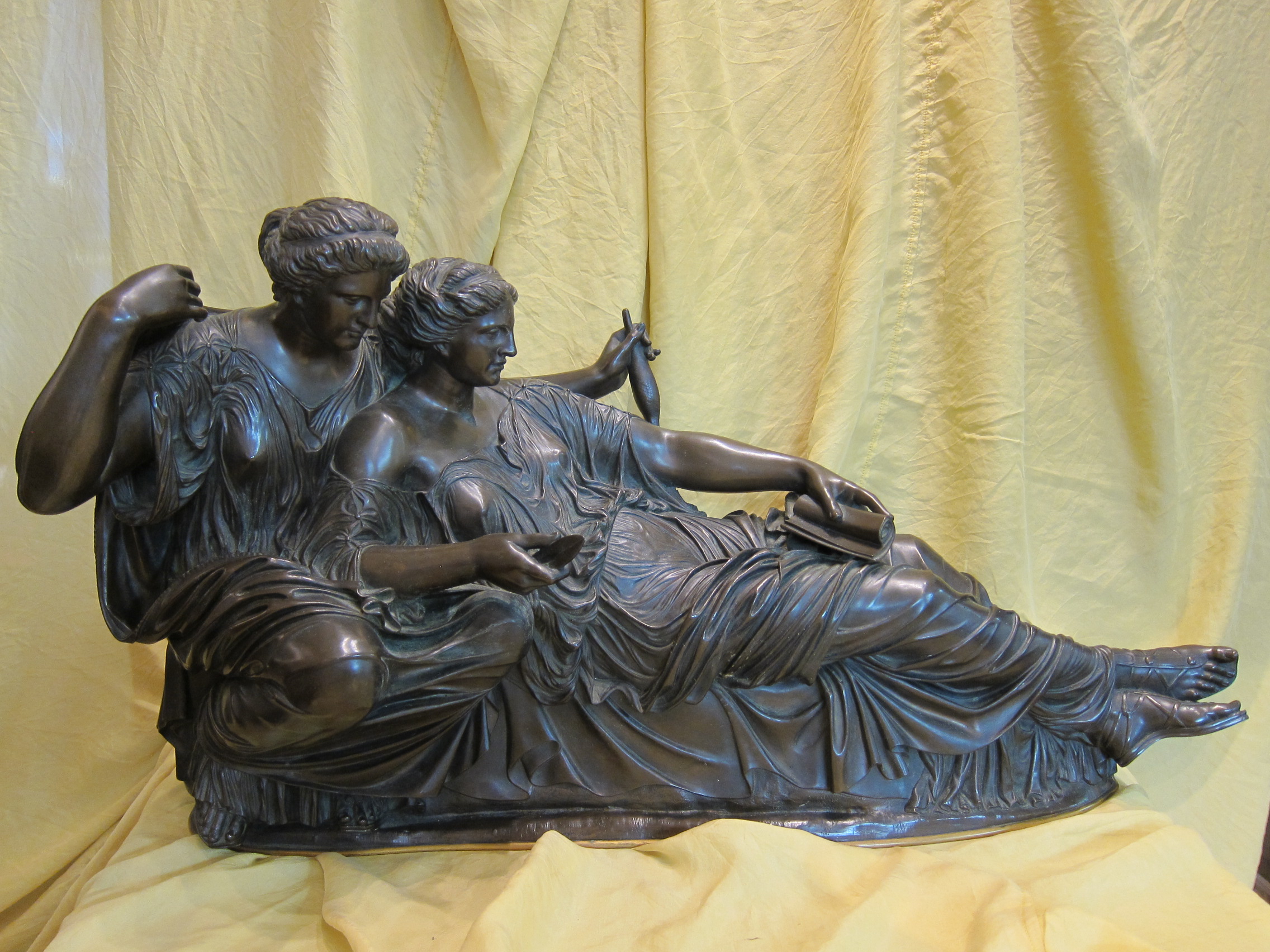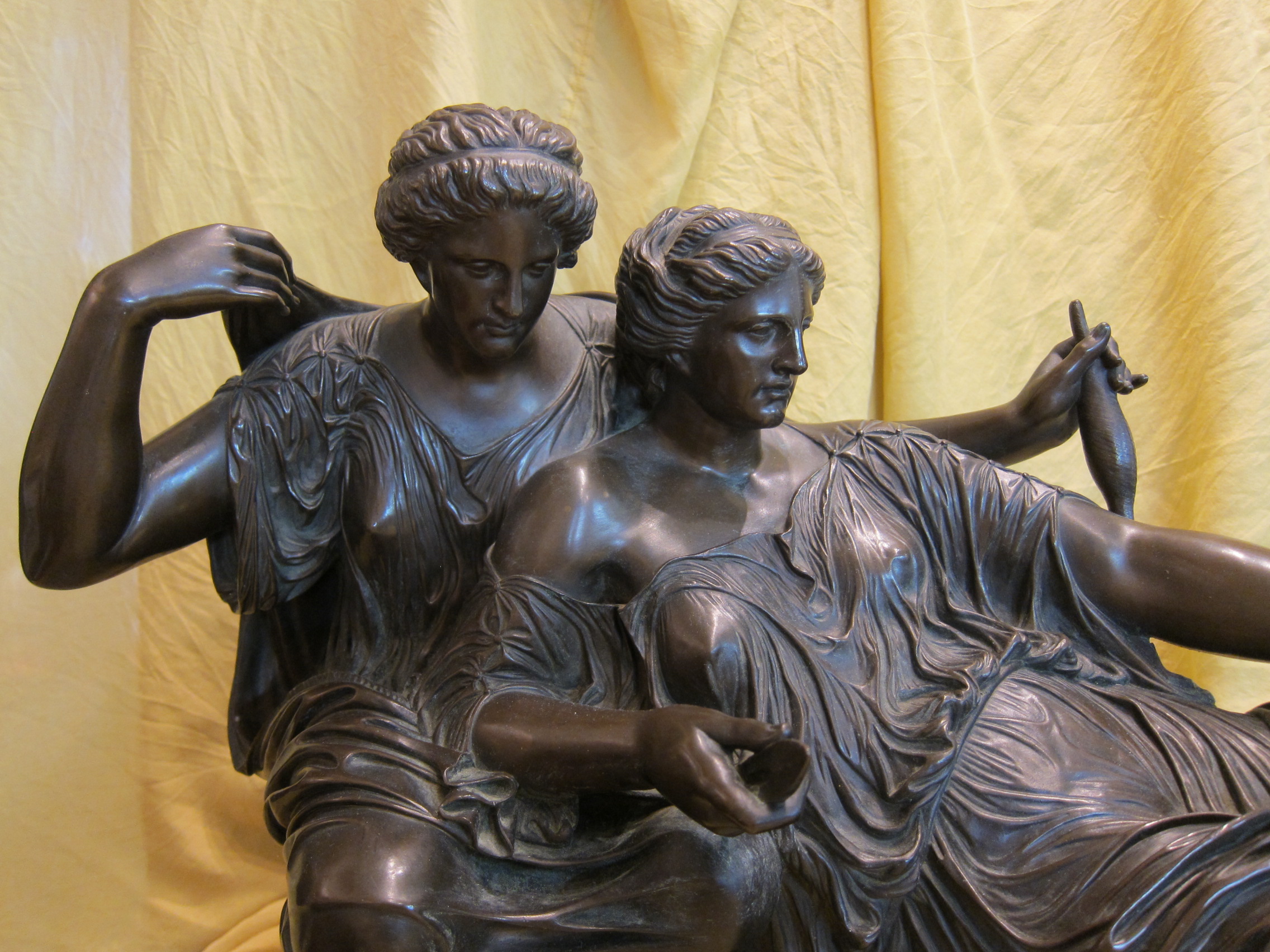 Dimensions
Height : 14 1/2 inches Width : 26 1/2 inches Depth : 9 inches
Famous 19th-century French sculptor and painter, Jean-Baptiste Auguste Clesinger modeled his group on two figures from the east pediment of the Parthenon, now at the British Museum. The originals lack heads and arms, so Clesinger took artistic liberty with these features. Scholars think the figures represent either Dione and Aphrodite or a personification of the sea in the lap of the earth.
This grand, dark-brown patinated19th century bronze sculpture after the antique two classical reclining female figures in copious drapery has an A. Collas reduction seal mark in the lower part of the sculpture. This cast has been produced in collaboration with the F. Barbedienne Foundry in the last quarter of 19th Century.
Jean-Baptiste Auguste Clesinger (1814 - 1883) first exhibited at the Paris Salon in 1843 with a bust of Viconte Jules de Valdahon, and last exhibited there in 1864. At the 1847 Salon, he created a sensation with his sculpture "Woman bitten by a serpent", produced from life-casts from his model Apollonie Sabatier (the pose being particularly suitable for such a method), thus reinforcing the scandal with an erotic dimension. Apollonie Sabatier was a solonniere and the mistress of the world-famous poet, Charles Baudelaire, among many others. Clesinger died in Paris in 1883, and buried in the Pierre Lachaise Cemetery.
Literature: Catalogue des Bronzes d'Art F. Barbedienne, Recompenses Obtenues dans les Expositions Universelles,: Paris, 1886, p. 21.