Rare!
Japanese Art Nouveau
Monumental Patinated Bronze Vase
Meiji Period
Circa 1900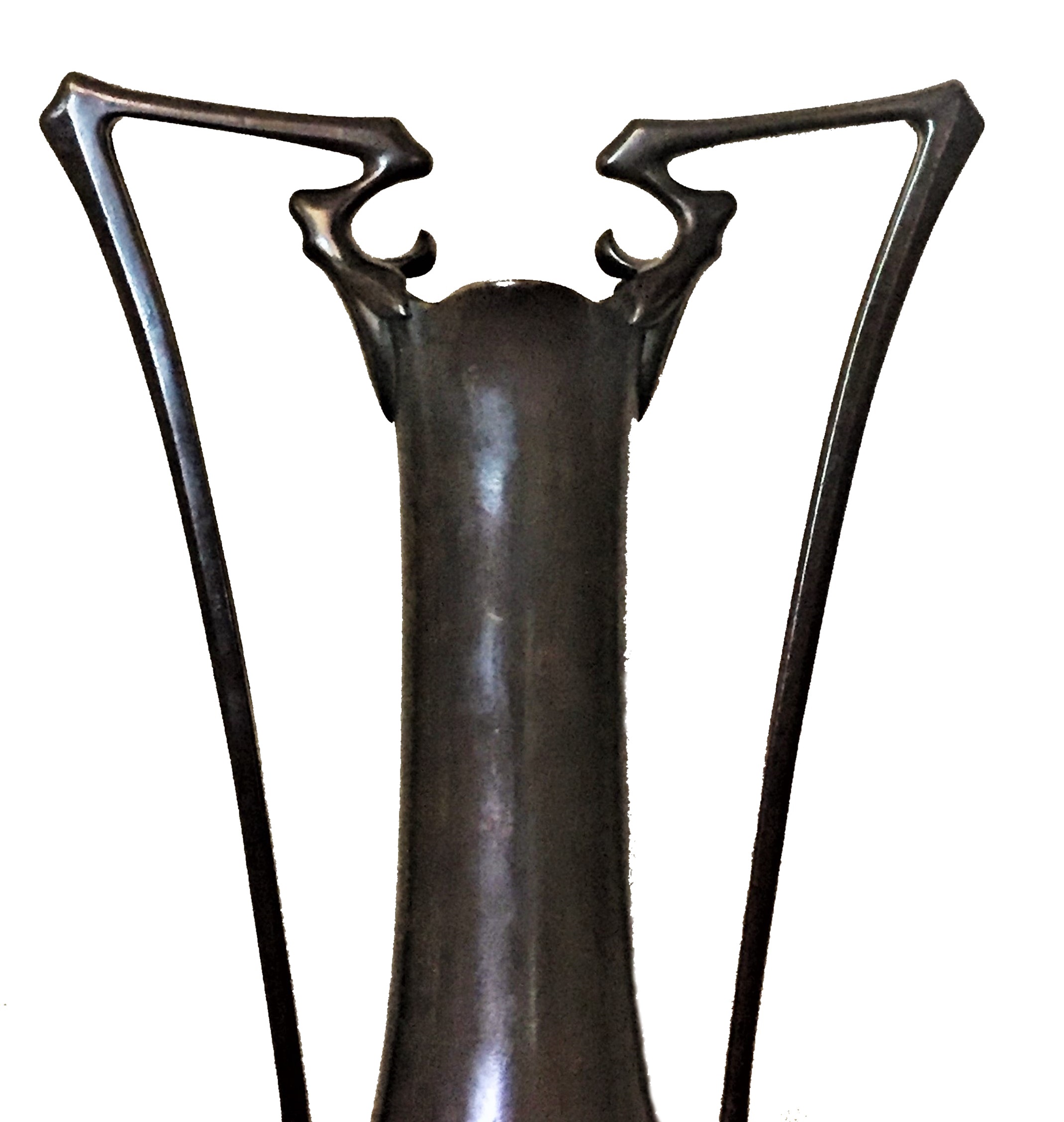 Dimensions:
Diameter: 18.5 inches Height: 24.75 inches Handles span: 13.75 inches
Although unmarked, this rare and important, grand but at the same exquisite patinated bronze vase has just a very few little details, defying the shape of the handles, as well as the base, depicting an overturned lotus flower; clearly suggesting the organic motifs being artist's inspiration. Purely Japanese in its overall aesthetics and the imaginary simplicity of its form, this amazing work of applied art by an unknown master certainly bears the influence of Europe, which began to manifest itself in the absolutely closed Japanese society at the turn of the 19th and 20th centuries.
$18.000
Antique Equestrian
Patinated Bronze Sculpture
A Horse in Full Harness
Tibet, XVII Century
Dimensions: Height: 3-9/16" Len h: 4-7/8" Width: 1-1/8"
This little antique Tibetan equestrian figurine is distinguished not only by the remarkably detailed sculpture of a horse in a complete harness, but also by the high quality of the bronze casting and its original dark-brown patina. Judging by the presence of openings in the head and in the saddle, in all likelihood, at one time it was a part of a larger sculptural composition.
$1,150
A Pair of Matching
Tibetan Guardian Leopards
Patinated Bronze Sculptures
Early XX Century
Dimensions:
Height: 15.25 Width: 4.75" Depth: 13.75"
An early XX Century reproduction of the traditional Tibetan habitat guarding creatures figures in the manner of XVI Century antique bronze sculptures.
SOLD
XVIII Century
Qing Period
Translucent Cobalt Blue
A Pair of Peking Glass Bottle Vases
1750s
Dimensions:
Height: 10" Diameter (max): 4-7/8" Diameter (min.): 1-7/8" Glass thickness: 7/16"
This striking pair of Peking glass vases have a straight cylindrical neck and globular body. The smoothly curved classical form creates a dramatic silhouette accentuated by the deep, translucent cobalt-blue color. Peking glass was an art form that became popular after 1696, when the Kangxi Emperor had a glass workshop built on the grounds of the imperial palace.
sold
Pair of Japanese Candelabras
Patinated Bronze
18th Century
Dimensions: Height: 18" Width: 15.5" Depth: 14"
This most unusual pair of original 18th Century Japanese patinated bronze candelabras, uniquely designed as branches of mountain flowers entangled by a dragon. Contemporary marble bases. Good condition consistent with age and use. We make our best effort to provide a fair and descriptive condition report. Please examine the photos attentively.
$9,000
Vintage Hand-Carved
Red Coral Sculpture of Swans
China, 20th Century
Dimensions:
Height: 4 inches Width: 6 inches Depth: 3 inches
Weight:
A vintage, beautifully and meticulously hand-carved solid red coral sculpture, depicting a swan mother and a swan-child peacefully gliding across the water among thickets.
China, the 20th century.
SOLD
Enameled & Gilt Silver
Snuffbox with Hunting SCENES Miniatures
India, 19th Century
Dimensions:
Height: 1 1/16 inches Width: 2 3/8 inches Depth: 2 inches
Weight: 3 ounces
This amazingly beautiful precious 19th century bauble from India is an octagonal silver casket, completely covered with hand-painted ornamental and miniature multicolored enamels and features a gilded interior. Fitting one's hand very comfortably, it was intended, in all probability, to serve as a snuffbox.
The top hinged cover of the snuffbox is decorated with symmetric floral ornament and medallions. The lateral surface along the entire perimeter is filled with very thinly executed four miniatures with scenes of hunting and animals, alternating with four floral ornamental miniatures. The most interesting are, of course, miniatures with hunting, scenes which alternately depict a lion torturing a bleeding bull, a horse, a tiger bent over a deer and a hunted down buffalo.
As the silver hallmarks were not found, therefore, judging by the fineness of the jeweler, painter and engraver workmanship, one can assume with a high degree of certainty that this box was made on special order – probably, as a gift to a wealthy man.
Since the state of the snuffbox is almost perfect and two engraved vignettes (one on the inside of the lid for the owner's initials, and the other on the bottom of the box for the inscription) are unfilled, one can assume with even greater confidence that this gift was never given.
sold
Meiji Period
A Fine Japanese Hand-Painted, Enameled and Gilded Porcelain
Satsuma FLOWER Vase
~ 1000 Faces of Immortals, Samurai and Dragon ~
Ca. 1890
Dimensions:
Height: 8 3/4 inches Width: 7 1/2 inches Depth: 6 1/2 inches
The bottom of the vase has the distinct Satsuma porcelain Meiji period markings with the circle around the cross at the top.
Excellent antique condition, with minor age-appropriate wear. No cracks, chips, repair or restorations.
~
The originality of this sophisticated hand-painted and enameled & gilded vessel is in its absolutely unique form, certainly Japanese in its esthetics and proportions; but, which already carries in itself the unmistakable elements of the Art Nouveau era that just has began in Europe.The exterior of the vase is decorated with the classic Japanese plot of 1000 Faces of Immortals, Samurai and Dragon in the best tradition of Japanese Art, a blend of beauty and ferocity. The abundant use of gold color in the design sets a beautiful stage for the multi-color portrait depictions. The Meiji period (明治時代, Meiji-jidai), also known as the Meiji era, is a Japanese era which extended from September 8, 1868 through July 30, 1912.
$1,500