A Pair of
Russian Orthodox
Gospel Book Cover Enameled Medallions
XVIII Century
Both of these medallions have embellished the covers of the Russian Orthodox Gospel books. The larger medallion is inscribed on top 'Resurrection of Christ' (enameled metal, brass); and the smaller one is inscribed on the right 'John' for 'St. John the Baptist' (enameled metal, brass, glass). The enamel on the 'Resurrection of Christ' medallion is overall in a very good condition except for a few small chips on the very bottom, just over the frame. The enamel on the 'St. John the Baptist' medallion is in excellent condition but one glass rhinestone is missing. Sold in a lot, 'as is'.
Dimensions:
'Resurrection of Christ' medallion:
Height: 2-5/8" Width: 2-1/16" Depth: 5/8"
'St. John the Baptist' medallion:
Height: 1-7/8" Width: 1-5/16" Depth: 3/16"

$675
Maria Semenova
Enameled Silver and Hand-Cut Crystal Box
Moscow, Imperial Russia
Ca. 1910s
Signed with Cyrillic initials M.S. for Maria Semenova.
Assay mark of Moscow, 1908-1917.
Silver standard: 84 zolotnik.
Dimensions: 3 3/4" W x 2 3/8" D x 1 5/8" H.
Maria Semenova (active 1896-1917) was an important Russian silversmith and enameller. Daughter of a well-known silversmith Vasili Semenov, Maria took over the family business after his death. Under her supervision, the firm became famous for its high-quality enamel objects.
sold
RUSSIAN IMPERIAL
Julius Rappoport
for Karl Faberge
Silver & Nephrite Paperweight
St Petersburg
Ca. 1900
Figural silver paper weight in form of a naturalistically cast male Black game, or Black grouse with its unique lyre-shaped tail, on the round nephrite base. Marked in Cyrillic, the workmaster's initials "I.P", "Faberge" and "Kokoshnik" with 84 standard silver purity mark.
Dimensions:
Height: 4 3/4 inches (12cm) Base diameter: 2 1/2 inches (6.5cm)
Julius Rappoport (1851-1917) was born Isaac Ambramovich Rappoport in the Datnovskii Jewish community in Kovno, Lithuania. In 1880, he began apprenticing in Berlin under the silversmith Scheff, and by 1884 he became a master and returned to St. Petersburg where he became Fabergé head silversmith. His workshop contributed to a range of objects, from animal sculptures to large dinner services. In the early 1890s he converted to Lutheranism and changed his name to Julius. Following his retirement in the early 1900s he left the fully equipped workshop to his workmen which became the First St. Petersburg Silver Artel. Beyond these few facts we know little, but Rappoport's material legacy compensates for his biographical obscurity. In fact, Rappoport's silver is so revered that connoisseurs of Fabergé's oeuvre often comment that his silver production was among the finest pieces produced by the Fabergé workshop.
Russian Imperial Hunting for Black Grouse
In all probability, this elegant desk accessory, perhaps as a "mémoire" of a hunting trophy, had once adorned the desk of a passionate hunter, and clearly not a poor man! Since ancient times, hunting played a major role in the life of the Romanov dynasty emperors and Russian nobility. Many autocrats of this dynasty were passionate hunters, but especially seriously addicted to hunting were three of them: the emperors, Alexander II, Alexander III and Nicholas II. Many simply believe that kings hunted only large animals - bears, elk, wild boar, deer and bison. This is certainly not the case. Russian tsars loved many types of hunting, including game birds and especially the hunting for black grouse, found in the dense forests of central Russia in great abundance. Hunting was the main type of "haute société" recreation and leisure activities. At the beginning of the XIX century the Imperial hunting grounds were transferred from St. Petersburg to Peterhof. Then later, in 1858 they were transferred once again - this time to Gatchina, where they were located during the reign of Emperor Nicholas II, from1894 to 1917. As for the personal involvement of the last Russian sovereign in the hunt, we read in his diaries for 1907: "3 September. Total killed: 5 grouse, 1 black grouse and 4 hare. I did not shoot. "
$7,750
russian imperial
"Hy Moser & Cie"
~ solid gold Men's Pocket Watch with Chain and Fob ~
Moscow, Ca. 1890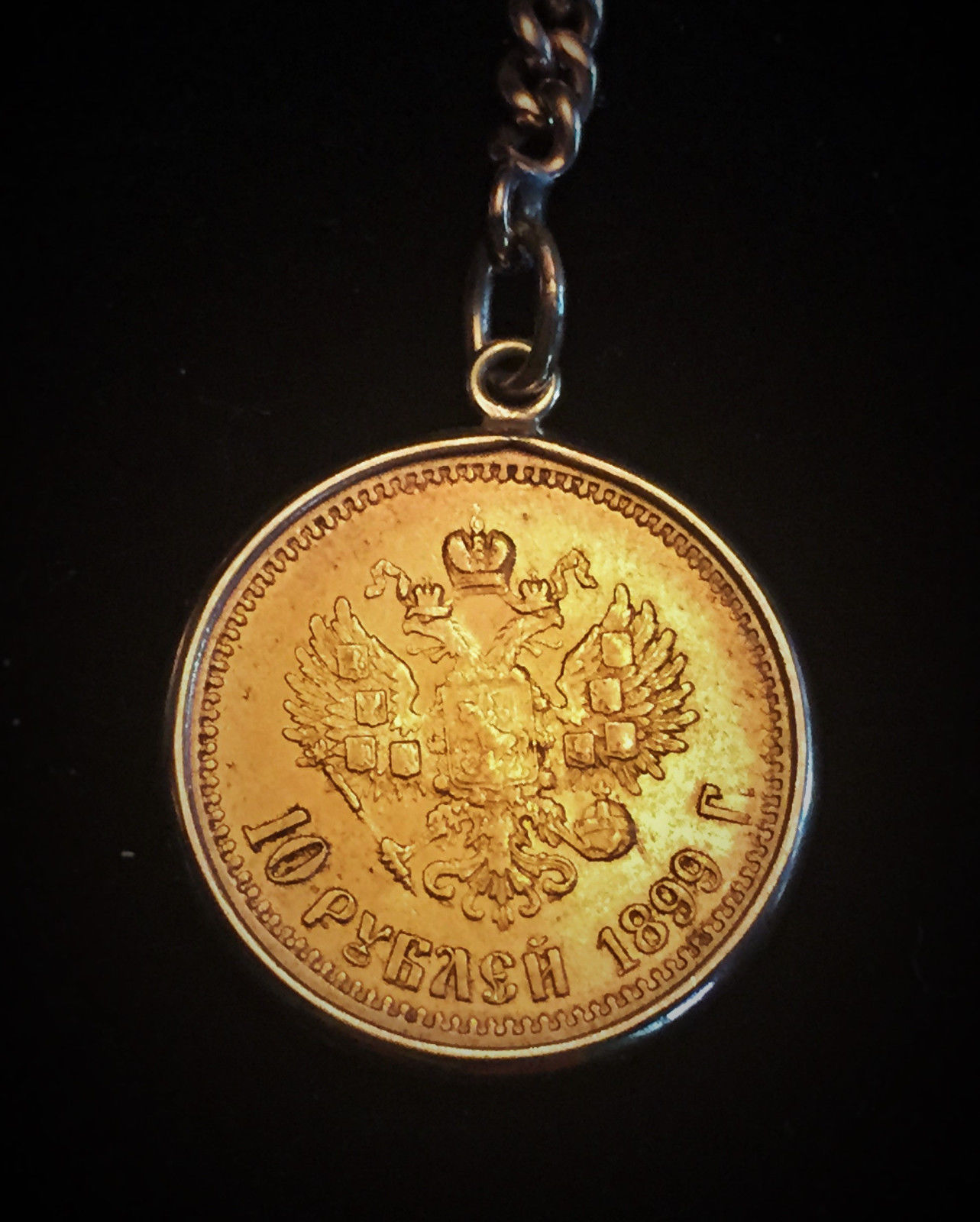 This superb and exquisite "Hy Moser & Cie" Solid Gold Men's Pocket Watch with Chain and Fob in absolutely mint condition is a truly rare find for the unique pocket watch lovers and, especially, the rare antique Swiss "International Watch Company (IWC)" Schaffhausen collectors! Manufactured in Switzerland by one of the most famous watchmakers, the originator of the International Watch Co. and the official supplier of watches to the Russian Imperial court, Henry Moser in ca. 1887-1890, this particular model is considered as one of the firm's best and qualitative models. This unique pocket watch is still preserved in excellent condition in its original wooden box, lined in silk with the inscription in pre-revolutionary Russian alphabet on the cover: "Г. МОЗЕРЪ и Ко. в Москвъ" ("H. Moser and Co. in Moscow"). The watch is in perfect working order, and looks like it was probably never used - winds smoothly and runs fine with a great motion. A very good time keeper! With the original watch-hands and crystal glass in absolutely mint condition, clean and bright, all covers closing tight and open properly. No dings or dents, scratches or imperfections are found anywhere.
The full Hunter Case is made of 56° (14K) Rose Gold and has a Serial No. 90206. This watch has one frontal and two rear covers, external and internal. The presence of the inner lid is a good sign of a high quality watch and is used to protect the mechanism from dust, as well as providing added protection from moisture. Both, the frontal and the upper rear covers display machined decorations and are inscripted "Hy Moser & Cie" and hallmarked .The solid gold inner lid also bears the following inscriptions: "Hy Moser & Cie", "15 Rubies", "Echappement a Ancre", "Qualite Salter" and Serial No. 90206. The watch measures: 53 mm across and 73 mm, including crown. Thickness: 14mm. Weight: 64.14dwt (98.9g). The 15-Jewel pin-set nickel movement has a lever escapement and anchor-style layout. The white porcelain dial features Roman numerals and is signed "Hy Moser & Cie." The smaller stopwatch dial, located at the bottom of the main watch dial, features Arabic numerals. The original, intricately woven chain measures approximately 12" long and is also made of 56° (14K) Rose Gold, and has the most unusual fob - the1899 Imperial Russian 10 Rubles coin. The coin (56°/14K) contains .2489 of a troy ounce of gold and features on one side the profile of the last Czar of Russia, Nichols II and the Russian Imperial coat of arms with the double-headed Imperial eagle on the other side, along with the date, 1899. While the coin was worth 10 Roubles when it was manufactured, it still continues to grow in value due to its age, rarity and very high gold purity level (900 gold content). The coin alone weighs 8.6g (5.57dwt) and measures 22.5mm in diameter. The total combined weight of the chain and fob is 33.8g (21.9dwt).
Johann Heinrich Moser, The Watchmaker to the Tsars
Johann Heinrich Moser was born and grew up in Schaffhausen in the traditions and experience of a watch making dynasty that had become established over the generations. Son and grandson of watchmakers, he learned the traditional watchmaker's craft from his father, Erhard Moser and from his grandfather Johannes Moser. In 1824, he left Schaffhausen to set up in Le Locle, where he perfected his knowledge in the presence of the greatest watchmakers of the time. Two years later, he tried to return and set up business in his home town, but the Municipal Council rejected his request to be given the honorary post of watchmaker to the town in favor of someone else. Heinrich Moser & Co. came into being in 1828 and in 1829, Johann Heinrich Moser founded his watch making business in Locle to manufacture pocket watches. As an ambitious and visionary watchmaker, Johann Heinrich Moser decided to set up in business in Russia. Tsarist Russia at the time was regarded as an excellent labor and sales market and as a sound trading base for watches. After several employed positions as a watchmaker, he founded his own company in St. Petersburg at the end of 1828. This marked the hour of inception of the greatly successful brand, Hy Moser & Cie. Alongside precision watches and watches designed as pieces of jewelers, Johann Heinrich Moser also offered a range of simple watches. As he built up his trading network, he came to realize that a successful wholesaler should also be a manufacturer. Johann Heinrich Moser accordingly established a watch factory in Le Locle in 1829, which produced watches exclusively for his businesses. This allowed him to guarantee the high quality of his products. Eventually, he was made an honorary citizen of Le Locle in acknowledgement of his services to the town in the Swiss Jura. Johann Heinrich Moser's constant quest for quality was crowned by success. In 1831, he opened a subsidiary in Moscow, and became supplier to the Tsars, the Royal Families, the Imperial Court and the Russian Army. Within just a few years, he was selling watches to Persia, China, Japan and Turkestan. Johann Heinrich Moser also developed sales of his watches in Siberia and Kamchatka as well as New York and Paris, where his brother George Moser was working as a watchmaker. Only 15 years after starting his company, Johann Heinrich Moser was the undisputed market leader in the Russian watch trade. In 1845, the Johann Heinrich Moser companies in Russia employed around fifty people. Having become a prosperous watchmaker, Johann Heinrich Moser decided to return and settle definitively in his home town of Schaffhausen at the end of 1848 where he had the Charlottenfels castle built. He became one of the key figures in the town, participating actively in its development.
"Hy Moser & Cie" - Company & Brand Name
The first internationally active company founded by Johann Heinrich Moser was the St. Petersburg trading company, Hy Moser & Co. From this name, he developed the company signature in Latin and in Cyrillic script, which was almost always accompanied by a medallion. Until about 1918, these symbols were the standard signature on all watches supplied by Heinrich Moser's watch company. In 1829, Johann Heinrich Moser opened a watch factory in le Locle, which also bore the name "Hy Moser & Co.". The Russian operation had to be abandoned in 1917 in the aftermath of the October Revolution. In about 1920, in Moscow he founded the "Central watch repair workshop" on the ashes of the Moser watch making factories of old Tsarist Russia. For the seventy-year period of the "Soviet Union" Henry Moser watches would remain synonymous with work of a superior quality for the leaders of the eastern bloc. As proof of this, in 1966, the USSR presented one of its high-ranking military staff a Moser pocket watch in 18-carat gold, dating from before 1917 (this collector's piece has now been bought back by Moser Schaffhausen AG). The name of Henry Moser also died out in this branch of the family in 1923 with the death of Heinrich Moser's only son, who had no male offsprings. In 2002, Dr. Jürgen Lange and the great-grandson of Johann Heinrich Moser, Roger Nicholas Balsiger, jointly with private investors, founded the watch company Moser Schaffhausen AG. Dr. Lange also registered the original brand H. Moser & Cie again internationally. It was a time of renaissance for the Moser Schaffhausen AG and the reintegration of the Henry Moser lineage. "Henry Moser" watches were so popular and demanded that there were their fakes. Therefore, in trading price-lists of these firms, among the list of addresses of shops, types of watches and the prices for them, there were so-called "Cautions". For example, in the Trading price-list of factory of Moser for March, 1906 it is written, that " for elimination of cases of abusing by some dealers by the name of our firm we consider necessary to recommend wishing to get watches of our factory to pay special attention on that - whether it is placed on offered watches per brands available on them and inscriptions in French before a surname "MOSER & Ce" letters "Hy", as only with such brands and inscriptions watches are really products sew factories". These cautions are useful and to modern collectors of watches, as well. Today, Roger Nicholas Balsiger, great grandson of Johann Heinrich Moser, heads the company's administrative council as its honorary president. In the autumn of 2005, for the 200th anniversary of its founder, the company reappeared on the international watch making scene.
$9,000
mid-century Russian
~ Russian Orthodox Pectoral Cross ~
XX Century
Cross Dimensions:
Height: 1 1/2 inches Width: 3/4 inches
Chain Dimensions:
Length: 23 inches Weight (total): 9.4 dwt / 14.6g
Made in St. Petersburg ca. 1990, this beautiful hand-made Russian Orthodox silver and blue enamel pectoral cross on a chain exactly reproduces the classic model, remaining most popular and unchanged since the 18th century.
$250
russian imperial
Pavel Sazikov
~ Box ~
St. Petersburg, Ca. 1856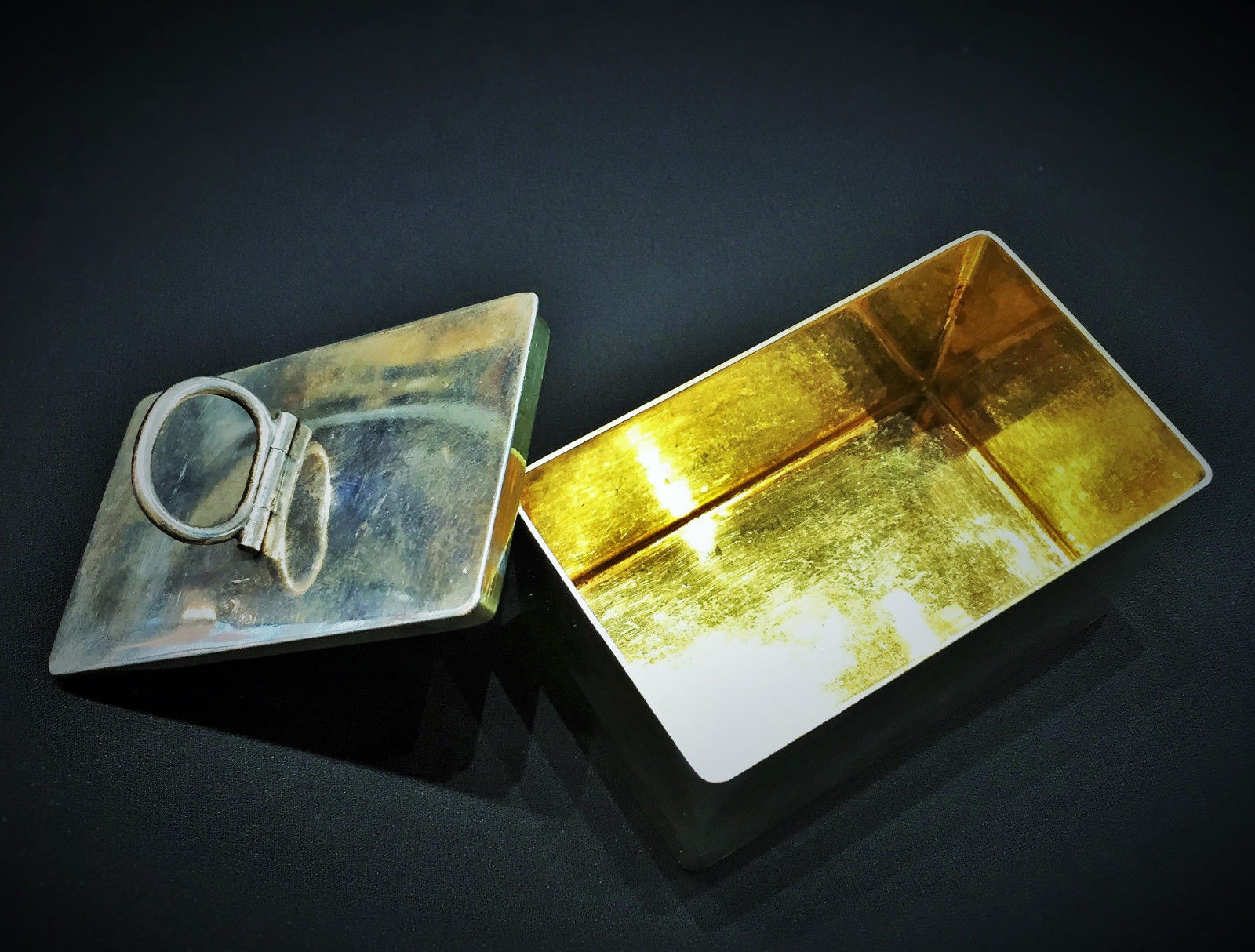 Dimensions
Length: 2 15/16 inches (7.5cm) Width: 1 3/4 inches (4.5cm) Height: 1 1/2 Inches (3.75cm) Weight: 5 troy ounces (142.1 grams)
This fine work of a silversmith art was made during the era of Pavel Sazikov, the original establisher of the firm, which makes it especially valuable and important for the collectors of the Russian pre-Revolutionary silver objects and applied arts. The straight sided rectangular box minimalist design is striking, especially given the time of manufacture, and the perfect rendering. The most noteworthy element of this unique design is the pool on top of the lid, in the form of a simple ring on the loop. Another big surprise is that when the lid is removed, the interior of the box and the inside of the lid are richly gilded, powerfully contrasting with the simplicity of the overall design. Another pleasant surprise is that the bottom of the box and the reverse side of the lid are fully hallmarked:
- 84° Russian Silver Standard - The Russian silver standard is based on the zolotnik, a word derived fromthe Slavonic word for gold. The zolotnik was originally a gold coin circulating in Kievan Rus in the late 11th century, and wasoriginally pegged to 1/96th of a Russian pound, which was later changed to 1/72nd of a Russian pound. One zolotnik is equal to 4,266 grams.
- City hallmark of St. Petersburg - Two crossed anchors and a scepter.
- Master's hallmark - In Cyrillic: "PS" (ПС) for Paved Sazikov (Павел Сазиков)
- Assay master mark - In Cyrillic: "EB" (ЭБ) for Eduard Fyodorovich Brandenburg (Эдуард Федорович Бранденбург), and dated: 1856.
Pavel Sazikov (1793-1877)
A contemporary of Carl Fabergé, Pavel Sazikov is a highly important and respected 19th century Russian silversmith. The firm of Sazikov was founded as a workshop in Moscow by Pavel Sazikov in 1793. Though it remained family run, the business quickly expanded. After Pavel's passing, his son Ignatti (1796-1868) succeeded him in running the business. Ignatti expanded the firm to Saint Petersburg in 1842. Around that time, Sazikov was appointed the title of court supplier, and the firm was given the right to incorporate the imperial double eagle into the Sazikov trademark. After Ignatti's passing in 1868, his three son continued to run the business in Saint Petersburg, until that branch was closed in 1877. The Moscow branch continued for another ten years before it was taken over by another firm.
$1,450
MID-CENTURY Russian
~ Set of Wine Pitcher and 12 Glasses ~
Moscow, Ca. 1960
PITCHER MEASUREMENTS:
Height: 13 1/2 inches Width: 7 inches
GLASS MEASUREMENTS:
Height: 4 1/2 inches Top diameter: 2 1/4 inches Bottom diameter: 2 inches
Presented here is a wonderful cut crystal-and-silver set, consisting of a tall pitcher with the gold plated inner part of the neck and cover and twelve matching glasses with the silver rim featuring repeating acanthus leaf design.All silver parts of the set are hallmarked with a barrel shaped cartouche with the image of a sickle & hammer inside a 5-pointed star, followed by the number 875, and capital letter M in front of the star image is for Moscow assay inspection. Next to them, there is another stamped hallmark "3MO" (Mosremchas factory, Moscow). Judging by these hallmarks, this set was made in Moscow between 1960 and 1965.There is also an engraved inscription in Russian on the outer part of the pitcher's neck: "To Yakov Georgievich on his seventieth birthday from the guys, 1966"
$4,000
RUSSIAN IMPERIAL
Karl Fabergé
~ A Pair of Silver & Jasper Photograph Frames ~
Ca. 1908 - 1917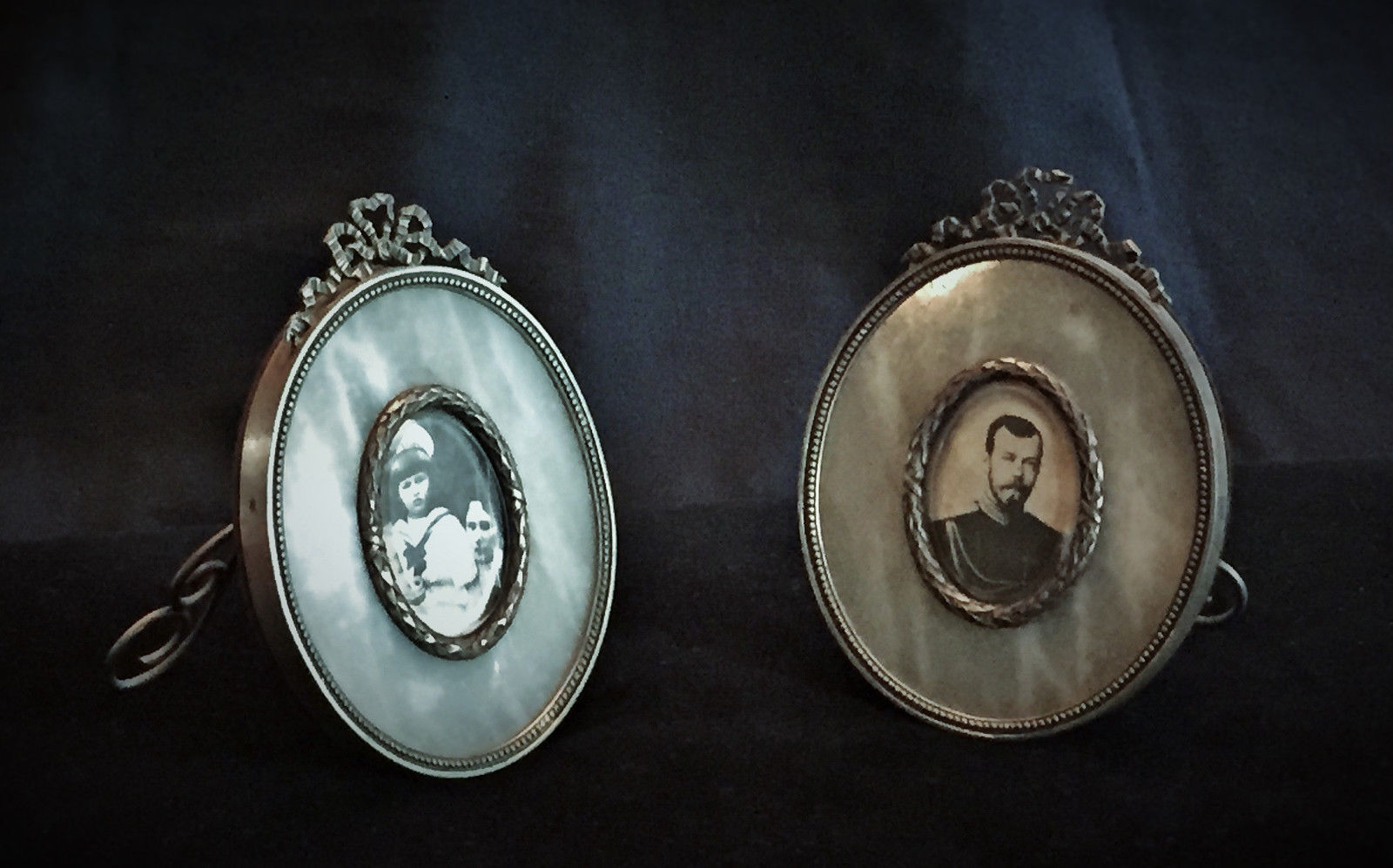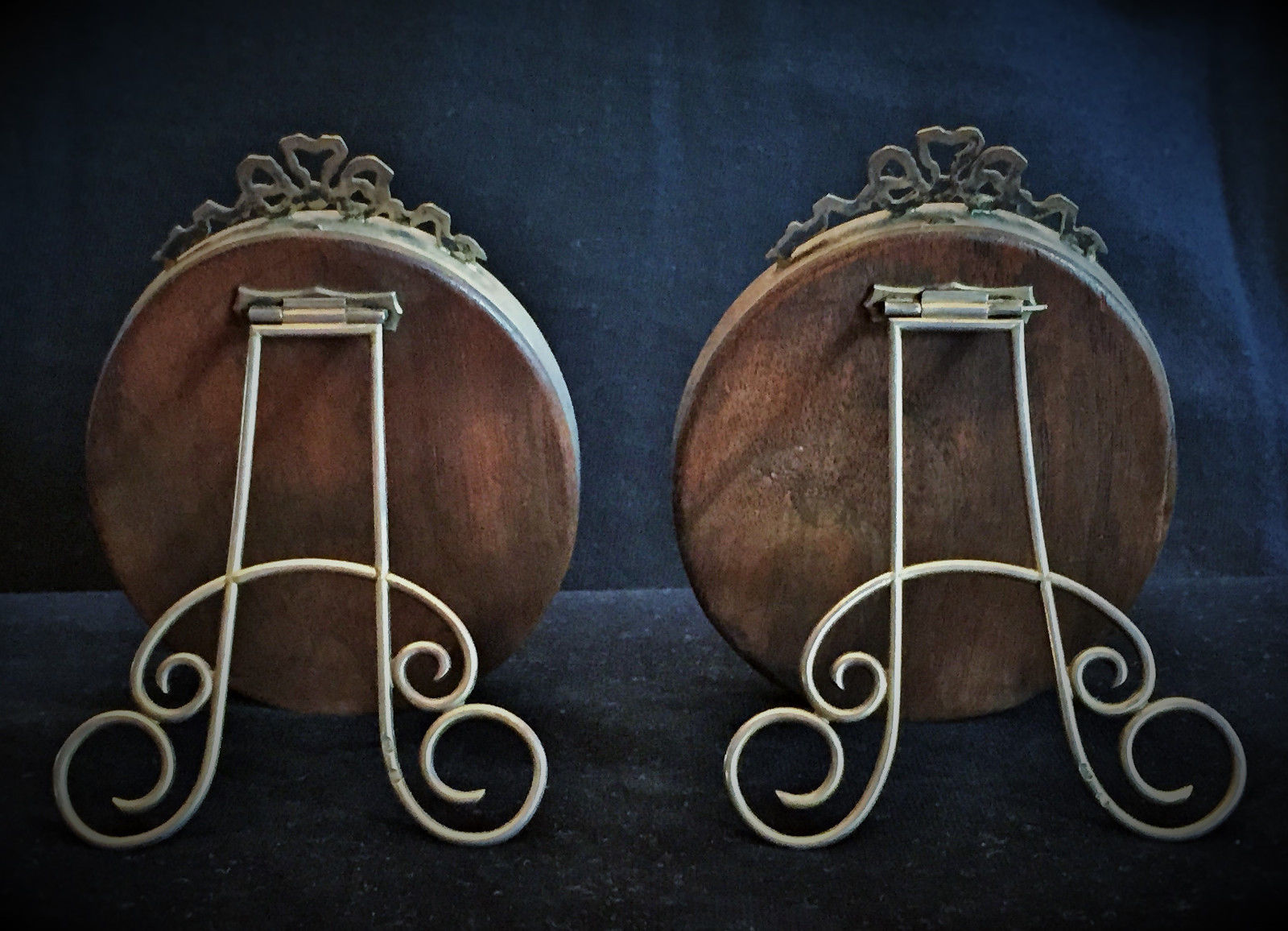 Dimensions:
Height: 3 5/8 inches (9.2cm) Width: 2 7/8 inches (7cm)
A pair of silver-mounted Orsk Jasper photograph frames from the workshops of Peter Karl Fabergé, made between 1908 and 1917 in the Rococo taste, with oval apertures, surrounded by laurel leaf wreaths and the outside border with bead decoration; topped with ribbon and bow surmount. The wooden backs with scroll design easels.
Both frames are hallmarked on the bottomn in Cyrillic "Fabergé", "Kokoshnik" (facing right) with the 84° "zolotiniks" standard mark in an oval field and initials "KF". Every applied part (the laurel wreaths surrounding the apertures, and the easels) is hallmarked with "Kokoshnik" and initials "KF".
Jasper, excavated within the Orsk city line in the Mount Polkovnik (Ural mountains) is one of the most notable kind and is considered to be an "aristocrat" of the semi-precious stones Russia is famous for. Orsk jasper is revered for its variety of natural designs and colors. The grayish-green background color highlights the paler gray and milk-white natural patterns of this uncommon gemstone, forming an attractive contrast with the clean and simple lines of silver that elegantly frames it
Excellent antique condition with some minor signs of age or wear. Both frames have preserved their original beveled glass. Please observe photos carefully, as they are a significant part of the description. Any potential defect shown in the photos, but not mentioned in the description will be considered as described.
$16,000
Russian Imperial
Anton Vasyutinsky
IMPERIAL WEDDING
~ Commemorative SILVER Medal ~
St. Petersburg, Ca. 1894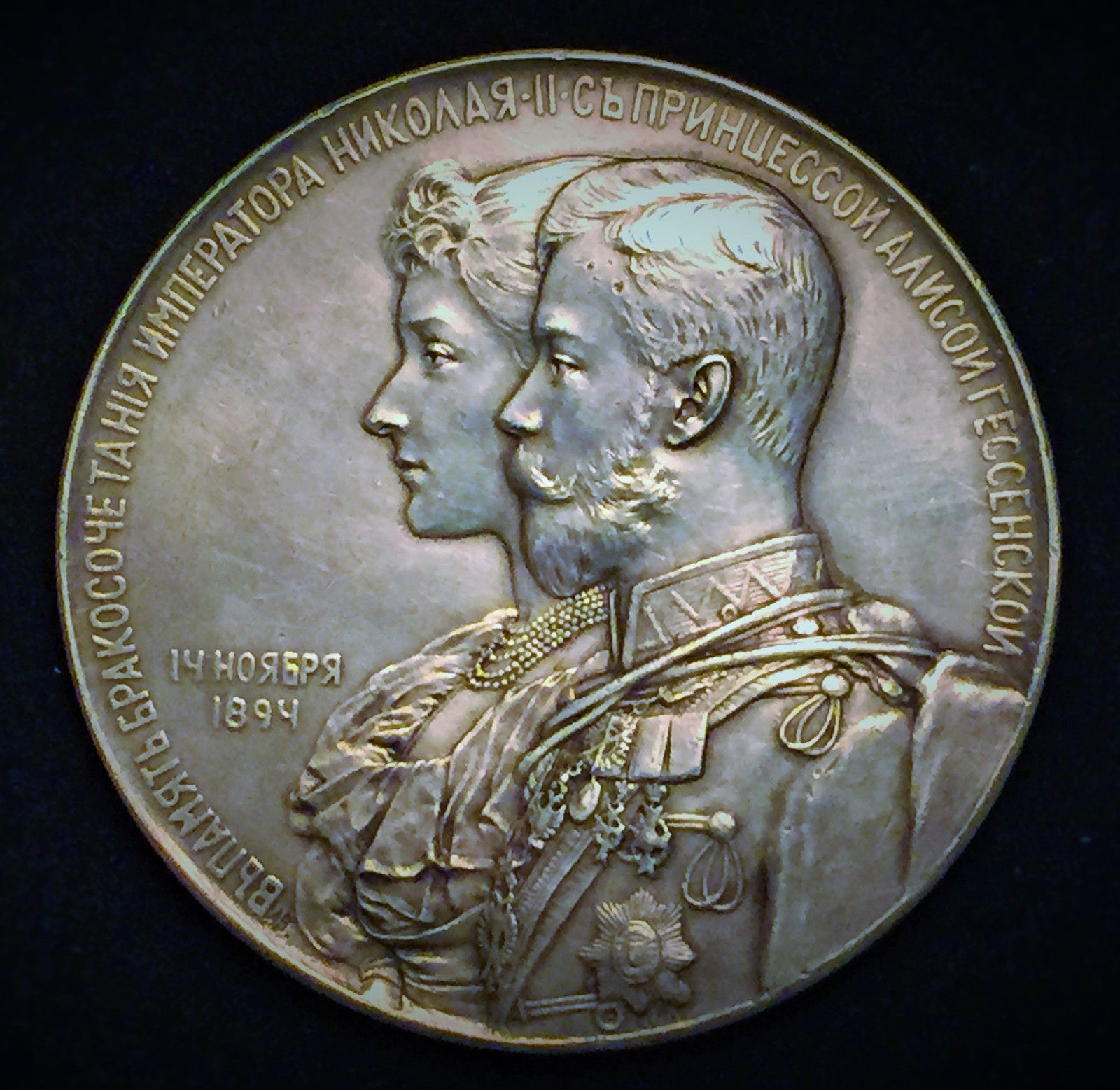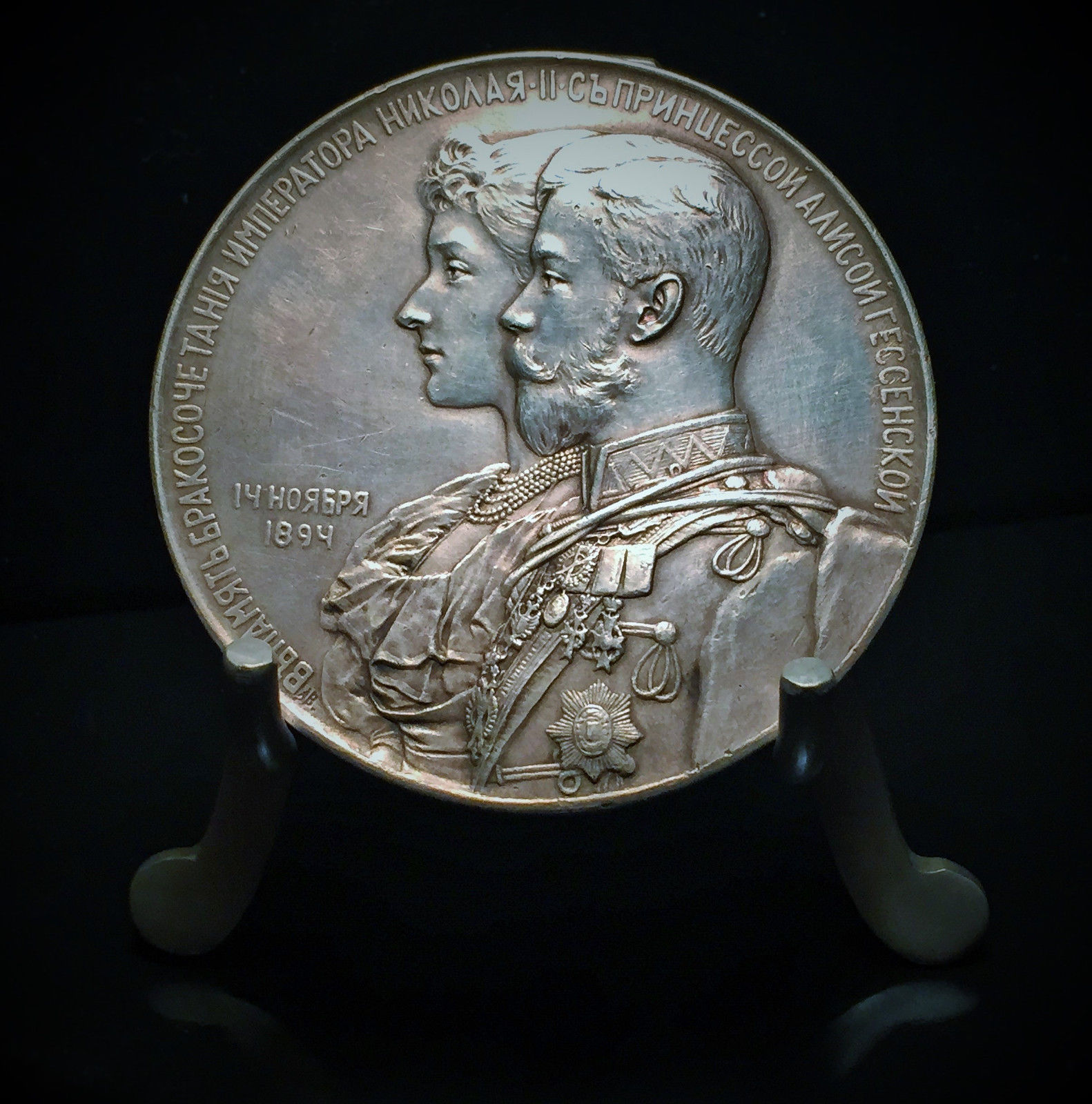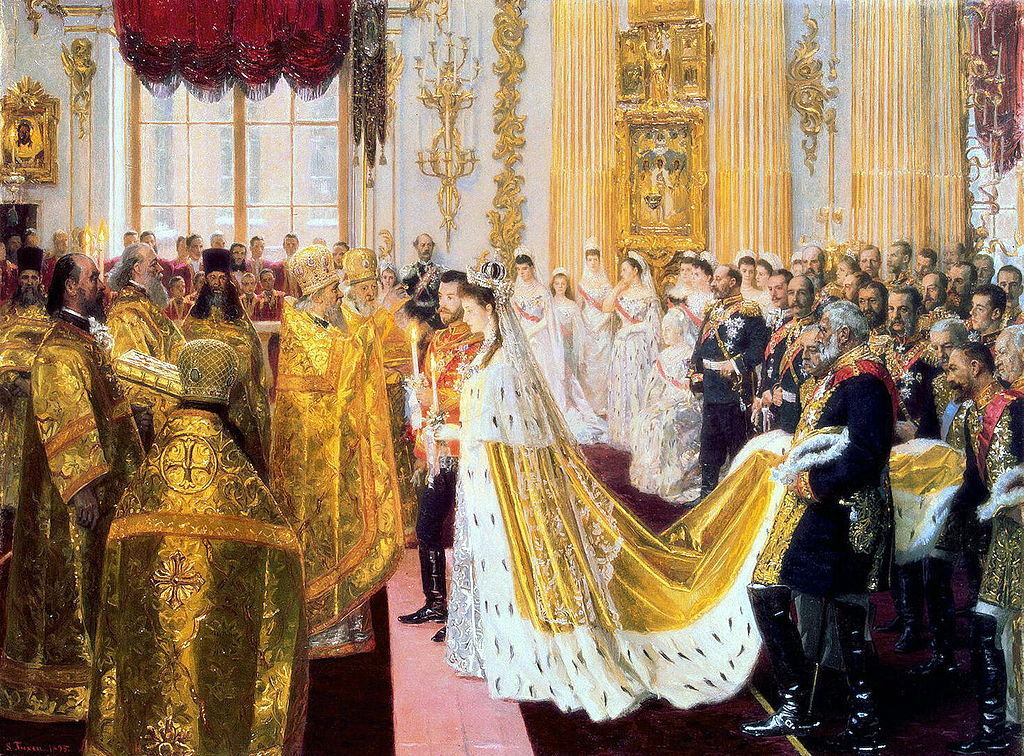 Signed in Cyrilic "AB." on Side I, artist's initials for Anton Vasyutinsky
Dimensions;
Diameter: 70 mm Weight: ca.186.1g
References:
Sm 1088, Diakov 1164.1 (R3)
We are proud to present a very rare and important Imperial Russian silver medal, commemorating the wedding of Emperor Nicholas II of Russia and Alexandra Feodorovna (Princess Alice "Alix" of Hesse und Bei Rhein). Launched in extremely limited quantities, this medal was a royal gift to commemorate this historic event, reserved exclusively for guests in attendance at the royal wedding ceremony. The bas-relief compositions on both sides of this outstanding commemorative medal were made from the drawings and models of the unsurpassed master, Anton Feodorovich Vasyutinsky (1858 - 1935), a professor of Russian Imperial Academy of Arts in Saint Petersburg, a famous painter and prominent designer of medals and coins in the Russian Empire, and later in Soviet Union.
Side I:
The conjoined busts of Nicholas II and Alexandra Feodorovna (Princess Alice "Alix" of Hesse) depicts the couple at their last date, as bride and groom, before the wedding. The inscription, surrounding the double-image of the couple by the perimeter reads: "IN MEMORY OF THE WEDDING OF EMPEROR NICHOLAS II AND PRINCESS ALICE OF HESSE, 14 NOVEMBER 1894".
Side II:
The reverse side of the medal shows a royally magnificent wedding scene in the Grand Church of the Winter Palace, fully coinciding with the historical events depicted in it. Invitations had been sent out, along with a dress code: Russian gentlemen were to wear full regimental dress, bureaucrats were to wear the appropriate uniforms as stipulated in Peter the Great's Great Table of Ranks; Russian ladies were to come in full court dress, foreign women in evening gowns, with full jewels and awards. The service was presided over by Father Ivan Yanishev, the private imperial confessor; along with various archbishop, bishops, archimandrites and court priests. Among those present can be seen Nicholas's mother, the Dowager Empress Maria Feodorovna, as well as his best men - Grand Dukes Michael, Cyril Vladimirovich, Sergei Mikhailovich and Prince George of Greece. In the center of the bas-relief composition, we can see the royal couple in all their autocratic splendor: Alexandra, dressed in her wedding gown and imperial mantle. Her Honiton lace veil had been designed by her maternal grandfather Prince Albert and had been worn at the weddings of her mother, Princess Alice (who died in 1878 when Alexandra was six) and her sisters.
She also wore the traditional Romanov nuptial crown, a 475 carat necklace and matching earrings that had belonged to Catherine the Great. Across her body, she wore the star and sash of the Order of St. Andrei. Next to his new wife-to-be is Nicholas II, Emperor of Russia vested in his full Hussar's uniform, complete with his medals and the sash of the Order of Hesse und Bei Rhein. After blessing them, Father Ivan Yanishev announced the betrothal of Nicholas to Alexandra to the congregation, and then handed them their rings. Upon exchanging them three times, Nicholas and Alexandra knelt and exchanged formal wedding vows, nuptial crowns above their heads. Then, they knelt and kissed a gold cross, and following a final prayer, Nicholas and Alexandra were pronounced man and wife, at which point the church bells across St. Petersburg rung, and guns were fired from the Peter and Paul Fortress.
$8,000
mid-century russian
~ a grand Crystal and Silver Serving Bowl ~
USSR, Ca. 1945
Dimensions:
Height: 4 1/2 inches Diameter: 8 1/2 inches
Presented here is a Vintage Russian Classic - cut crystal and serving bowl of unusually large dimensions, with a silver rim, featuring repeating oak leaf design. It is hallmarked with "875" and a cartouche with the worker's head facing right, holding a hummer over his shoulder. Judging by these hallmarks, the bowl was produced in Moscow, ca. 1945.
$1,600