William L. deMatteo
Mid-Century Modern
Sterling Silver Coffee Kettle
ca. 1950s
Dimensions: Height: 10.75 inches Width: 3-1/2 inches Depth: 5.25 inches
Weight: 27.4 troy oz
This elegant and unusual Sterling Silver & Wood Coffee & Tea Kettle, made by the famous New York master William Lawrence deMatteo, very delicately decorated with the sprouts of young peas. Although at first glance, this object casts thoughts about Art Deco, the unusualness of organic decorative elements in combination with the traditional form certainly speaks of its explicit Mid-Century Modern design.
William Lawrence deMatteo (American, 12 October 1923 - 14 May 1988), silversmith and master craftsman, was born in New York City and was the son of Elizabeth Rommelman deMatteo and William Gaitano [Gaetano] deMatteo, an accomplished silversmith who immigrated to the United States from Acciaroli, Salerno, Italy, with his family when he was a boy. William Lawrence deMatteo grew up in suburban Bergenfield, New Jersey, and attended schools in nearby Tenafly, all the while observing and absorbing his father's skillful work. DeMatteo began studying sculpture and fine arts at Columbia University in 1941, but after the United States entered World War II he joined the navy in November 1942 and served in the Pacific theater as a torpedo bomber pilot. On 14 November 1946, in Asbury Park, he married Jayne Walpole, a painter who later co-founded an art gallery. They had three daughters and one son. DeMatteo resumed his apprenticeship with his father and may have continued his studies at Columbia before being recalled to active duty with the navy during the Korean War. He was discharged in 1953.
Bill deMatteo, as he was usually known, visited the restored capital of colonial Virginia while he was still in the service and asked to see the silversmith's shop. Told that Colonial Williamsburg had none, he saw an opportunity for himself. Soon after deMatteo left the navy, he returned to Williamsburg and in July 1953 joined the staff as a silversmith. He created the entire silversmith program and was responsible for the James Geddy Silversmith's Shop, where he trained shopkeepers in interpreting craftsmanship to visitors, instructed and supervised apprentices in all kinds of metalworking, and handcrafted reproductions of eighteenth-century silver items for sale in the shop. DeMatteo also revived colonial silversmith James Craig's Williamsburg shop, "At the Sign of the Golden Ball." In January 1963 deMatteo was promoted to Staff Master Craftsman and Master Silversmith.
In accord with Colonial Williamsburg's motto - that the future may learn from the past - deMatteo spent much of his time in educational and advertising efforts. Working from a research report that Colonial Williamsburg staff member Thomas K. Bullock had prepared, in 1956 deMatteo published The Silversmith in Eighteenth-Century Williamsburg - An Account of his Life & Times, & of his Craft, a short history of silversmithing and techniques used in colonial days. DeMatteo also provided much of the information for a 1971 video program, Silversmith of Williamsburg, and the accompanying manual. In the film he demonstrated every stage of making an eighteenth-century silver coffeepot, beginning with receiving silver coins or scraps to be melted, discussing details of the commission with a customer, methods and design, and shaping the piece with his hammer and burnishing the completed coffeepot. In 1971 and 1972, deMatteo studied design, silversmithing, and methods at Sir John Cass Department of Art of the City London Polytechnic, and with professional London silversmiths; in 1975 he became the first American craftsman to be elected an honorary foreign associate of the Worshipful Company of Goldsmiths, in London.
As his skill became apparent to staff and visitors, deMatteo received many requests to design and craft commemorative gifts. A town-crier's bell that he made for Colonial Williamsburg to present to Sir Winston Churchill in 1955 appeared in a picture of Churchill on the cover of Life magazine the following year. DeMatteo designed presentation pieces for the White House Correspondents' Association annual presentations to Presidents John F. Kennedy, Lyndon B. Johnson, Richard M. Nixon, Gerald R. Ford, and Jimmy Carter. He designed numerous handcrafted gifts for visiting presidents, queens, kings, and prime ministers, and the Department of State commissioned deMatteo to craft silver trays for presentation to Egyptian president Anwar Sadat and Israeli prime minister Menachem Begin at the Camp David Accords in 1978.
For a commission from the American Telephone and Telegraph Company in 1976 in recognition of the centennial of Alexander Graham Bell's invention of the telephone, deMatteo produced an abstract silver piece, a departure from his colonial-style masterpieces, inscribed with Bell's first words transmitted over his telephone. Despite his finesse, he was a modest man who insisted that he was a craftsman, not an artist. DeMatteo was content to make beautiful utilitarian objects that he believed did not rise to the level of imagination and execution required of an artist. His devotion to excellence was acknowledged by the American Institute of Architects, which in 1960 gave him its craftsmanship medal for high achievement in industrial arts.
After twenty-six years with Colonial Williamsburg, in 1979 deMatteo left and moved with his family to Alexandria. Together with his son, Chip deMatteo, and Philip Thorp, a colleague at Colonial Williamsburg, he opened Hand & Hammer Silversmiths. DeMatteo continued to explore and extend his range beyond eighteenth-century forms. He was an affable man, noted for his disarming smile. He was an intense perfectionist who was deaf to his surroundings while sitting at his bench shaping precious metals with his hammer. He was also a resourceful artisan who was known to make his own hammers when he failed to find suitable ones in the market. DeMatteo once remarked that "being a silversmith is just a delightful, lovely way to go through life" and that while he was not fully satisfied with his silver work he was "very satisfied with the life I lead." William Lawrence deMatteo died of leukemia at an Alexandria hospital on 14 May 1988. His son, who continued to work at the Hand & Hammer Silversmiths, preserved his ashes.
$1,500
Jean Puiforcat
Solid Sterling Silver Double-Handled Serving Tray
Circa 1900
Dimensions: Length without handles: 2- inches Length with handles; 24 inches Width: 15 inches
Weight: 94oz
The House of Puiforcat story.
This family cutler, founded in Paris in 1820 by Emile Puiforcat and his two cousins, owes most of its renown to Jean Puiforcat, from the fourth generation of the family, who was to write the most beautiful pages of its history almost a century later, and would establish the company in the avant-garde of modern silver work. Driven by his father, Louis-Victor Puiforcat, the company began evolving towards the high-end of the silversmith's trade in the late nineteenth century, recreating eighteenth-century masterpieces from his collection that are now exhibited at the louvre museum in Paris. His son Jean was named a master silversmith in 1920.
Immersed in the wave of artistic change that characterized the period between the wars, he was one of the founders of the Union des artistes modernes in 1929, and was a friend of René Herbst, le Corbusier, Charlotte Perriand and Pierre Chareau. He was passionate about sculpture and invented a evolutionary formal language that advocated adapting form to suit function.
His unfussy style – characterized by pure, architectural lines, notable simplicity and the marriage of solid silver with other precious materials such as exotic woods, semi-precious stones and shagreen – is inspired by Art Déco and was the founding stone for contemporary high-end silverwork. His work is regularly revived and still exudes the same spirit we see in contemporary in-house collections.
Puiforcat came under the wing of the Hermès group in 1993 and, sustained by an exceptional know-how, it now works on re-launching its most beautiful heritage pieces as well as devising tomorrow's classics with the help of present-day designers. The solid steel cutlery set Zermatt, designed by Patrick Jouin and launched in 2010, has already been included in the permanent collections of the Museum at the Pompidou Centre in Paris and the Museum of Arts and Design in New York. Over and above the art of tableware, the house of Puiforcat intends to continue using its almost two-hundred-year-old expertise to serve a complete "silversmith's art of living" particularly with respect to the art of taste and of decoration. The champagne beaker, a unique tasting tool created in 1999, and the range of kit-chen knives conceived with Pierre Gagnaire in 2011, illustrate this commitment.
19th century:
1820: The family cutlery shop was founded by Émile Puiforcat and his two cousins, on rue Chapon, in the Marais neighborhood of Paris.
1857: Emile Puiforcat, partnering with his cousin Jean-Baptiste Fuchs, registered the hallmark of the company: diamond-shaped with, in its center, a pocket knife in profile, flanked on each side with the initials E and P.
20th century:
1902: After his marriage with Laure Puiforcat, the founder's granddaughter, Louis-Victor Tabouret took the helm of the company and his wife's patronym. His collection of solid silver masterpieces were reproduced in the company's workshops, and reissued. The house of Puiforcat developed the highest standards of craftsmanship and became a reference in the world of haute orfèvrerie.
1920: Jean Puiforcat, Louis-Victor and Laure's son, was awarded the title of Master Silversmith at the age of twenty-three. He brought the house to the vanguard of contemporary silversmithing. Often reissued, his masterpieces continue to inspire creation and innovation in the company's contemporary collections.
1925: After being a standout on his first appearance in the Salon des Artistes Décorateurs in 1921, Jean Puiforcat imposed his talent at the International Exposition of Decorative Arts in Paris
1930: Jean Puiforcat was one of the founding members of the French Union of modern Artists (Union des Artistes modernes or UAM), alongside the likes of René Herbst, Le Corbusier, Robert Mallet-Stevens and Charlotte Perriand. These architects, designers, interior decorators shared a common sense of abstraction, a taste for constant innovation, and exacting standards of execution.
1936: The Puiforcat store and workshops relocated to 136, boulevard Haussmann, in the 8th arrondissement of Paris. Architect René Herbst, a friend of Jean Puiforcat, designed new display areas devoid of any ornamentation, shifting the focus to the pieces on view.
1940: Jean Puiforcat sailed to Mexico. In 1945, during a short stay in France, he died suddenly. His father continued to run the company for another ten years.
1955: When Louis-Victor Puiforcat disappeared, Stavros S. Niarchos, the shipping magnate, purchased a large selection of the Puiforcat classic silver collection, and donated it to the Louvre museum, where it can be admired in the department of Objets d'Art.
1980: Under the influence of Éliane Scali, the company's new owner at the time, Puiforcat expanded its activities, introducing new materials like silverplate.
1988: The Puiforcat store relocated to avenue Matignon, at the corner of Avenue Gabriel (in the 8th arrondissement), in a modern décor.
1993: Puiforcat joined the Hermes group. "As a child, I had the oportunity to visit the house of Puiforcat, said Jean-Louis Dumas, who presided over the acquisition. I kept marvelous memories of this visit, and when the opportunity presented itself to expand the Hermes family of crafts, I had no hesitation". The workshops were relocated to Pantin in 2000.
$7,300
German Art Deco
Lazarus Posen Witwe
A Pair of Silver Serving Dishes
Ca. 1910
Dimensions: Height: 3-3/4 inches Diameter: 8-1/8 inches Weight: 15-1/2 oz
Fully hallmarked, 800° Silver
Lazarus Posen Witwe was unique among 19th- and 20th-century German silver manufactories in that its owner and principal director was a Jewish woman.The firm was founded in Frankfurt am Main in 1869 by Brendina Wetzlar, the widow of Lazarus Jacob Posen, a silversmith and retailer of Polish descent. It is not clear when Posen himself died, but clearly, it was before 1869. Under the Posen widow's stewardship, the firm became the largest supplier of Judaica in the late 19th century. Her son Jacob L. Posen joined the firm by 1880, and by 1900, the company's large staff of chasers and engravers were producing some of the finest silver in the country. They received a royal warrant in 1903 and opened a second shop in Berlin. The firm followed all the latest continental trends incorporating both Danish and Austrian styles into their output. In the 20th century the firm was under the direction of Brendina's grandsons Jakob, Hermann and Moritz Posen. The exact date of the company's closure is not known, but it seems certain that the wealthy Jewish-owned firm was a victim of the terrors of the Nazi regime. Articles by Posen Witwe are held today in both, Frankfurt Historical Museum and Frankfurt Jewish Museum."

$2,400
rare Soviet Mid-Century Modern
Set of Eight Coffee Cups & Saucers
Silver 916° & Enamel
USSR, 1960s
Fully hallmarked, this elegant Mid-Century Modern set of eight coffee cups with saucers of unusual shape was made in the USSR in the 1960s out of 916° silver and decorated with a minimalistic geometric pattern of multi-colored enamel. In perfect condition, never been used, like brand-new.
CUP: Height – 1" Diameter – 3.25" Weight: 2.2oz (62.6g)
SAUCER: Height – 0.33" Diameter – 4.88" Weight: 3.31oz (93.8g)
TOTAL WEIGHT OF SILVER: 44.08oz (1,251.2g)
$2,500
Dutch Arts & Crafts
Silver Plated
Water Pitcher
1900s
Probably Dutch. Lavishly designed in the style of Arts & Crafts / Art Nouveau, this outstanding hand-made, hammered silver-plated water pitcher was obviously crafted by a highly skilled silversmith. The hallmark on the bottom looks like a mill, surrounded by two smoking pipes on both sides facing opposite directions. There is also a (model) number - 3030.
Excellent original condition with no dents, scratches or monograms. All the details are clear, with no removals, repairs or alterations. The pitcher has the soft, warm, original finish, with no buffing or machine polishing.
Dimensions:
Height: 8 1/4 inches Width: 9 1/2 inches Depth: 6 inches
The Arts and Crafts Movement
The Arts and Crafts movement emerged during the late Victorian period in England, the most industrialized country in the world at that time. Anxieties about industrial life fueled a positive revaluation of handcraftsmanship and pre-capitalist forms of culture and society. Arts and Crafts designers sought to improve standards of decorative design, believed to be debased by mechanization; and to create environments, in which beautiful and fine workmanship governed.
The Arts and Crafts movement did not promote a particular style, but it did advocate reform as part of its philosophy and instigated a critique of industrial labor; as modern machines replaced workers, Arts and Crafts proponents called for an end to the division of labor and advanced the designer as artisan.
$1,200
Antique
German Neo-Baroque
Silver Wine Jug
XIX Century
This amazing silver wine jug in perfect German Baroque style of the 17th Century was actually finely crafted in the repoussé and chasing techniques at the end of 19th Century. Though unmarked, clearly it is a work of a master silversmith. The mouth of the jug, fitted with hinged lid made in the shape of the head of an ancient knight in a helmet with a raised visor. The elegant long neck decorated with two medallions with profile portrait images of a knight in helmet and, in all likelihood, the lady of his heart. The spherical part of the jug decorated with allegorical images from ancient German legends in the form of snakelike monsters with human heads. The beautiful, forked at the top end handle of the jug embellished with bay leaves, a symbol of victory.
Weight & dimensions:
Weight: 38.5 troy oz Height: 14.25 inches Max. Diameter: 6.25 inches Base diameter: 4.25 inches
$3,500
English Edwardian
Sterling Silver, Enamel & Gilt Snuffbox
1900s
Dimensions: H – 1/1/16" L – 3 1/2" D – 1.3/4"
This most unusually designed Edwardian era snuffbox of elongated oval-cylindrical form is beautifully handcrafted of sterling silver, multicolor guilloche enamel, with gilt interior.
Stamped STERLING SILVER.
Good antique condition consistent with age and use. There is no damage or repairs.
We make our best effort to provide a fair and descriptive condition report. Please examine the photos attentively. Send us a message to request more details or discuss price.
$1,850
Mikhail Krikheli Studio
Sterling Silver Enamel & Gilt
Snuffbox with Mushrooms
XXI Century
Dimensions: H – 7/8" W – 3 3/8" D – 2.3/4"
Hallmarked with "STERLING" and two Mikhail Krikheli private stamps.
Rare and unique, this sterling silver, enamel and gilt snuffbox, decorated with mushrooms was commissioned in a single copy by the known New York City art collector, antiquarian and gallerist, Mikhail Krikheli.
Excellent condition. There is no damage or repairs.
We make our best effort to provide a fair and descriptive condition report. Please examine the photos attentively. Send us a message to request more details or discuss price.
sold
American Art Deco
Tiffany & Co.
Sterling Silver Table Mirror
1920s
Marked on edge: Tiffany & Co. 17395 MAKERS 8739 STERLING SILVER 925-1000 YYY
Monogramed: NWS
Diameter: 17 inches.
$4,500
Maria Semenova
Enameled Silver and Hand-Cut Crystal Box
Moscow, Imperial Russia
Ca. 1910s
Signed with Cyrillic initials M.S. for Maria Semenova.
Assay mark of Moscow, 1908-1917.
Silver standard: 84 zolotnik.
Dimensions: 3 3/4" W x 2 3/8" D x 1 5/8" H
Maria Semenova (active 1896-1917) was an important Russian silversmith and enameller. Daughter of a well-known silversmith Vasili Semenov, Maria took over the family business after his death. Under her supervision, the firm became famous for its high-quality enamel objects.
sold
Mid-Century Modern
Tiffany & Co.
Sterling Silver
Set of Six Candy & Nut Dishes
Circa 1950s
The set consists of two serving dishes and four individual dishes, all with pierced handles. Excellent antique condition, consistent with age and use.
Serving dish dimensions: Length 6 inches Width 4.5 inches Height 0.75 inches
Individual dish dimensions: Length 6 inches Width 4.5 inches Height 0.75 inches.
Combined weight: 12.5 troy ounces.
sold
French Art Nouveau
Maison Odiot Paris
Rock Crystal and Gilt Silver Claret Jug
Circa 1900
Dimensions
H 12 in. x W 6 in. x D 6 in.
H 30.48 cm x W 15.24 cm x D 15.24 cm
Made in Paris by Maison Odiot circa 1900, this .950 silver-gilt mounted rock crystal claret jug is an extraordinary example of the unique skills of their artisans. What makes it extraordinary is the outstanding design and composition, where the rock crystal swirled cutting lines are smoothly becoming those of the stylized seaweed foliage scrolls on the silver mounting throughout the neck, mouth, and foot. The top of the lid decorated with a seashell.
sold
Cartier
Solid Sterling Silver
Oval Entrée Dish
Circa 1950's
Strikingly elegant in its brevity and simplicity, this solid sterling silver oval entrée dish by Cartier, ca. 1950's, is fully hallmarked and weighs 64oz.
Dimensions:
Length: 20" Width: 13" Height: 1.5"
Weigh: 64oz
Good condition, consistent with age and use.
We make our best effort to provide a fair and descriptive condition report. Please examine the photos attentively, as they are an integral part of the item description.
$5,500
Pavel Sazikov
Silver Box with Gilt Interior
St. Petersburg, Imperial Russia
Ca. 1856
This fine work of a silversmith art was made during the era of Pavel Sazikov, the original establisher of the firm, which makes it especially valuable and important for the collectors of the Russian Imperial silver objects and applied arts. The straight sided rectangular box minimalist design is striking, especially given the time of manufacture, and the perfect rendering. The most noteworthy element of this unique design is the pool on top of the lid, in the form of a simple ring on the loop. Another big surprise is that when the lid is removed, the interior of the box and the inside of the lid are richly gilded, powerfully contrasting with the simplicity of the overall design.
Dimensions:
Length: 2 15/16 inches (7.5cm) Width: 1 3/4 inches (4.5cm) Height: 1 1/2 Inches (3.75cm)
Weight:
5 troy ounces (142.1 grams)
Markings:
84° Russian Silver Standard: The Russian silver standard is based on the zolotnik, a word derived from the
Slavonic word for gold. The zolotnik was originally a gold coin circulating in Kievan Rus in the late 11th century,
And was originally pegged to 1/96th of a Russian pound, which was later changed to 1/72nd of a Russian pound.
One zolotnik is equal to 4,266 grams.
City hallmark of St. Petersburg: Two crossed anchors and a scepter.
Master's hallmark: In Cyrillic: "PS" (ПС) for Paved Sazikov (Павел Сазиков)
Assay master mark: In Cyrillic: "EB" (ЭБ) for Eduard Fyodorovich Brandenburg (Эдуард Федорович Бранденбург), and dated: 1856.
.Pavel Sazikov (1793-1877)
A contemporary of Carl Fabergé, Pavel Sazikov is a highly important and respected 19th century Russian silversmith. The firm of Sazikov was founded as a workshop in Moscow by Pavel Sazikov in 1793. Though it remained family run, the business quickly expanded. After Pavel's passing, his son Ignatti (1796-1868) succeeded him in running the business. Ignatti expanded the firm to Saint Petersburg in 1842. Around that time, Sazikov was appointed the title of court supplier, and the firm was given the right to incorporate the imperial double eagle into the Sazikov trademark.
After Ignatti's passing in 1868, his three son continued to run the business in Saint Petersburg, until that branch was closed in 1877. The Moscow branch continued for another ten years before it was taken over by another firm.
$1,250
Enameled & Gilt Silver
Snuffbox with Hunting SCENES Miniatures
India, 19th Century
Dimensions:
Height: 1 1/16 inches Width: 2 3/8 inches Depth: 2 inches
Weight: 3 ounces
This amazingly beautiful precious 19th century bauble from India is an octagonal silver casket, completely covered with hand-painted ornamental and miniature multicolored enamels and features a gilded interior. Fitting one's hand very comfortably, it was intended, in all probability, to serve as a snuffbox.
The top hinged cover of the snuffbox is decorated with symmetric floral ornament and medallions. The lateral surface along the entire perimeter is filled with very thinly executed four miniatures with scenes of hunting and animals, alternating with four floral ornamental miniatures. The most interesting are, of course, miniatures with hunting, scenes which alternately depict a lion torturing a bleeding bull, a horse, a tiger bent over a deer and a hunted down buffalo.
As the silver hallmarks were not found, therefore, judging by the fineness of the jeweler, painter and engraver workmanship, one can assume with a high degree of certainty that this box was made on special order – probably, as a gift to a wealthy man.
Since the state of the snuffbox is almost perfect and two engraved vignettes (one on the inside of the lid for the owner's initials, and the other on the bottom of the box for the inscription) are unfilled, one can assume with even greater confidence that this gift was never given.
sold
FOR Amadeo I, King of Spain
A Pair of Heraldic Wall Sconces
XIX CENTURY
Dimensions:
Height: 11 inches Width: 10 inches Weight: 977.5g (each)
Unique - for the true lovers of real rarities! It is our pleasure to present to you this amazing pair of XIX century hand-hammered silver double-armed candle wall sconces in the Spanish Baroque style. The back plates are beautifully adorned with the Spanish royal crown and personal monogram of Amadeo I, the King of Spain. The heraldic composition is completed by the sculptures of angels, holding a laurel wreath in each hand, a symbol of royal power and victory. Probably, made by a special order, the sconces are unmarked but tested for silver. The original wooden bases of the back plates, intended to be mounted on the wall are preserved in a good condition on both candelabras, with all of the original copper studs that the silver parts are nailed to them. Very good antique condition, although there is a common minor wear consistent with age and use. Please refer to photographs attentively, as they are part of the description, as well. Is it possible that these silver sconces at one time had decorated the walls in the King's apartments ?
Amadeo I, the King of Spain (1870-1873)
Amadeo I (Italian Amedeo, sometimes anglicized as Amadeus) (30 May 1845 – 18 January 1890) was the only King of Spain from the House of Savoy. He was the second son of King Vittorio Emanuele II of Italy and was known for most of his life as the Duke of Aosta, but reigned briefly as King of Spain from 1870 to 1873. He was elected by the Cortes as Spain's monarch in 1870, following the deposition of Isabella II, and sworn in the following year. Amadeo's reign was fraught with growing republicanism, Carlist rebellions in the north, and the Cuban independence movement. He abdicated and returned to Italy in 1873, and the First Spanish Republic was declared as a result. Granted the hereditary title Duke of Aosta in the year of his birth, he founded the Aosta branch of Italy's royal House of Savoy, which is junior in agnatic descent to the branch descended from King Umberto I that reigned in Italy until 1946, but senior to the branch of the Dukes of Genoa.
The Spanish Royal Crown
The Spanish Royal Crown, known as Crown of Alfonso XII, is the symbol of the Spanish Monarchy and has been used in proclamation ceremonies since the 18th century. The current Spanish Royal Crown is the crown of the ruling Bourbon Dynasty. The Spanish branch of the House of Bourbon was founded by Philip V of Spain, Duke of Anjou, who was born in 1683 in Versailles. He was the second son of the Grand Dauphin, son of Louis XIV. The last time the crown was shown at a public ceremony was in the Cortes Generales during the swearing-in of King Felipe VI on 19 June 2014 after the abdication of his father, King Juan Carlos I. Since July 2014, the Crown and scepter are on permanent public display for the first time ever in the so-called Crown Room at the Royal Palace of Madrid.
$3,500
Val Stern
nude
Solid Silver Sculptural Paperweight
MATERIALS:
Solid sterling silver
DIMENSIONS:
Height: 1 1/4 inches Length: 4 1/2 inches Width: 2 inches Weight: 15oz (426.4g)
PRICE:
$8,700
French Art Nouveau
- Perfume Bottle ~
Body Lotion or Bath Salt Jar
Ca. 1900
Dimensions:
Height: 5 1/2 inches Max. width: 3 1/2 inches Bottom diameter: 2 7/8 inches
This fine and unusual French antique perfume bottle of a superb quality and workmanship and can also function as a body lotion or bath salt jar/bottle. After over a hundred years, today this elegant object is ready to be used for the intended purposes, and would be an exquisitely tasteful decoration for a dressing table, dresser or vanity of the most demanding of the ladies. It is made of a very thick crystal and has a sterling silver hinged round lid. The crystal part of the bottle is masterfully etched and hand-engraved throughout its perimeter with the Irises pattern, a floral motif made one of the most popular during the Art Nouveau era. The top of the sterling silver hinged round lid is also decorated with a charming bouquet of the same flowers, rendered in the repose technique. Both, the neck and the top cover of the lid are stamped with a full set of French hallmarks, half-erased due to long-term use and therefore illegible. The repose bouquet of Irises on the cover is stamped additionally with an essayist' hallmark with artist initials "RD". This beautiful perfume bottle is in fine antique condition consistent with age, with minimal wear to crystal and silver parts, no cracks, no hairlines, no damages, no restorations.
$600
French Art Deco
Flower Vase
- Ca. 1925 -
Concise in form, this gorgeous French hand-cut crystal flower vase framed in sterling silver is an unusual design-crossover between Classism and High Art Deco styles.
Will fit ideally into a modern interior space, as well. The vase is in perfect vintage condition - no chips, scratches, imperfections, restorations. Fully hallmarked.
Measurements:
Height: 10 1/4 inches Upper diameter:6 3/8 inches Mid- diameter: 8 3/4 inches Bottom diameter: 5 1/4 inches
$3,600
Italian Novecento
Alessandro Calderoni
Grand Two-Part Centerpiece
Ca. 1940
This luxurious hand-hammered silver centerpiece consists oftwo parts:
- The smaller footed bowl is raised on oval wood platformб resting on seated cast silver male figures.
- The larger bowl is raised on flattened bun feet.
- Both, the larger and smaller bowls have scrolled handles, lobed bodies and banded rim that ends in scrolls at the fluted seams.
Dimensions: 12-1/4 x 21 x 18-1/2 inches (31.1 x 53.3 x 47.0 cm)
Weight: 160.14 troy ounces (5kg794 g), including non-silver material
Hallmarks: S.A. CALDERONI, MILANO, 800
This magnificent formal centerpiece was created around 1940 in Milan by S.A. Calderoni, a famous Italian firm of fine jewelers and silversmiths that was established in 1898 and achieved its greatest fame during Art Nouveau, Art Deco and Novecento periods. The company also manufactured items for special private orders and commissions and was a supplier to the court of the last Italian King, Victor Emmanuel III. The outstanding artistic design in the style of Novecento and its generous proportions combined with a remarkable handmade rendering make this magnificent centerpiece not simply a functional object but a true masterpiece of applied arts.
$14,900
Silver Niello
Snuff Box
Netherlands, Ca. 1825
Presented here is an early 19th century Dutch silver snuff box (ca. 1825) of an oval form. The stand-away hinged oval cover is beautifully decorated with black niello enamel, depicting a tavern scene, with peasants dancing and having a great time. The interior of the box is gilded. The miniature on the cover is surrounded byan elegant design of leaves and vines. The sides and underside of the box are completely covered with fine geometric pattern in the niello technique..
MEASUREMENTS
Length: 3 3/8 Width: 2.5 inches Height: 1 inch Weight: 3.56oz (101g)
NIELLO
Niello is black metallic alloy of sulfur with silver, copper, or lead that is used to fill designs that have been engraved on the surface of a metal (usually silver) object. Niello is made by fusing together silver, copper, and lead and then mixing the molten alloy with sulfur. The resulting black-colored sulfides are powdered, and after the engraved metal, usually silver, has been moistened with a flux, some of the powder is spread on it and the metal strongly heated; the niello melts and runs into the engraved channels. The excess niello is then removed by scraping until the filled channels are clearly visible, and finally the surface is polished. The contrast of the black niello against the bright silver surface produces an attractive decorative effect.
SNUFF BOXES
Inhaling snuff, or snuffing, as it is also called, was first witnessed by a European in 1493, when Friar Ramón Pane, who had arrived in the new world courtesy of Christopher Columbus, was living as a missionary among Haiti's indigenous Taino. Until then, tobacco had been unknown to Europeans, but the use of tobacco spread like a weed on the continent during the 1500s. By the second half of the 17th century, ornate boxes were being produced to keep the precious powder dry. At the beginning of the 18th century, French jewelers began making snuff boxes out of silve and gold set with diamonds, amethysts, and sapphires. By 1740, specialized artisans took over the production of these ornate tabatières, which they engraved, chased, and enameled. A close cousin of the tabatière was the tabatière à cage, whose sides, tops, and bottoms featured gold or metal frames holding panels of decorated ivory, agate, tortoiseshell, or porcelain. The shapes of these boxes was not limited to simple rectangles. Porcelain containers resembling trunks were common, as were ovals, but tabatières shaped like shells were more rare. And while materials were often enough for their decoration, sometimes these snuff boxes were hand painted, depicting everything from miniature landscapes and bucolic scenes to tiny portraits or grisaille cameos of their owners.
$1,300
Silver-Mounted Cut Crystal
Set of Wine Pitcher and 12 Glasses
Moscow, USSR
Ca. 1960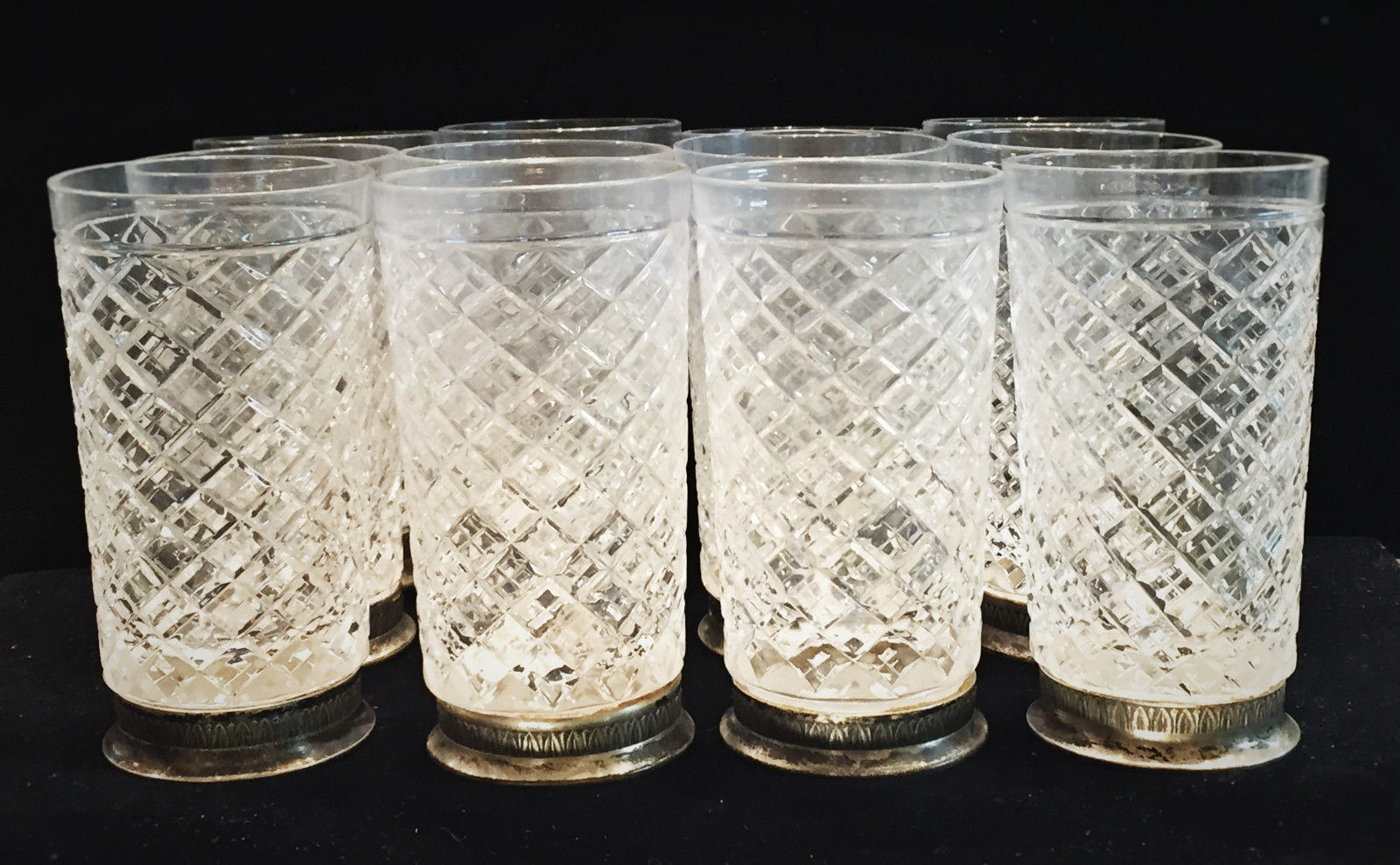 PITCHER MEASUREMENTS:
Height: 13 1/2 inches Width: 7 inches
GLASS MEASUREMENTS:
Height: 4 1/2 inches Top diameter: 2 1/4 inches Bottom diameter: 2 inches
Presented here is a wonderful cut crystal-and-silver set, consisting of a tall pitcher with the gold plated inner part of the neck and cover and twelve matching glasses with the silver rim featuring repeating acanthus leaf design.All silver parts of the set are hallmarked with a barrel shaped cartouche with the image of a sickle & hammer inside a 5-pointed star, followed by the number 875, and capital letter M in front of the star image is for Moscow assay inspection. Next to them, there is another stamped hallmark "3MO" (Mosremchas factory, Moscow). Judging by these hallmarks, this set was made in Moscow between 1960 and 1965.There is also an engraved inscription in Russian on the outer part of the pitcher's neck: "To Yakov Georgievich on his seventieth birthday from the guys, 1966"
$4,000
German Tromp L'oeil
rare Brotherhood Wine Vessel
XIX Century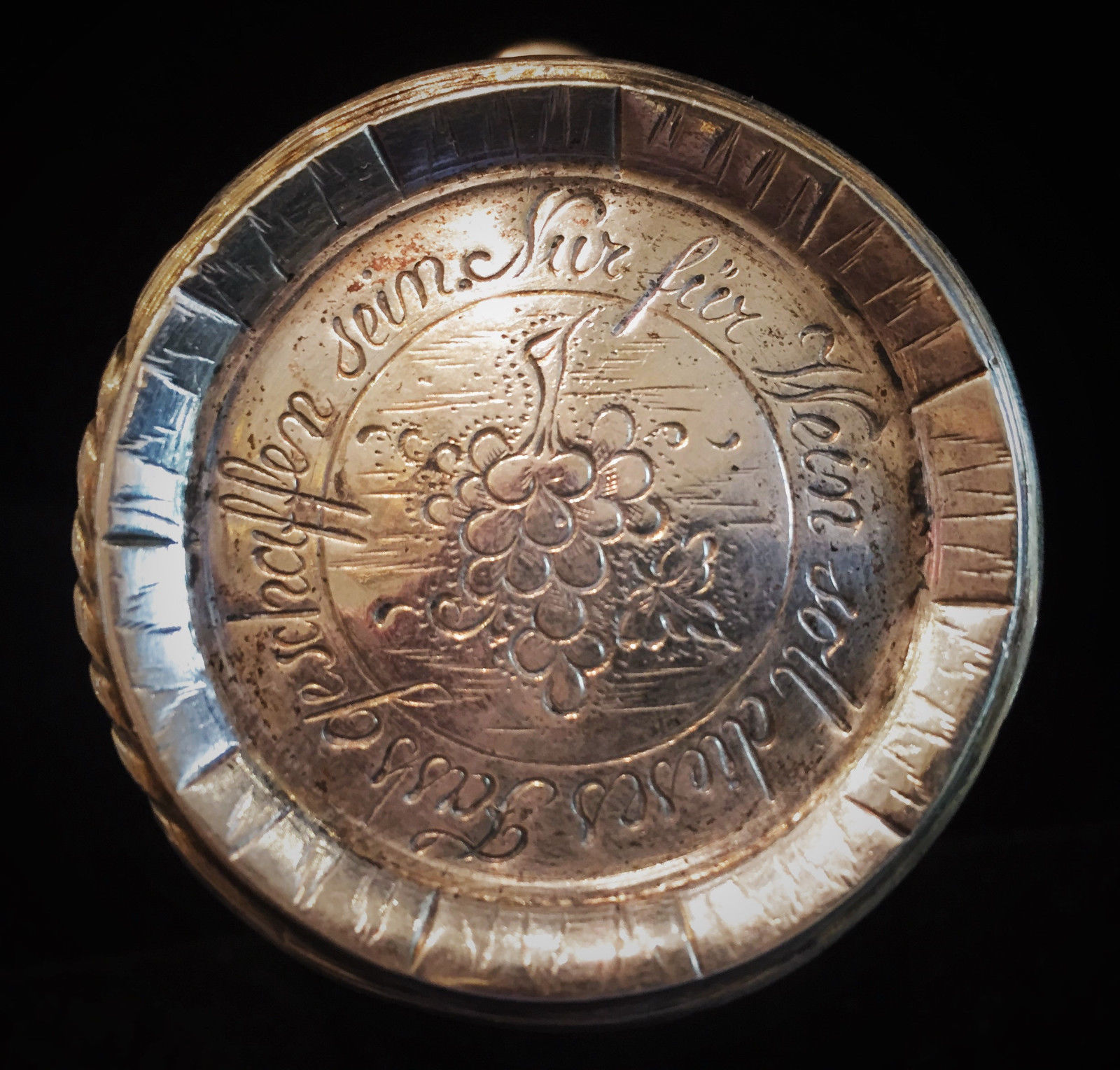 Dimensions:
Height: 6 5/8inches Max diameter: 2 7/8inches Min diameter: 2inches Weight: 8.1oz (229.3g)
Presented here is a rare 19th Century German "Bruderschaft" (Brotherhood) Wine Vessel in form of a wine barrel, consisting of two separate cups, connected by a chain with a lock. With gilded interior, this unique object is beautifully crafted in Tromp L'oeil technique, masterfully simulating natural pattern of wood and metal hoops. There is an inscription around one end that reads "Nur fur Wein soll dieses Fassgeschaffen sein" ("Only for wine these barrels are created"). On the other end, there is an undecipheredcrest, depicted as a furious lion on its hind legs, wearing a crown and roaring with his tongue out.
TROMPE-L'OEIL
Trompe-l'œil (French for "deceive the eye") is an art technique that uses realistic imagery to create the optical illusion that the depicted objects exist in three dimensions. Forced perspective is a comparable illusion in architecture.
$2,500
Austrian Art Nouveau
Gilded Silver and Enamel
Glass Holder
Ca. 1900
Presented here is a superb gilded silver and stripped cloisonné blue enamel antique tea glass holder, an indispensable attribute of the Art Nouveau era. There is an illegible hallmark on the bottom (probably, Austrian).
Dimensions:
Height 2 3/8 inches Upper Radius: 2 5/8 inches Bottom Radius: 2 1/2 inches Weight: 4.21 oz
$450
German Jugenstil
Centerpiece
Ca. 1900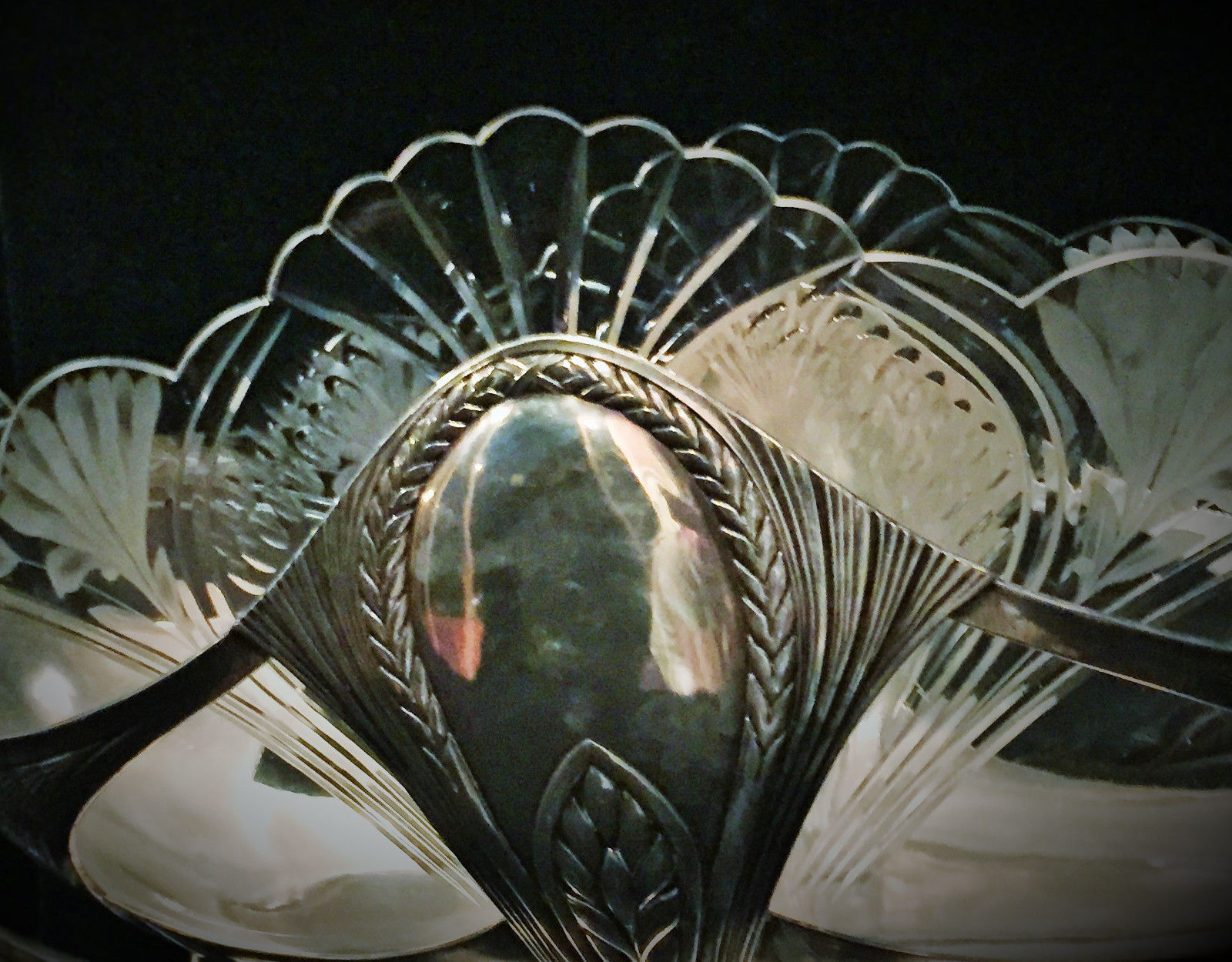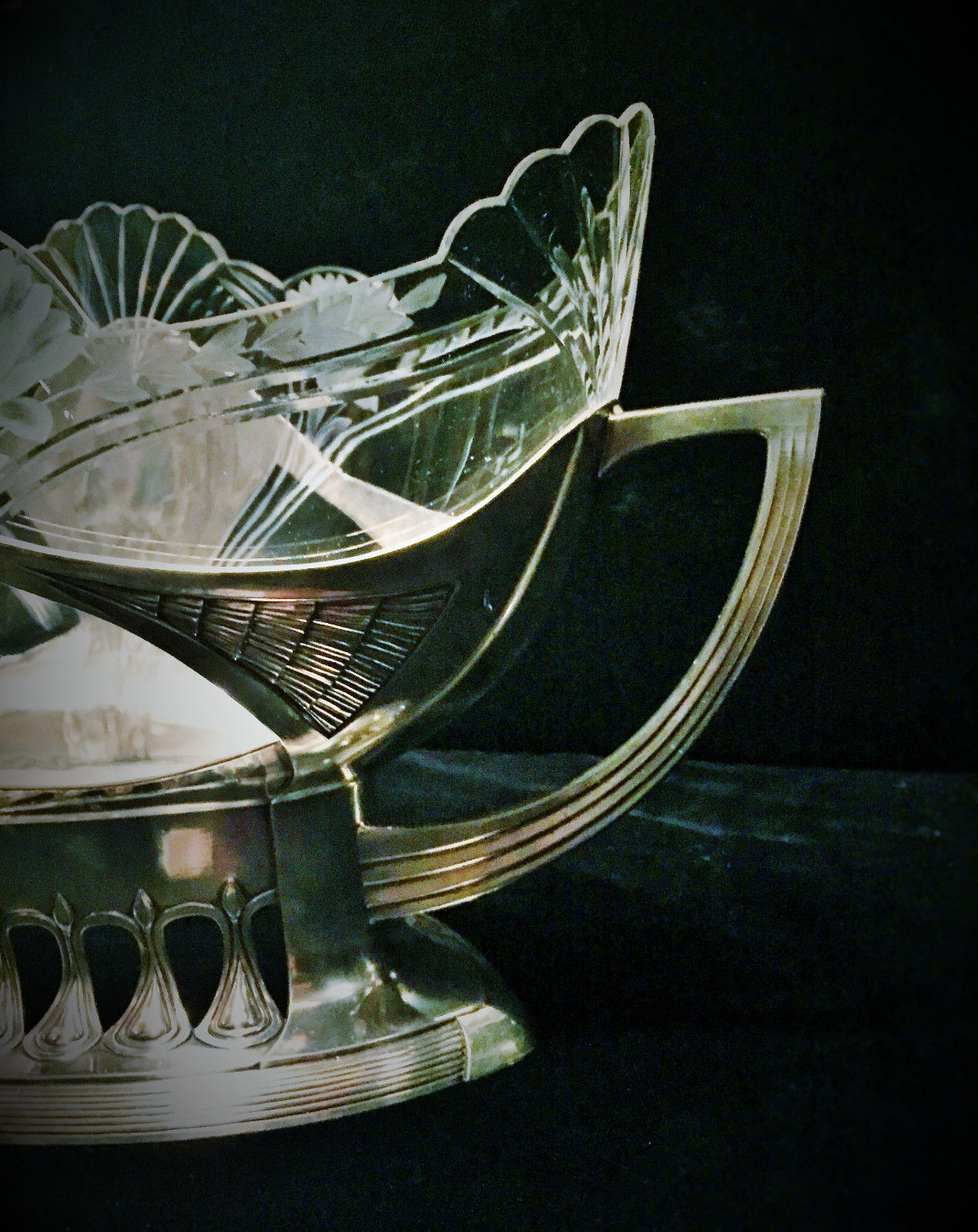 Dimensions:
Length: 23 inches Height: 10 1/2 inches Width: 7 1/2 inches
Probably German, though unmarked, this magnificent Jugenstil silver-plated & hand-cut crystal liner centerpiece was made circa 1900 - 1915 and features a very attractive geometric design, typical for German Art Nouveau movement . Though unmarked, it is clearly in the style of the well-known WMF Company. The high quality metalwork is in perfect original condition, as well as the original finely hand-cut crystal liner. Please refer to photographs, as they are part of the description.
$1,500
danish art deco
Georg Jensen
Sugar Bowl
Ca. 1935
Danish handmade and lightly hammered sugar bowl with ebony handles and beaded sockets by George Jensen Silversmiths of Copenhagen, Denmark was produced in the period of 1935 - 1944 (Model: 80F). The soft, warm, original finish is present, with no buffing or machine polishing.
Dimensions:
Height: 1 5/8 inches Accross handles: 2 3/4 inches Diameter: 2 1/8 inches Weight: 23.3dwt (94g)
George Jensen Silversmiths of Copenhagen
Georg Arthur Jensen (31 August 1866 in Rådvad – 2 October 1935 in Copenhagen) was a world-famous Danish silversmith. Born in 1866, Jensen was the son of a knife grinder in the town of Raadvad just to the north of Copenhagen. Jensen began his training in goldsmithing at the age of 14 in Copenhagen. His apprenticeship with the firm Guldsmed Andersen, ended in 1884, and this freed young Georg to follow his artistic interests.
From childhood, Jensen had longed to be a sculptor and he now pursued this course of study at the Royal Academy of Fine Arts. He graduated in 1892 and began exhibiting his work. Although his clay sculpture was well received, making a living as a fine artist proved difficult and he turned his hand to the applied arts. First as a modeler at the Bing & Grøndahl porcelain factory and, beginning in 1898, with a small pottery workshop he founded in partnership with Christian Petersen. Again the work was well received, but sales were not strong enough to support Jensen, by this point a widower, and his two small sons.
In 1901, he abandoned ceramics and began again as a silversmith and designer with the master, Mogens Ballin. This led Jensen to make a landmark decision, when in 1904, he risked what small capital he had and opened his own little silversmith shop at 36 Bredgade in Copenhagen.
Jensen's training in metalsmithing along with his education in the fine arts allowed him to combine the two disciplines and revive the tradition of the artist craftsman. Soon, the beauty and quality of his Art Nouveau creations caught the eye of the public and his success was assured. The Copenhagen quarters were greatly expanded and before the end of the 1920s, Jensen had opened retail outlets as far ranging as New York, London, Paris, Stockholm, and Berlin.
$800
American Art Nouveau
Reed & Barton
Tea & Coffee Service
Ca. 1900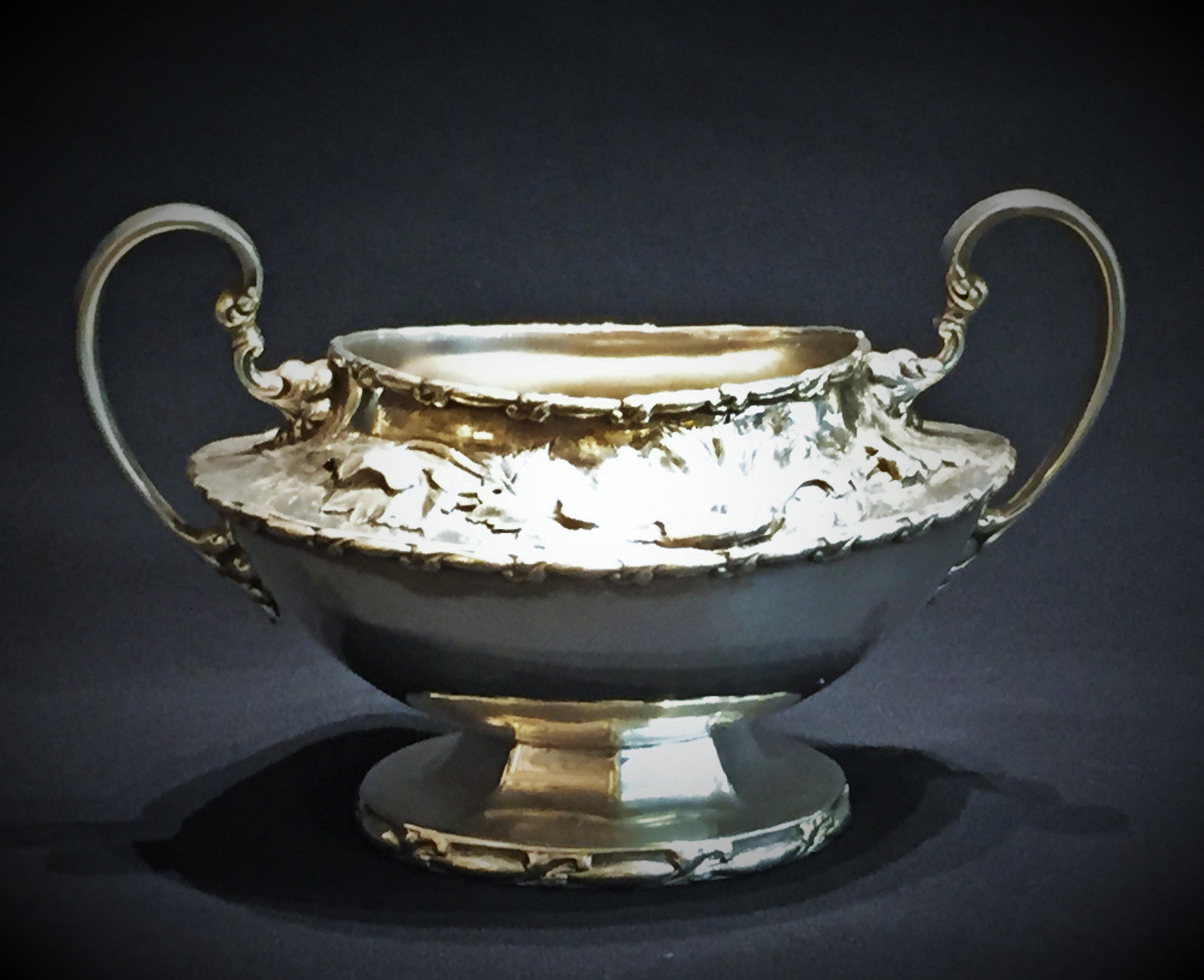 Dimensions:
Tray: 12 inches in diameter Pot: 10 x 7 1/2 inches Sugar bowl: 3 3/4 x 6 inches Creamer: 4 x 5 1/2 inches Total weight: 56 troy oz
A beautiful and very elegant American Art Nouveau Sterling Silver Tea & Coffee Service, embellished throughout with high-relief floral motif and garlands. Produced by the Reed and Barton Company around 1900, it consists of 4 items - a round tray, coffee/tea pot, sugar bowl and creamer. Though this service is over a hundred years old, it is in a perfect usable condition and will definitely be a worthy addition to your exquisite home. For more details, please refer to the photographs, as they are part of the description.
$3,300