Richard Eckert & Co.
Artist and his Model
German Porcelain Group
ca. 1890s
Dimensions:
Height: 6.75 inches Width: 5 inches Depth: 5 inches
This porcelain group produced by Richard Eckert & Co., unique in its rare and non-banal composition, depicts an unusual genre scene - the artist paints a portrait of a model sitting in front of him. The detailed furnishings of the artist's workshop are clearly bohemian. They are caught at the moment when the painter in a free pose, pleased with his work, puts his signature on the canvas, Becker; and, obviously embarrassed the beautiful young lady in a flowery dress coquettishly squeezes the fan in his hand.
$950
MEISSEN
Staatliche Porzellan-Manufaktur Meissen
Four Seasons ~ Figurative Porcelain Group
Germany, 19 Century
MEISSEN figurative group of four flower children in ancient Roman/Greek costumes, depicting the four seasons.
Dimensions: 5.75" high x 5.75" wide x 3.75" deep.
Marked with 'swords' on the base.
MEISSEN PORCELAIN. Staatliche Porzellan-Manufaktur Meissen is one of the preeminent porcelain factories in Europe and was the first to produce true porcelain outside of Asia. It was established in 1710 under the auspices of King Augustus II "the Strong" of Saxony-Poland (1670–1733), a keen collector of Asian ceramics, particularly Ming porcelain. In pursuing his passion, which he termed his "maladie de porcelaine," Augustus spent vast sums, amassing some 20,000 pieces of Japanese and Chinese ceramics. These, along with examples of early Meissen, comprise the Porzellansammlung, or porcelain collection, of the Zwinger Palace, in Dresden.
The king was determined; however, to free the European market from its dependence on Asian imports and to give European artisans the freedom to create their own porcelain designs. To this end, he charged the scientist Ehrenfried Walther von Tschirnhaus and aspiring alchemist Johann Friedrich Böttger with the task of using local materials to produce true, hard-paste porcelain (as opposed to the soft-paste variety European ceramists in the Netherlands, Germany, France, Italy and Spain had been producing since the late Renaissance). In 1709, the pair succeeded in doing just that, employing kaolin, or "china clay." A year later, the Meissen factory was born.
In its first decades, Meissen mostly looked to Asian models, producing wares based on Japanese Kakiemon ceramics and pieces with Chinese-inflected decorations, called chinoiseries. During the 1720s, its painters drew inspiration from the works of Watteau, and the scenes of courtly life, fruits and flowers that adorned fashionable textiles and wallpaper. It was in this period that Meissen introduced its famous cobalt-blue crossed swords logo—derived from the arms of the Elector of Saxony as Arch-Marshal of the Holy Roman Empire—to distinguish its products from those of competing factories that were beginning to spring up around Europe.
By the 1730s, Meissen's modelers and decorators had mastered the style of Asian ceramics, and Augustus encouraged them to develop a new, original aesthetic. The factory's director, Count Heinrich von Brühl, used Johann Wilhelm Weinmann's botanical drawings as the basis for a new line of wares with European-style surface decoration. The Blue Onion pattern (Zwiebelmuster), first produced in 1739, melded Asian and European influences, closely following patterns used in Chinese underglaze-blue porcelain, but replacing exotic flora and fruits with Western varieties (likely peaches and pomegranates, not onions) along with peonies and asters.
During the same period, head modeler Joachim Kändler (1706–75) began crafting delicate porcelain figures derived from the Italian commedia dell'arte. Often used as centerpieces on banquet tables and decorated to reflect the latest fashions in courtly dress for men and women, these figurines, they were popular in their day, and are still considered among of Meissen's most iconic creations. Kändler also created the Swan Service, which, with its complex low-relief surface design and minimal decoration is considered a masterpiece of Baroque ceramics.
The rise of Neoclassicism in the latter half of the 18th century forced Meissen to change artistic direction and begin producing monumental vases, clocks, chandeliers and candelabra. In the 20th century, Meissen added to its 18th-century repertoire decidedly modern designs, including ones in the Art Nouveau style. The 1920s saw the introduction of numerous animal figures, such as the popular sea otter (Fischotter), which graced an East German postage stamp in the 1960s. Starting in 1933, artistic freedom was limited at the factory under the Nazi regime, and after World War II, when the region became part of East Germany, it struggled to reconcile its elite past with the values of the Communist government. In 1969, however, new artistic director Karl Petermann reintroduced the early designs and fostered a new degree of artistic license. Meissen became one of the few companies to prosper in East Germany.
Owned by the State of Saxony since reunification, in 1990, Meissen continues to produce its classic designs together with new ones developed collaboratively with artists from all over the world. In addition, through its art CAMPUS program, the factory has invited distinguished ceramic artists, such as Chris Antemann and Arlene Shechet, to work in its studios in collaboration with its skilled modelers and painters. The resulting works of contemporary sculpture are inspired by Meissen's rich and complex legacy.
sold
Meiji Period
A Fine Japanese Hand-Painted, Enameled and Gilded Porcelain
Satsuma FLOWER Vase
~ 1000 Faces of Immortals, Samurai and Dragon ~
Ca. 1890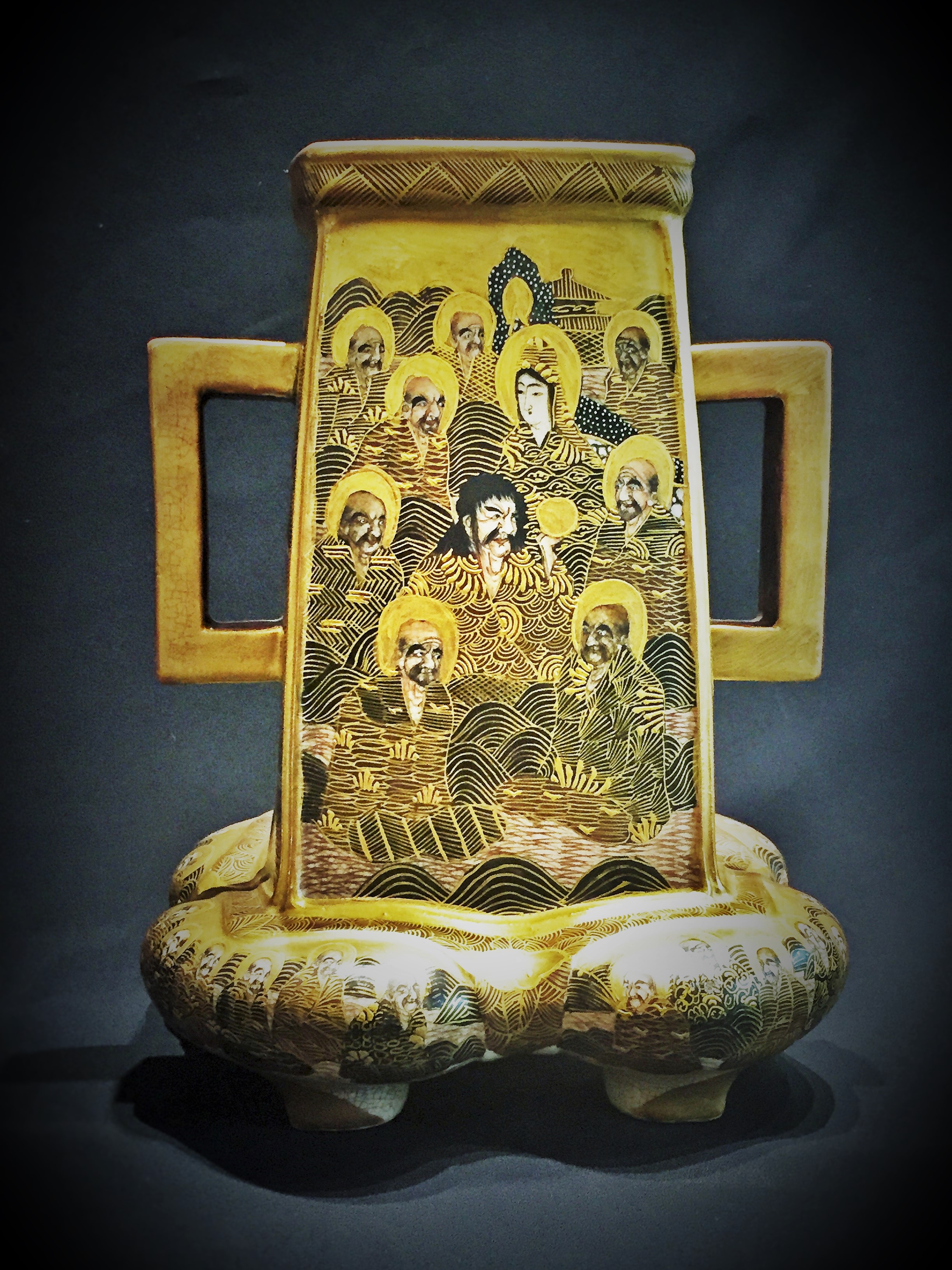 Dimensions:
Height: 8 3/4 inches Width: 7 1/2 inches Depth: 6 1/2 inches
The bottom of the vase has the distinct Satsuma porcelain Meiji period markings with the circle around the cross at the top.
Excellent antique condition, with minor age-appropriate wear. No cracks, chips, repair or restorations.
~
The originality of this sophisticated hand-painted and enameled & gilded vessel is in its absolutely unique form, certainly Japanese in its esthetics and proportions; but, which already carries in itself the unmistakable elements of the Art Nouveau era that just has began in Europe.The exterior of the vase is decorated with the classic Japanese plot of 1000 Faces of Immortals, Samurai and Dragon in the best tradition of Japanese Art, a blend of beauty and ferocity. The abundant use of gold color in the design sets a beautiful stage for the multi-color portrait depictions. The Meiji period (明治時代, Meiji-jidai), also known as the Meiji era, is a Japanese era which extended from September 8, 1868 through July 30, 1912.
sold
Carl Teichert ~ Meissen Porcelain
~ A Set of SEVEN Reticulated & Gilded ~
Dessert Plates
Ca. 1882-1925
These wonderful elegant plates are of round scalloped shape with reticulated Rococo-stylerim, pierced and elaborately outlined in gilt. Hand painted Dresden wildflower bouquets with several different types of wild flowers in color enamels decorate the center of each plate. Fine antique condition - no chips, cracks, hairlines, repairs or restorations.
Dimensions:
Diameter: 8 1/3 inches
Markings:
Impressed "MEISSEN" mark of Carl Teichert Meissen Stove & Porcelain Company, Meissen, Germany. Impressed numbers "1" and "13". Blue oval with a star over-glaze Meissen decorating mark.
The Teichert-Werke Meißen.
The Teichert-Werke were manufacturers of porcelain and earthenware in Meißen. One of the predecessors was the Meissner Ofen- und Porzellanfabrik (formerly C. Teichert), who, from 1879 onwards, produced, among other ceramic products, also porcelain in hand-painting with the under-glass-blue onion-pattern decor. Teichert-Porzellan was also known as Bürgerlich Meissen.
Carl Teichert, the founder of the firm died during the Franco-Prussian War on a visit of the German troops near Paris on February 6, 1871, at the age of 41. In August 1872, the company was transformed into a stock company. In 1879 the production of porcelains, which until then had been the monopoly of the Royal Porcelain Manufactory, was begun because of the upheaval of the founding period. At the same time, the company was renamed Meissner Ofen- und Porzellanfabrik (formerly C. Teichert). In 1885, some 460 workers worked for the factory.
In 1891, the production of wall panels was started. In 1896 it was decided to erect more buildings for the production of plates. As a result of delays, including a big fire, the full production could only be begun in 1919.
$950
gERMAN Art Deco
Meissen
~ SEated Nobleman ~
by Professor Paul Scheurich
Ca. 1920's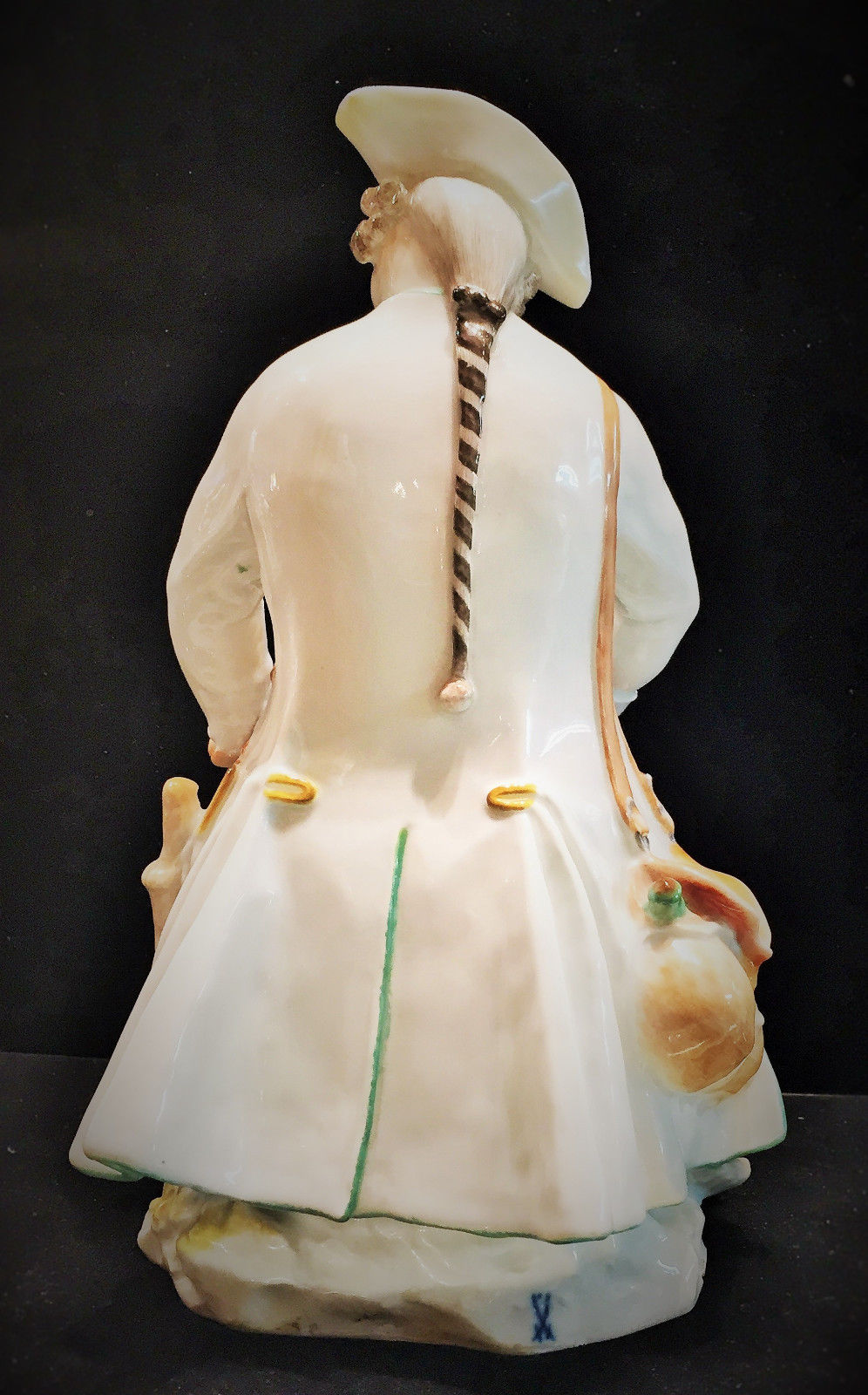 Dimensions:
Height: 11 1/4 inches (approximately 28cm) Width: 6 1/2 inches (approximately 16.25cm) Depth: 7 inches (approximately 17.5cm)
Presented here is one of the finest Meissen porcelain figurines of the Art Deco period by professor Paul Scheurich (1883-1945), who is acknowledged to be one of the 20th century's greatest modelers. The back of the base has a blue under-glaze crossed swords mark. The bottom of the base bears an incised model number A1148 and impressed number 115. The piece is in excellent condition and has no chips, hairlines, cracks, restorations, or cancelation lines.
$4,600