American Renaissance
Roman Bronze Works
A Pair of Vases with Nymph and Satyr
Patinated Bronze ~ Bas Reliefs
Ca. 1900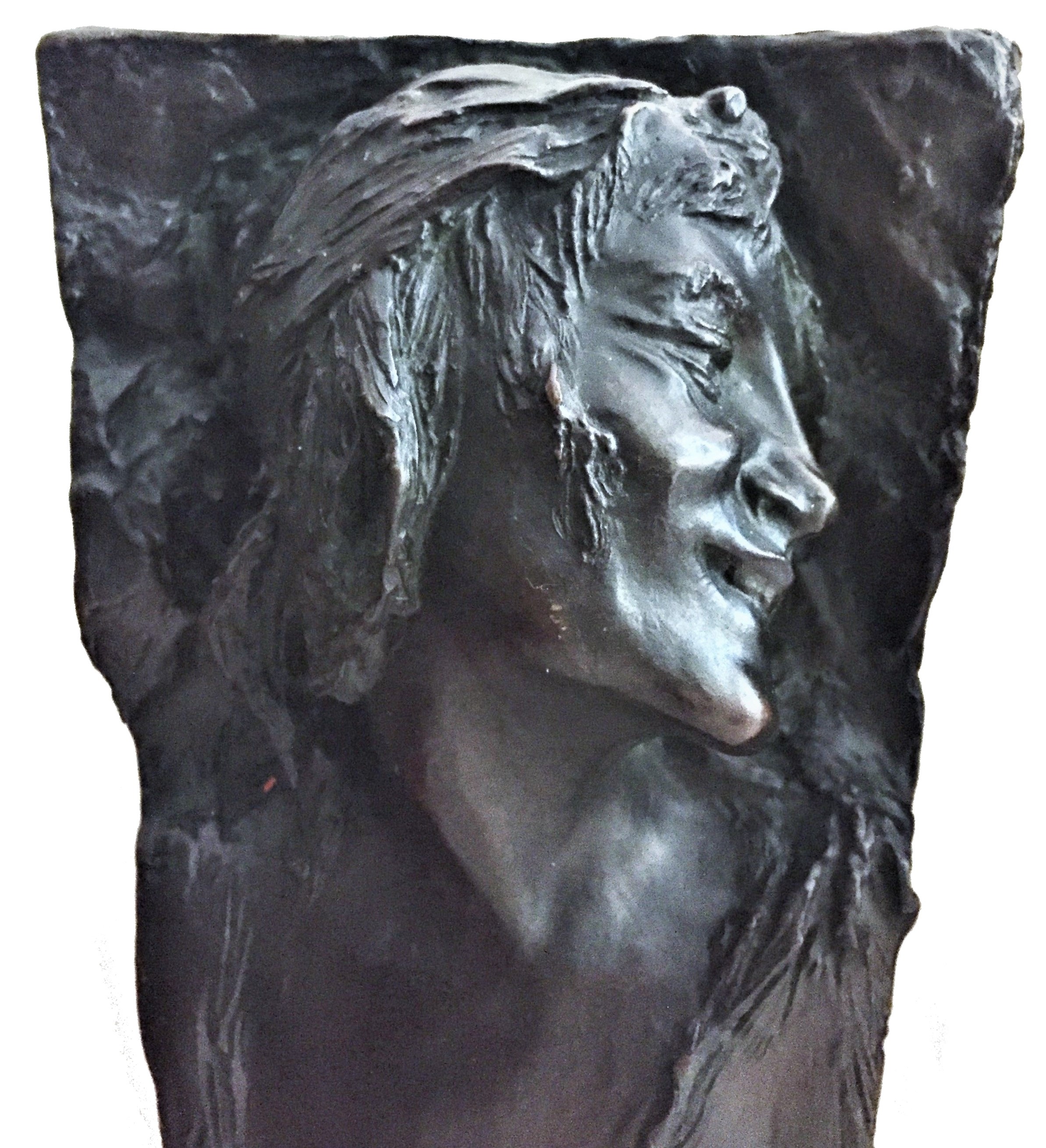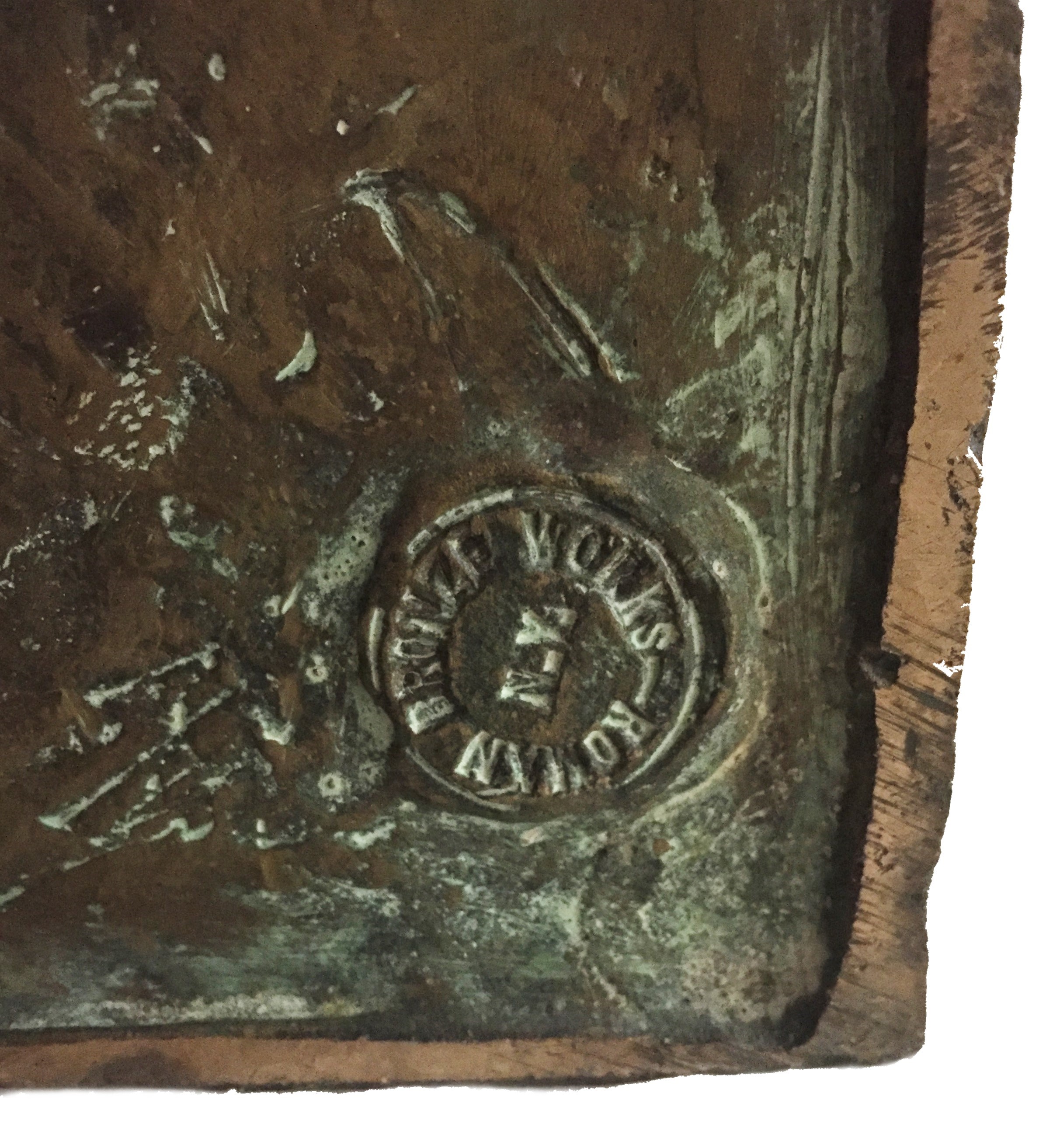 Dimensions: Height: 16 inches Width: 5-1/2 inches Depth: 6-3/4 inches
Roman Bronze Works foundry seal is found on the bottom of each vase.
Roman Bronze Works, now operated as Roman Bronze Studios, is a bronze foundry in New York City. Established in 1897 by Riccardo Bertelli, it was the first American foundry to specialize in the lost-wax bronze casting method, and was the country's pre-eminent art foundry during the American Renaissance (ca. 1876-1917).
$15,000
Jugenstil
Harlequin in Golden Mask
Multi-Color Vienna Bronze Desk Statuette
Austria, circa 1900
Dimensions: 4.33 high x 2.25 wide x 2.75 deep
This elegant desk-size statuette of a kneeled harlequin wearing a golden mask is a perfect example of the little masterpieces in cold-painted bronze, created in Vienna around 1900; during the short-lived Austrian Art Nouveau period, Jugenstil.

During that time a numerous cold-painted bronze objects d'art were made. Cold painted bronze refers to pieces cast in Vienna, and then decorated in several layers with so called dust paint; the know-how for the mix of this kind of paint has been lost since. The color was not fired hence 'cold painted'.
Although usually designed by the leading artists of Jugenstil in Vienna, the actual painting process of these objects was carried out mainly by women working at home, a typical cottage industry.
$1,100
Carl Kauba
Bookworm & Art Connoisseur
A Pair of Bronze Sculptures
Austria, ca. 1910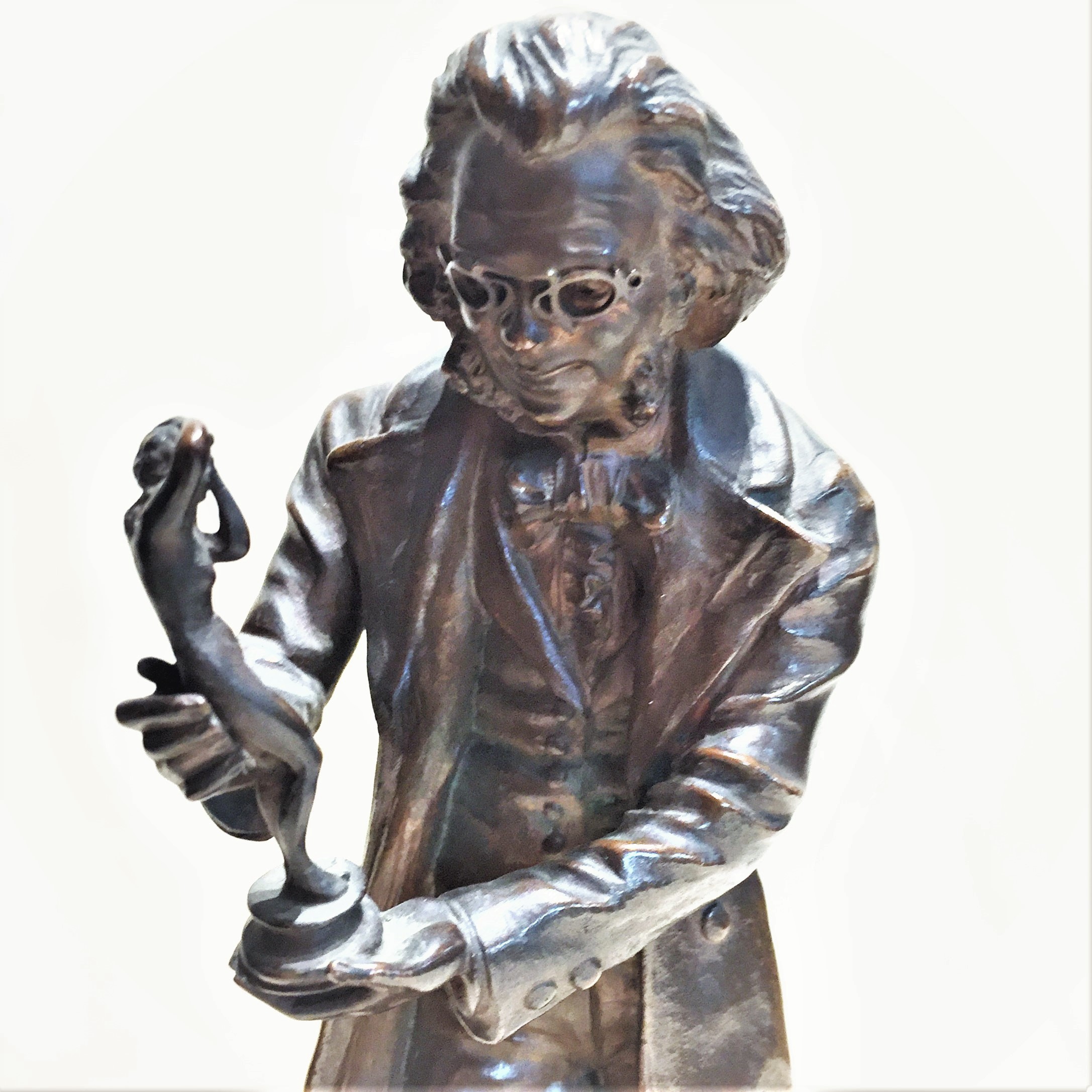 Both sculptures are signed 'C. Kauba' on the plinth.
Dimensions: 9.75" high x 3.75" deep x 3.5" wide
Dark brown patina.
Original marble pedestals.
CARL KAUBA (Austrian, 1886 – 1922) was the son of an Austrian shoemaker, born in 1865. He began his studies at the Academy of Fine Arts in Vienna with professor Laufenberg, Carl Waschmann and Stefan Schwartz; and beginning 1886, he spent 2 years in Paris studying sculpture.
Kauba was part of the 19th-century tradition of polychrome bronze sculpture, using several types of patinas on a single statue. His Western polychrome bronze subjects are highly sought after, although it is highly debatable that he ever visited America.
His sculptures appear to have been copied from period photos. (Certain anomalies such as shod horses ridden by American Indians would suggest this). In particular, Kauba made numerous animal bronzes and Indian depictions. These then came mostly to the United States.
In 1897, he presented in the Vienna Künstlerhaus the bust of Pallas in red and yellow bronze. Kauba also worked under the name of T. Curts, and Karl Thenn -- quite possibly for copyright reasons in Vienna, as he worked for more than one foundry. Thus, it is quite normal to find identical sculptures with any of these signatures.
Kauba's intricate bronzes, imported to the United States between 1895 and 1912, were cast at the Roman Bronze Works and Gorham Foundry.
$6,000
Paul Ludwig Kowalczewski
German Jugenstil
Athlete Tearing Chain
Patinated Bronze Sculpture
Circa 1900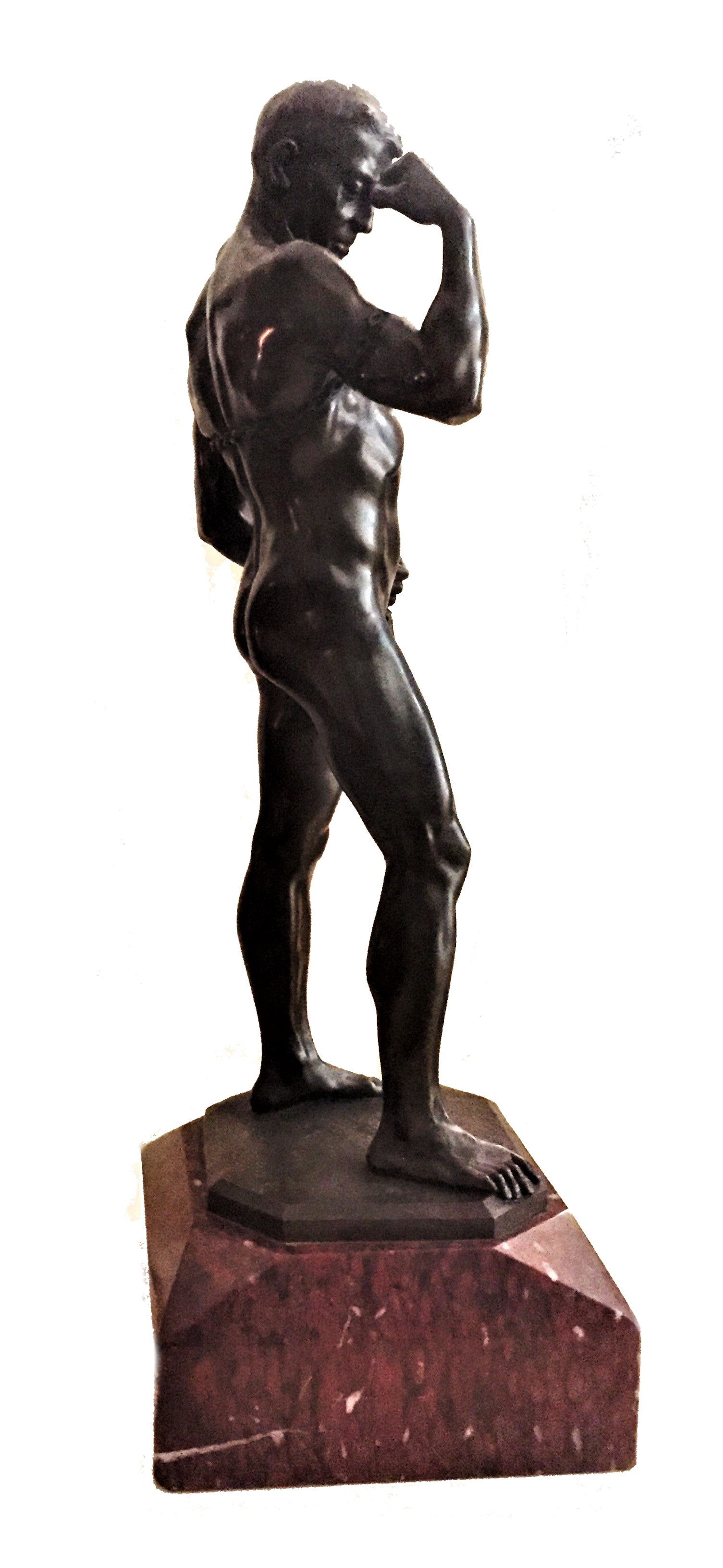 Dimensions:
Height (total): 23-1/2" Height (base): 4" Width: 8-3/4" Depth: 8-1/4"
Dark-brown patinated bronze fine sculptural study of a nude athlete with well-developed body; tearing apart a chain, tangled around his mighty chest. The sculpture is mounted on an original red marble pedestal.
Paul Ludwig Kowalczewski (1865 – 1910) was a German sculptor. A graduate of Berlin Academy of Arts, his works included mainly bronze busts and sculptures of the Art Nouveau style with profane depictions of working people, but also warriors, archers, victorious poses and, occasionally, birds. Kowalczewski exhibited his works regularly between 1899 and 1906 at the Große Berliner Kunstausstellung. The brother of the artist, Karl Kowalczewski (1867-1927), was also a sculptor.
$7,500
HANS LATT
A Roman Clown
Patinated Bronze Sculpture
Rome, 1885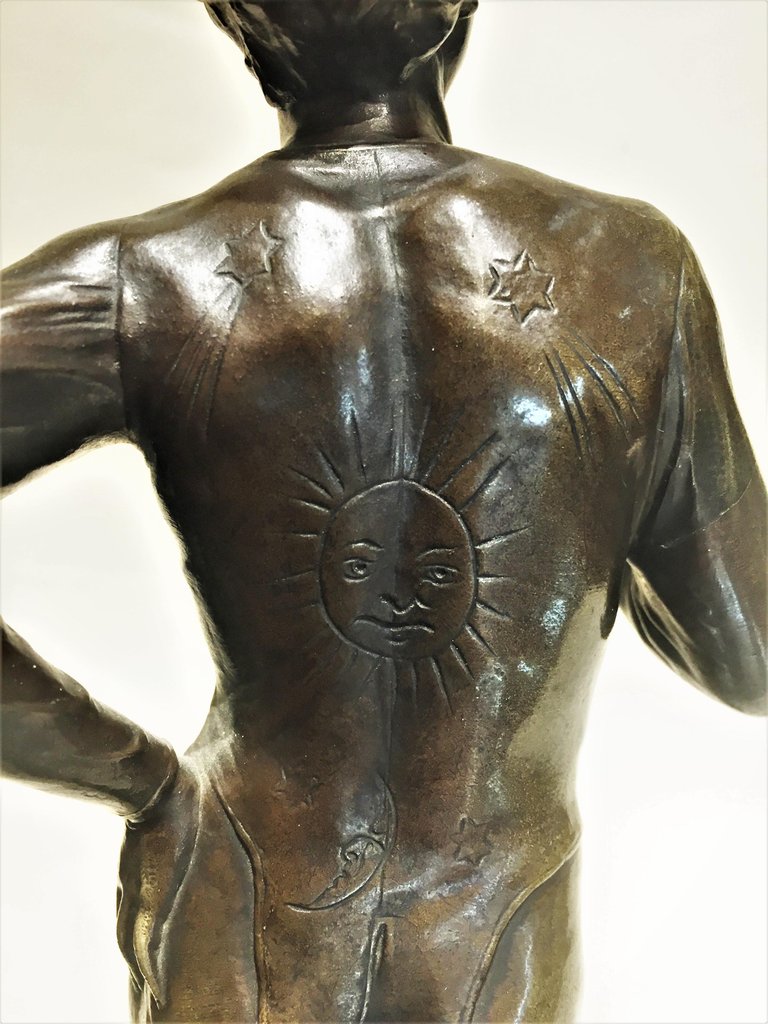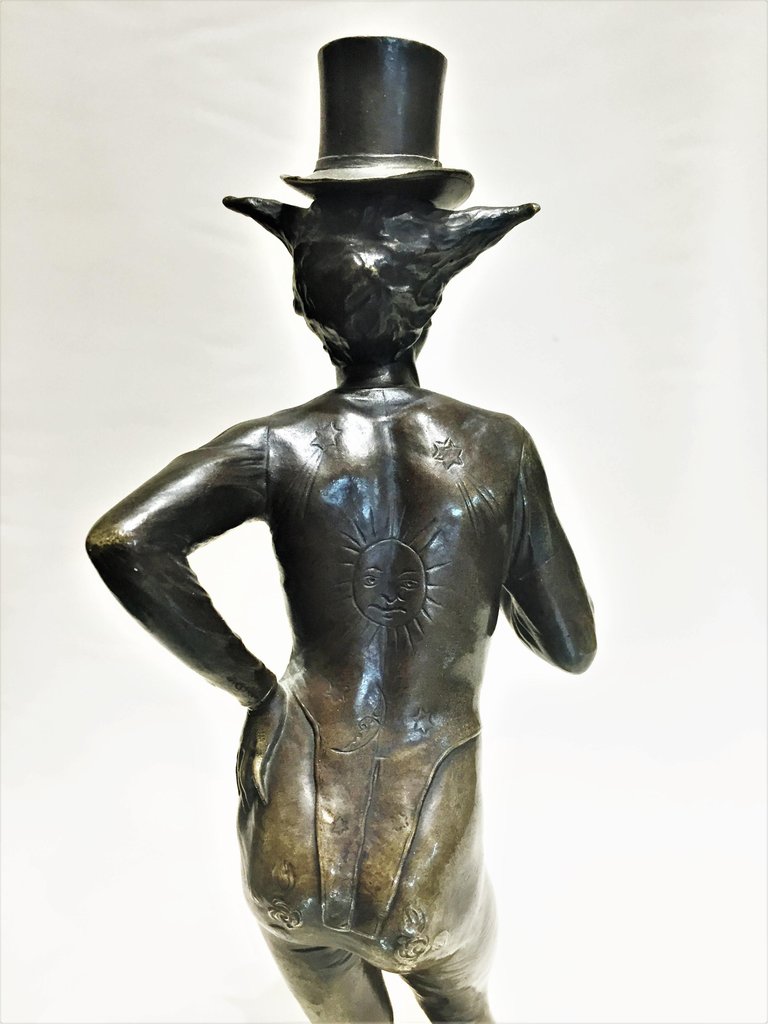 FRENCH ART NOUVEAU
Henri Louis Levasseur
Pulling Rope
Patinated Bronze Sculpture
1900s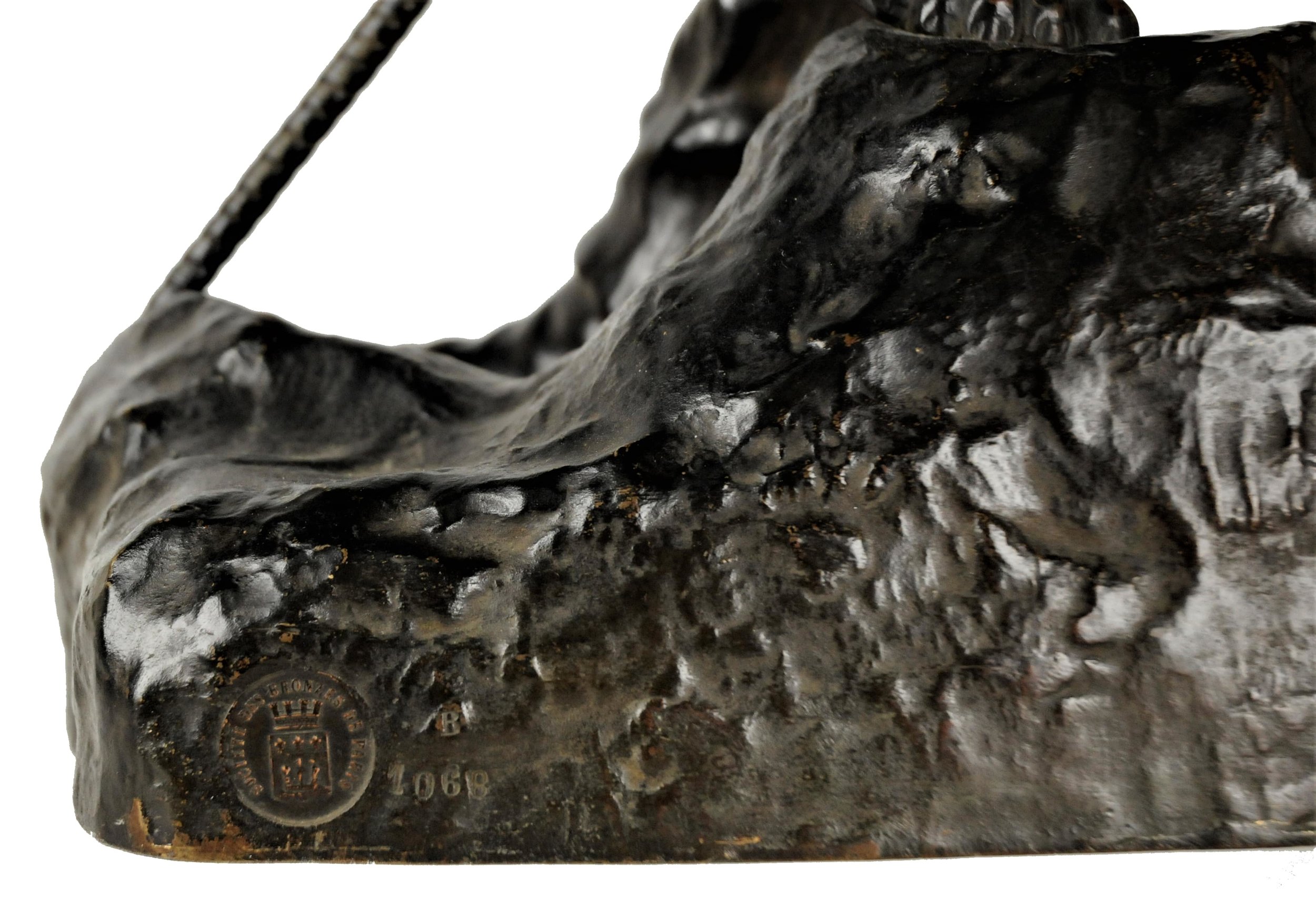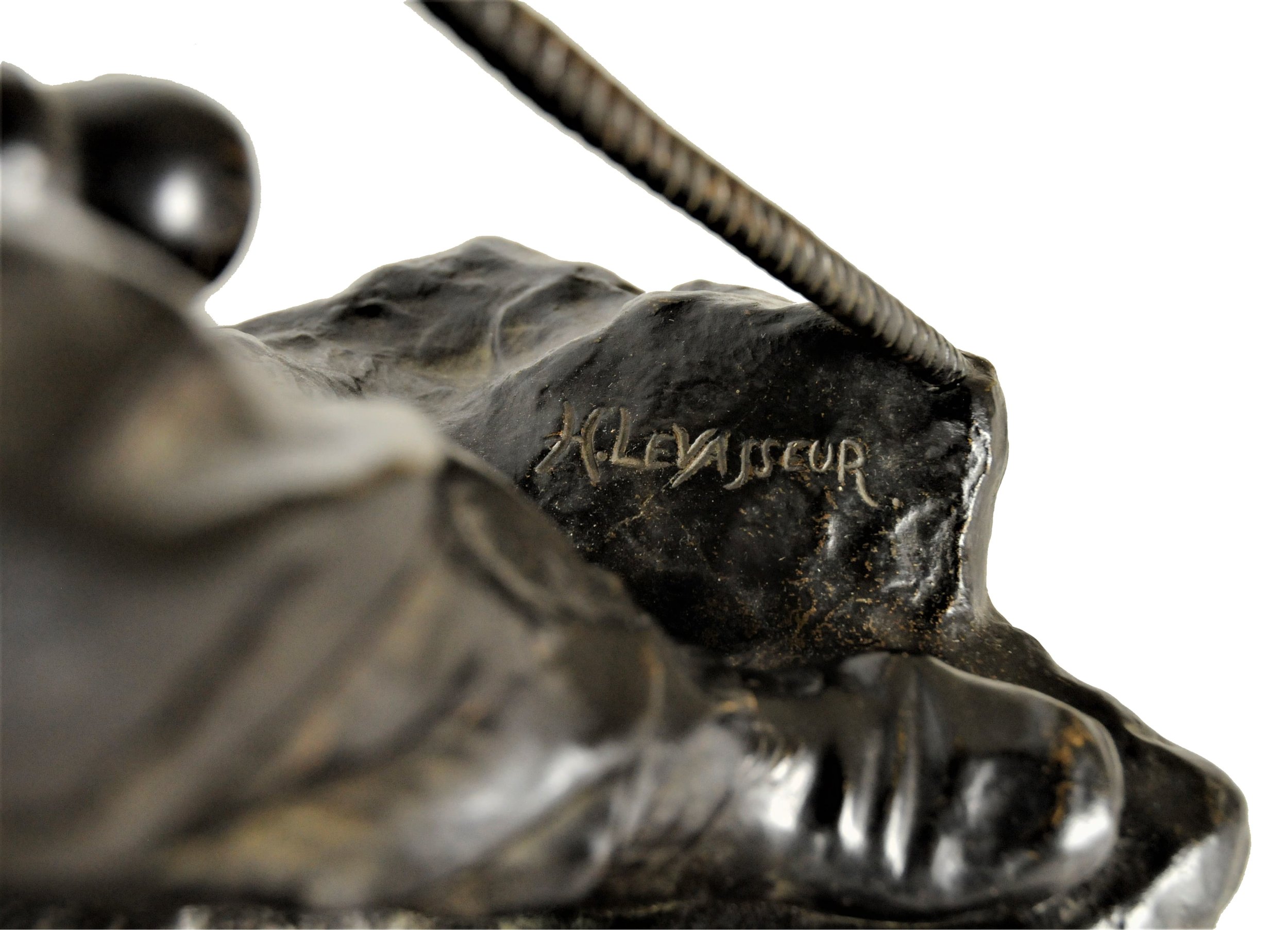 Dimensions: Height: 19.75" Width: 15" Depth: 8"
Henri Louis Levasseur (French, 1853 – 1934) was a French sculptor best known for his Art Nouveau depictions of historic figures, mythological figures such as Diana (1900), and religious themes. His sculptures are composed in a realistic manner, often including painstakingly detailed, draped fabrics that appear to be captured mid-movement. Born on April 16, 1853 in Paris, France, Levasseur went on to study with Auguste Dumont, Gabriel Jules Thomas, and E. Planche. He won many awards during his lifetime, at both the Salon des Artistes Français and the Art Exposition in Paris. Today, Levasseur's works are in the collections of the Pushkin State Museum of Fine Arts in Moscow, the Grohmann Museum at the Milwaukee School of Engineering, and the Columbia Museum of Art at the University of South Carolina, among others.
$9,500
Flemish Art Nouveau
Female Torso
Terracotta Sculpture
1900s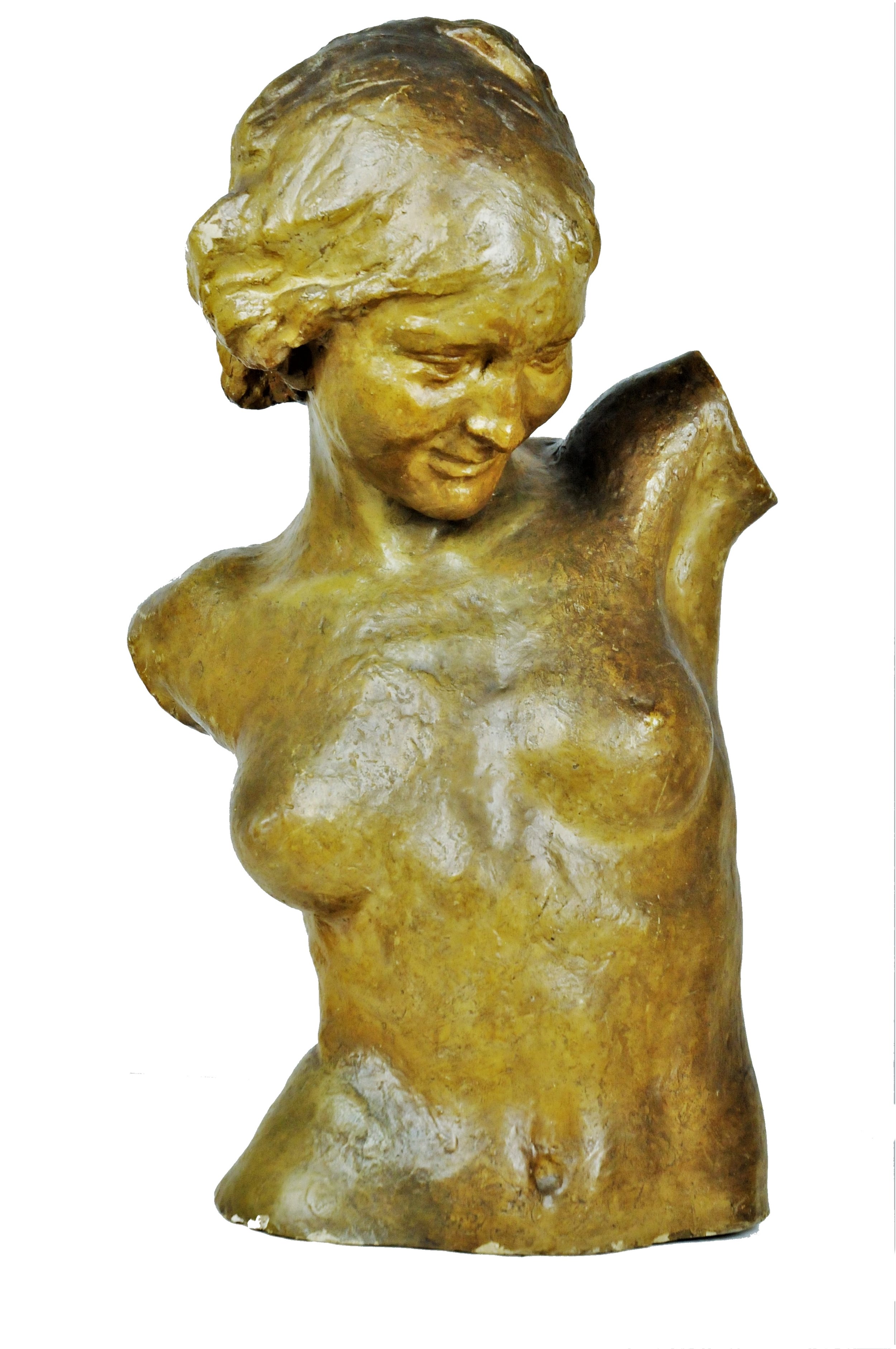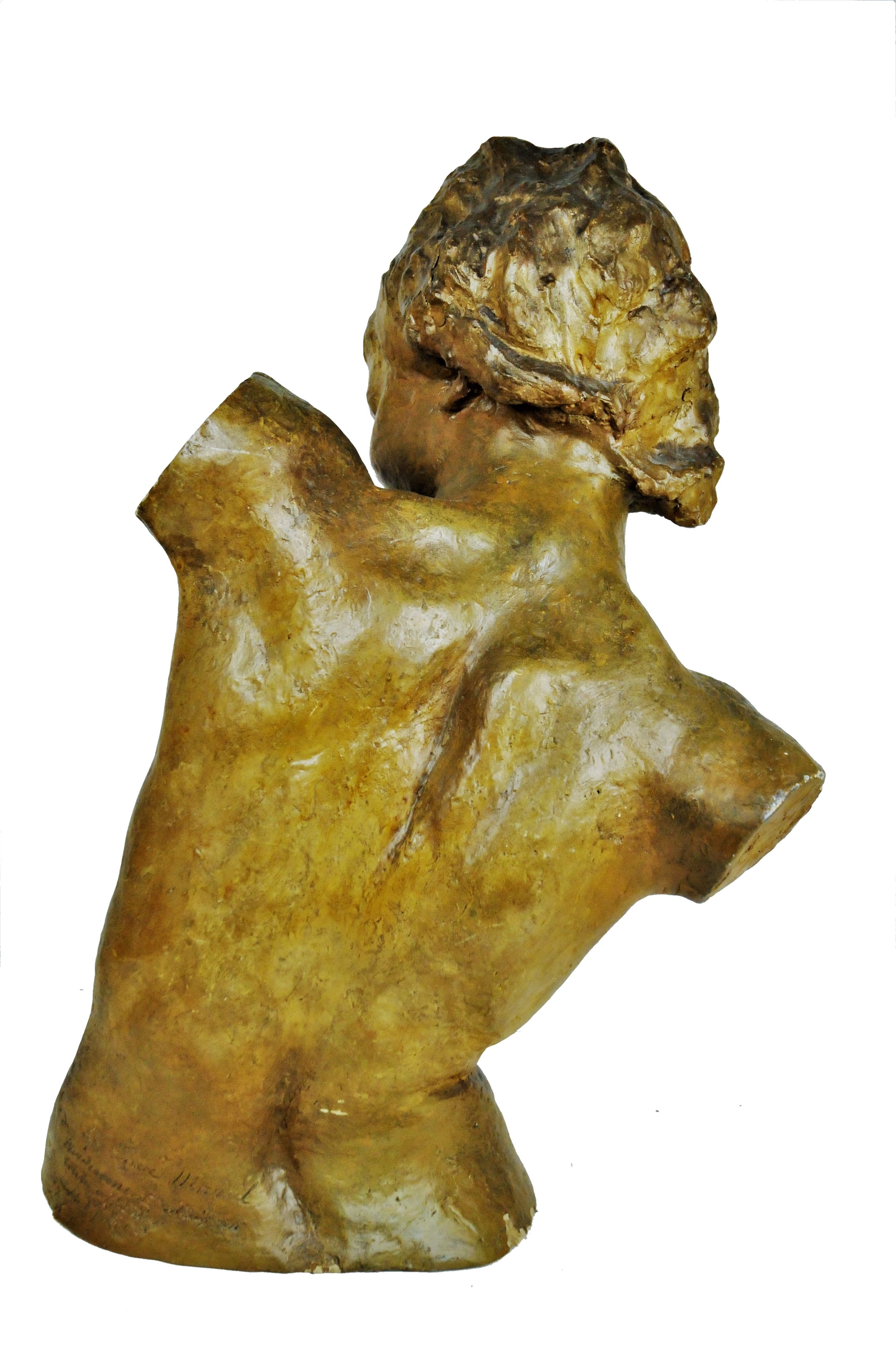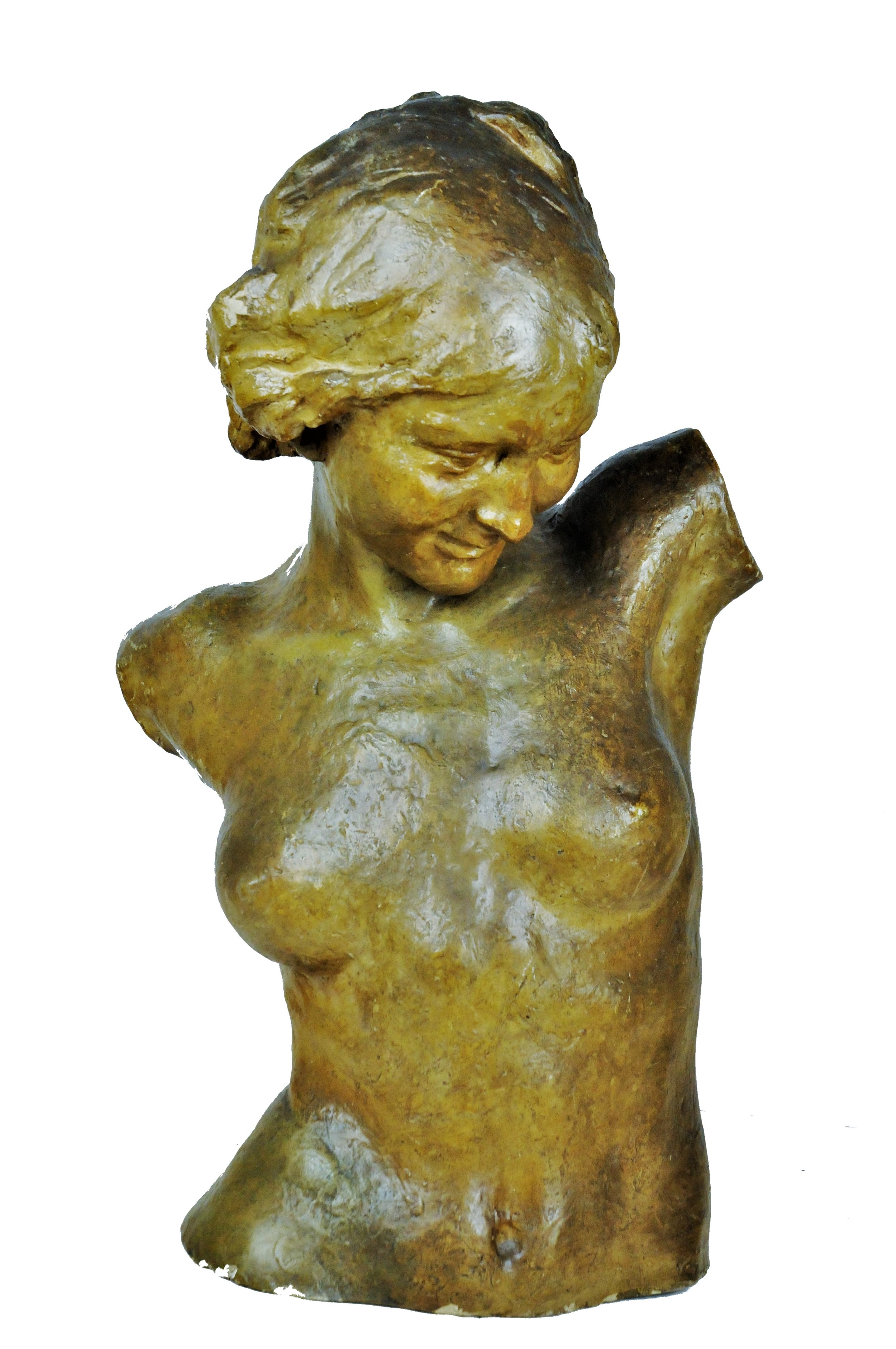 Dimensions: Height: 23.5" Width: 17" Depth: 10"
sold
French Art Nouveau
Female Bust
Gilt Bronze
1900s
Signed: "CerNelille"
Dimensions: Height: 18" Width: 10.5" Depth: 11
$4,900
French Art Nouveau
Charles Vital-Cornu
Bronze Sculptural Floral Vase
1900s
Signed by the artist and stamped with foundry mark.
There is an original metal insert for displaying fresh-cut flowers in water.
Dimensions: Height: 15 ¾ inches Width (max.): 14 inches
CHARLES VITAL-CORNU (French, 1851 - 1927), Jouffroy's and Pils' pupil, he acquired a skillfulness mastery in carving marbles and producing bronzes. He used several patinas in his production. Indeed, if his pieces' embodiments are often golden-brown colored, the hollow part are darker. His figures, hands, faces, and bodies are of a great quality. Charles Vital-Cornu had participated in numerous annual ''Salons'' organized in Paris by ''la Société des Artistes Français'' where he got several awards, such as a mention of Honor in 1880 and 1881, a third class medal in 1882, a travelling grant in 1883, a second class medal in 1886, a bronze medal at the 1889 World Fair and, finally, a silver medal at the 1900 World Fair at the Grand palace in Paris. The works of this artist are in the permanent collections of the following world museums:
Musée d'Ajaccio : Narcisse enfant
Musée de Grenoble : Le spleen
Musée de Lausanne : Maternité 1905, bronze
Musée de Limoges : Belle vendanges
Musée Galliera, Paris : Archimède
$8,500.00
German Jugenstil
Friedrich Seidenstuker
A Little Devil
Bronze Sculpture
1900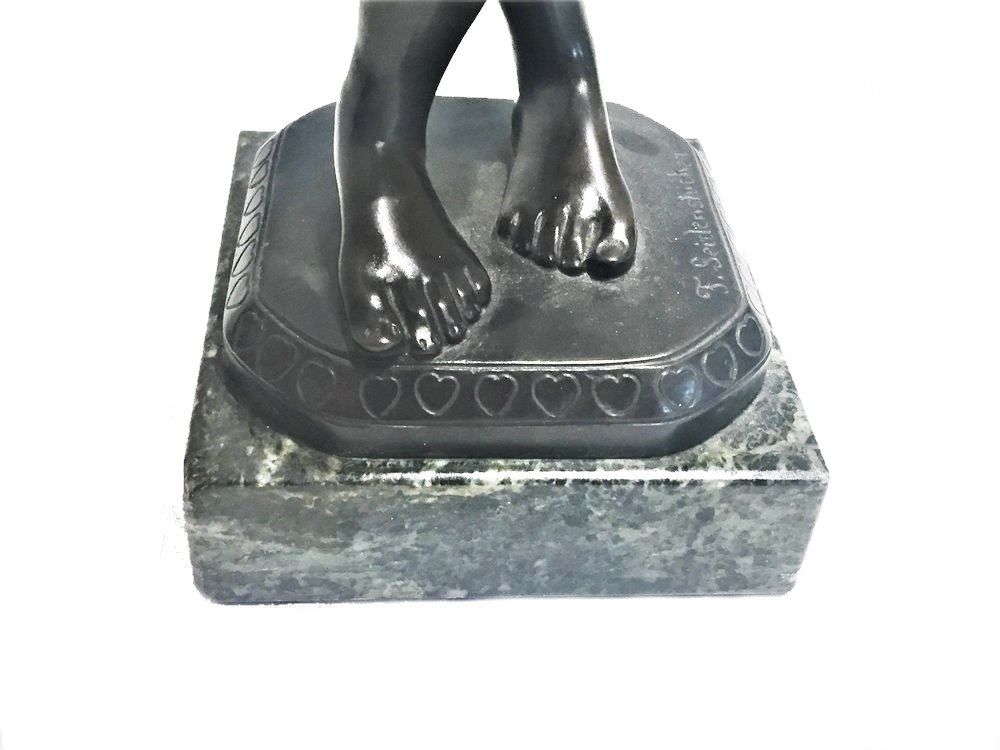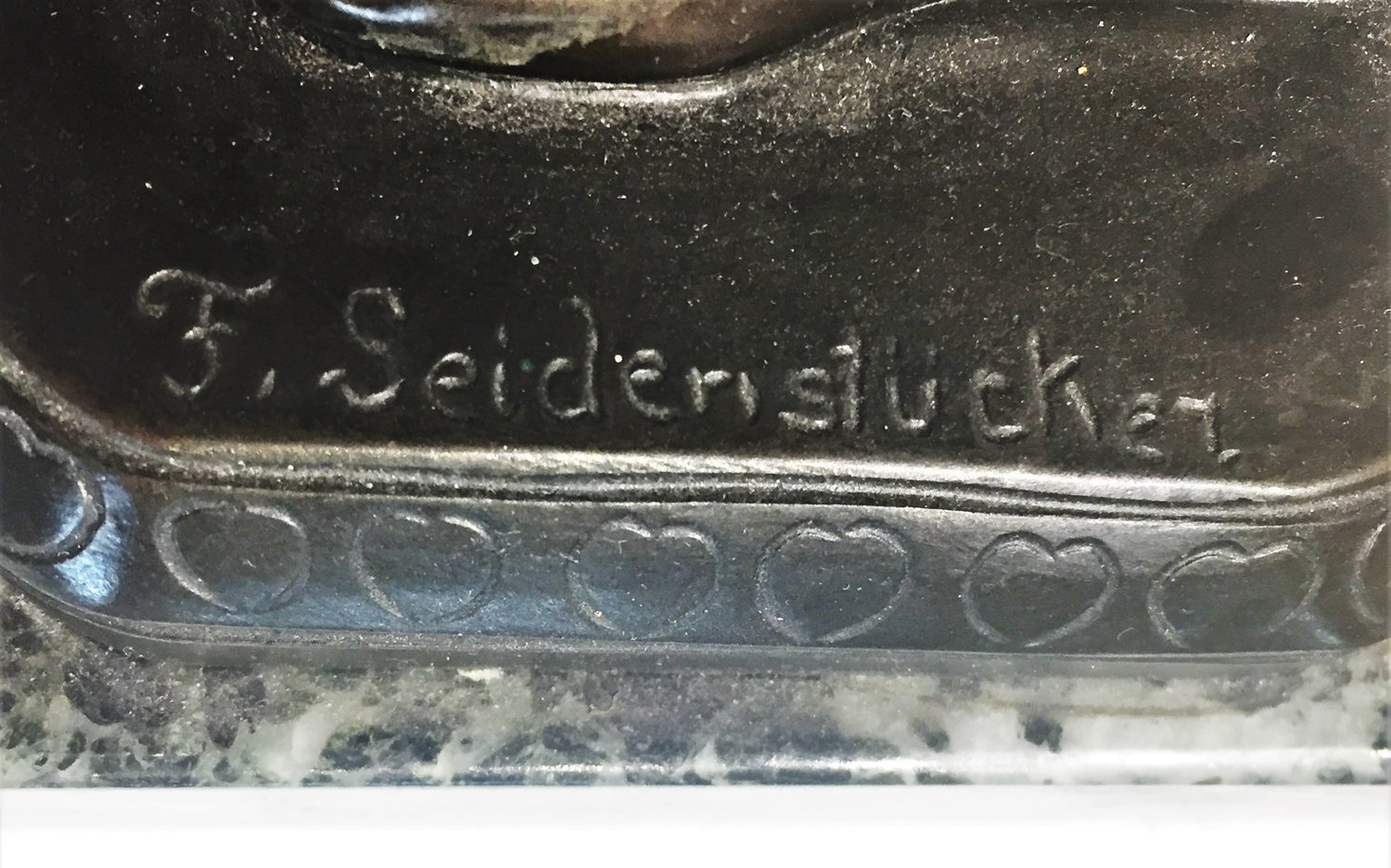 Signed "F. Seidenstuker" on the base.
Dimensions: Height: 16.75 inches Width: 4 inches Depth: 4 inches
$2,750
FRENCH ART NOUVEAU
Robert T. Delandre & Gorham Foundry
A Rover
Bronze Patinated Sculpture
1906
Dimensions: Height: 8 inches Width: 4 inches Depth: 3 ½ inches
Robert Delandre (French, 1879 - 1961) was a famous French sculptor, a student of Alexandre Falguière and Denys Puech, whose works include:
·Le Vent et la feuille (The Wind and the Leaf, exhibited at the Salon des artistes français of 1912)
·Monuments to the dead of Fère-Champenoise, Oissel, Saint-Étienne-du-Rouvray, Cutry…
·Monument To those lost in Latham 47 at Caudebec-en-Caux (1931)
·Monument of Neuf-Marché
·Meditation, Fitzroy Gardens, Melbourne (Australia)
·Bust of Alexis Ballot-Beaupré, Cour de cassation, Palais de justice, Paris
$1,200
French Art Nouveau
Gustave-Joseph Chéret
Patinated Bronze Figural Flower Vase
Circa 1882
Signed 'Joseph Chéret' and 'E. Soleau. Editr. Paris'
Cast by the famous Paris foundry of Eugene Soleau, this outstanding sculptural flower vase features a picturesque group of putti, frightened by two big frogs.
Dimensions:
Height: 14.5 inches Diameter: 5.75 inches
Joseph Gustave Chéret (1838 – 1894) was a very talented and known French sculptor and ceramist. The son of Marie Nicolas Chéret and Justine Ormeau, Joseph Chéret was first trained as an ornamentalist, before becoming, around 1864, one of the principal assistants of the sculptor Albert-Ernest Carrier-Belleuse, one of whose daughters he married in 1868. Auxiliary precious for his father-in-law, he takes care of the daily business of his Paris studio at no. 15 rue de la Tour d'Auvergne. He assimilated the style of his master while building a modest independent reputation with works he sent to the Salon of French artists in 1863. Until 1873, he collaborated with ornamental houses like Christofle in Paris, and Pallemberg in Vienna, Austria.

When Carrier-Belleuse died in 1887, Joseph Chéret briefly assumed the position of director of works of art at the Sèvres factory, which remained vacant. In 1891, he exhibited at the National Society of Fine Arts of which he became a member in 1894.

Joseph Chéret is the author of numerous sculptures of small dimensions, groups and statuettes, but also vases, planters that adorn characters, scenes and various motifs. His Neo-Baroque work announced in many ways the newly born Art Nouveau movement. He also created some decorations, fountains, and monumental fireplaces executed for mansions.

Chéret is also the creator of the shape and decor of the first salamander (round model or fan model) that he launched in collaboration with the house Chaboche.

After his death in1894, his works were exhibited at the Ecole des Beaux-Arts in Paris, and then dispersed at the Hotel Drouot from 26 to 29 December 1894.
$4,750
Franz Xavier Bergman
Lizard
Vienna Bronze Sculptural Paperweight
Circa 1900
Marked with "B" in an urn-shaped cartouche.
Dimensions:
Length: 10 inches Height: 1.5 inches Width: 6 inches
This real size life-like bronze lizard desk paperweight is a perfect example of the little masterpieces in cold-painted bronze, created by the world-famous Viennese foundry of Franz Xavier Bergman.
Franz Xaver Bergman (1861–1936) was the owner of a Viennese foundry who produced numerous patinated and cold-painted bronze - Oriental, erotic and animal figures, the latter often humanized or whimsical, humorous objects d'art. Cold painted bronze refers to pieces cast in Vienna and then decorated in several layers with so called dust paint; the know-how for the mix of this kind of paint has been lost. The color was not fired hence "cold painted". The painting was carried out mainly by women working at home, a typical cottage industry. Noted for his detailed and colorful work, Bergman was signing his creations with either a "B" in an urn-shaped cartouche, or "Nam Greb" - for "Bergman" in reverse. These marks were used to disguise his identity on the erotic works.
$3500
French Art Nouveau
Paul Philippe
Femme Nue
Bronze Dore Sculpture
Ca. 1900s
Signed "Philippe" on the original marble base.
Excellent antique condition, consistent with age and use.
Dimensions:
Height – 11.25 inches Base – 4 x 3.5 inches
Paul Philippe (1870–1930) was a French sculptor who worked during the late 19th and early 20th century. His work primarily consisted of bronze sculptures done in the Art Nouveau and Art Deco genres. Paul Philippe is perhaps best known for his circa 1925 sculpture called Awakening. His full body of work, however, consists of dozens of models.
$1700
German Jugenstil
Paul Leibküchler
Sisyphus
Patinated Bronze Sculpture
Circa 1900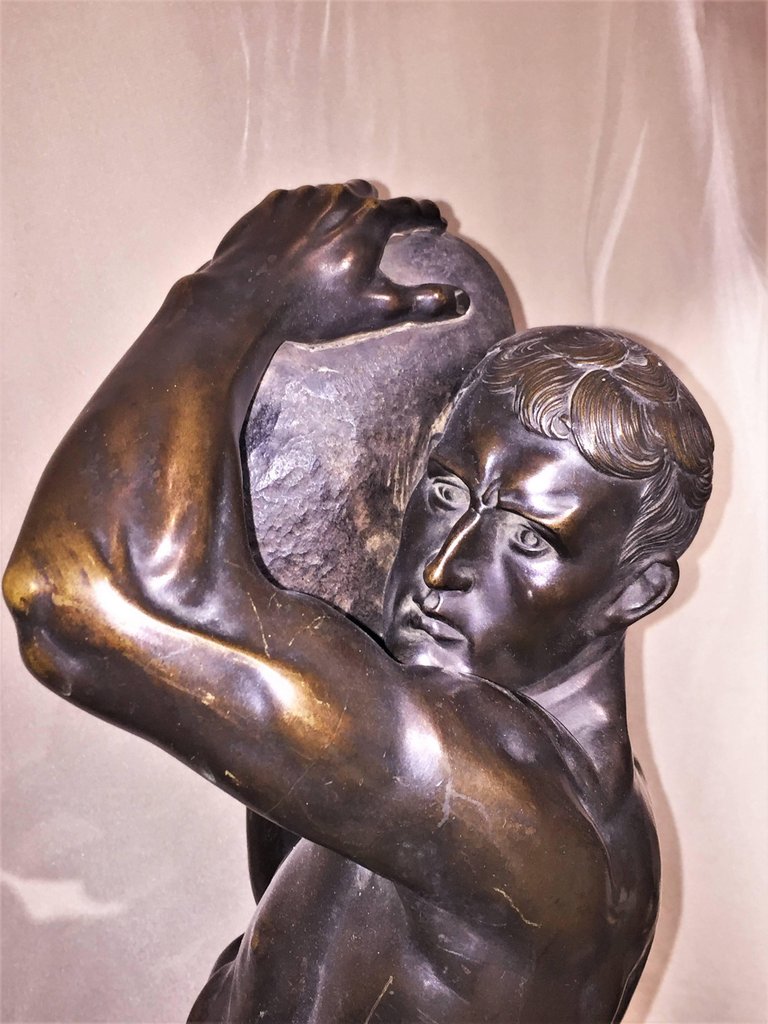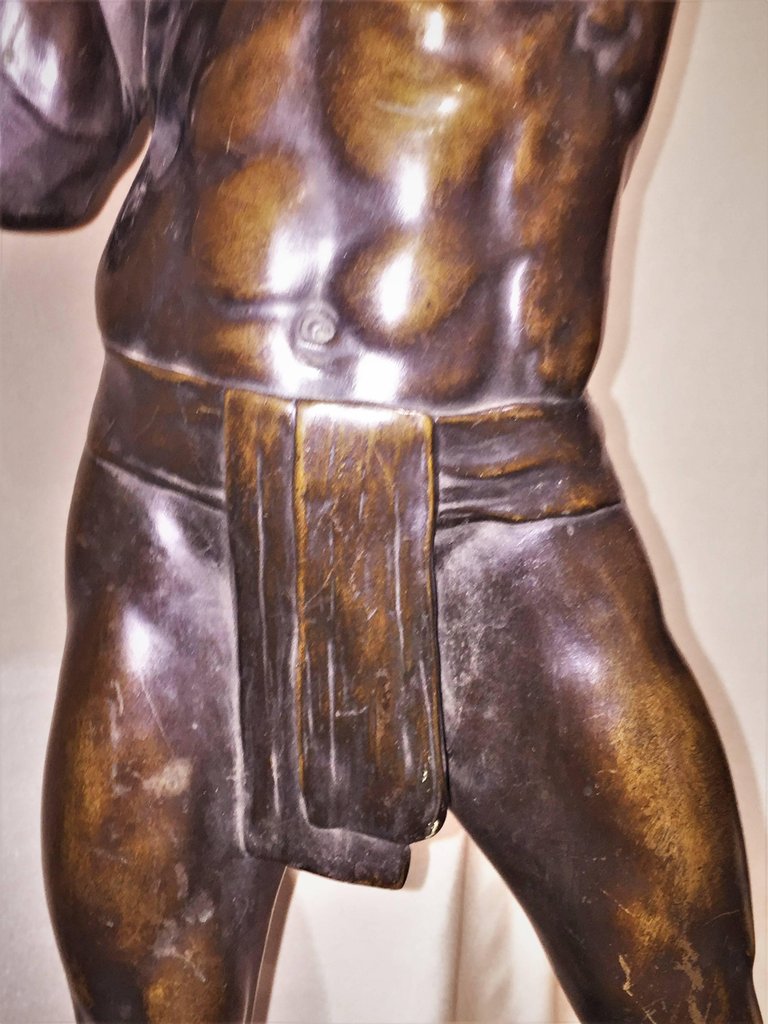 Signed by the artist on the plinth: "Leibküchler fec." (for Paul Leibkuchler) and the foundry signet: "Aktiengesellschaft Gladenbeck Berlin D4397 Germany".
Dimensions:
Height: 26 inches Base diameter: 11 inches
This extremely impressive depiction of Sisyphus, the figure from Greek mythology in darkly patinated bronze as an athletic male figure with energetic facial expression, wearing only a loincloth, stiffening a boulder over his right shoulder, on round, geometrically decorated plinth.
Paul Leibküchler (German, 1873 - 1938), a noted sculptor and medalist, trained at the Berlin Art Academy.
Aktien-Gesellschaft Gladenbeck was a foundry in Berlin, Germany which operated between 1851 and 1926. Gladenbeck was known for producing bronze castings of highest quality.
In Greek mythology, Sisyphus was the king of Ephyra (now known as Corinth). He was punished for his self-aggrandizing craftiness and deceitfulness by being forced to roll an immense boulder up a hill only for it to roll down when they near the top, repeating this action for eternity. Through the classical influence on modern culture, tasks that are both laborious and futile are, therefore, described as Sisyphean labor.
$11,500
Anna Vaughn Hyatt Huntington
Yawning Panther
Patinated Bronze Sculpture
Circa 1915
Signed, "Anna Hyatt". Further impressed "Gorham CO. O 492", and further impressed #358. In good condition, consistent with age. Original patina.
Dimensions:
Height: 5.5 inches Width: 15.5 inches Depth: 4.5 inches
Sculpted by Anna Vaughn Hyatt Huntington during the American Art Nouveau era (circa 1915), the bronze sculpture "Yawning Panther" was cast by Gorham Co. Founders. The identical sculpture is photographed in "The Gorham Company, Famous Small Bronze" ©1928, pg. 15.
A yawning and fully outstretched panther finished in patinated bronze, resting atop a black Belgium marble plinth. Yawning Panther demonstrates the realism of Huntington's art in pose, detail, and style. Rather than showing her subject stalking a prey, she has caught the panther in an intimate moment as it stretches in a wide-mouthed yawn with its front legs tautly extended and its tail elegantly arched. Her skill in the lost-wax method of casting bronze is evident in the texture and wrinkles of the animal's fur. Although the scale of the work is small, the work conveys great strength and graceful movement.
Anna Hyatt Huntington (1876 - 1973) was a prolific artist known for her bronze animal sculptures. By combining classical features with modern abstract trends, Huntington developed a distinct style that captured the spirit of her subjects, such as Yawning Panther. Huntington developed her intense attention to detail through close observation of animals at zoos, circuses, live animal shows, and farms. These experiences enabled her to create intimate portraits of domestic and wild animals and heroic equestrian monuments.
Yawning Panther depicts a panther during a quiet moment. It stretches its full length, crosses its front legs, and opens its jaws in a thoroughly convincing yawn. The curve of the panther's bold head balances its elegant, taut tail and leads the eye over its muscular body. With highly tactile fur and wrinkles in evidence, Yawning Panther demonstrates Huntington's skill with the lost-wax method of bronze casting.
$15,000
Alexandre Vibert
French Art Nouveau
Figural Gilt Bronze Ewer
Circa 1900
Dimensions
16 in.H x 11 in.W x 12 in.D ~ 41 cm H x 28 cm W x 30 cm D
An Art Nouveau gilt bronze lobed ewer by Alexandre Vibert (French, 1847-1909), produced within the early 20th century period, depicting a classical nude female figure on the bank of a body of water. Markings include signature "A.Vibert".
Price: $9,500
Austrian Jugenstil
- A Dance with a Snake -
Ca. 1900
Full of tasteful provocative eroticism, this Austrian Jugenstilmassive but elegant sculpture, depicting a beautiful Eastern female dancing with a snake is a fine example of the Art Nouveau movement that swept through the decorative arts and architecture in the late 19th and early 20th centuries. Made of a beautifully crafted patinated bronze, it proudly stands on its original magnificent marble base. Unsigned, the authorship is unidentified.
Dimensions:
Height : 21 1/4 inches Width : 7 inches Depth : 7 inches
Austrian Jugendstil Movement
The Austrian Jugendstil differs dramatically in style from the other European styles. Vienna was the heart of an independent movement. In contrast to the floral patterns and shapes of the French artist Charles Plumet a special unique style was developed in Vienna.; clear lines were introduced into architecture (Adolf Loos: Villa Steiner/ House at Michaelerplatz; Otto Wagner: Vienna`s City Railway/ Post Office and Interior in Vienna) as it was also introduced into furniture design (Josef Hoffmann, Kolo Moser). The Vienna artists joined together with writer Hermann Bahr, the painter Gustav Klimt and the architect Otto Wagner to form the "Wiener Secession". Artistic disciplines were not separated from each other in Jugendstil, but flowed together. The artists endeavored to complete a "Gesamtkunstwerk" (total art work). They brought their Avant Garde ideas into all fields of art and daily life: Literature – Music – Painting – Architectur – Furniture design – Cloth weaving – Wallpaper – Lighting – Jewelry – Cutlery – Glass – Heating systems. Their appreciation of details in their work is expressed in the use of: Faceted Glass, decorative and ornamented wood and metalwork.
$5,400
French Art Nouveau
A. Charroi
Bronze & Marble Bust
~ Laughing Girl ~
Ca. 1900
Dimensions:
Height: 3/4 inches Base diameter: 3 3/4 inches Max. width: 3 3/4 inches
This wonderful sculpture of a laughing girl is a bright example of the French Art Nouveau movement that swept through the decorative arts and architecture in the late 19th and early 20th centuries. Made of a beautifully crafted dark-brown patinated bronze, it proudly stands on its original marble base and bears artist's signature: "A. Charroi", as well as unidentified diamond-shape foundry mark and bronze authenticity stamp.
$1,950
Measurements: 24 3/4 in. H x 14 in. W x 11 in. D Signed: E. Gomanski Foundry: Ake. Ges. Vonrif. H. Gludenberk Berlin Edition: D6567
GERMAN JUGENSTIL Isadora Duncan Bronze Sculpture by Edmund Gomanski CA. 1902
"We may not all break the Ten Commandments, but we are certainly all capable of it. Within us lurks the breaker of all laws, ready to spring out at the first real opportunity." – Isadora Duncan
We present here a beautiful Jugendstil period patinated bronze sculpture of the world-famous American dancer, Angela Isadora Duncan (1877 –1927) dancing in the nude, only a thin silk ribbon around her bare chest - in all likelihood, the dance of Salomé from the scandalous Oscar Wilde's play of the same name, violating an old law from the Puritan era that prohibited public portrayal of Biblical characters. Wilde's play portrays Salomé as a bizarre and somewhat evil character who becomes obsessed with John the Baptist. In 1902 it was produced in Berlin, with great success. This remarkable sculpture was created by a celebrated German sculptor, Edmund Gomanski (1854-1930) under the influence of Isadora's performance in the premiere production of the play.
Some more history... In 1903, Isadora Duncan gave a lecture in Berlin, titled "The Dance of the Future," which was published as a pamphlet and became the manifesto of Modern Dance and a feminist classic: "The dancer of the future will be one whose body and soul have grown so harmoniously together that the natural language of that soul will have become the movement of the body. The dancer will not belong to a nation but to all humanity. She will dance not in the form of a nymph, nor fairy, nor coquette but in the form of a woman in its greatest and purest expression. She will realize the mission of woman's body and the holiness of all its parts. She will dance the changing life of nature, showing how each part is transformed into the other. From all parts of her body shall shine radiant intelligence, bringing to the world the message of the thoughts and aspirations of thousands of women. She shall dance the freedom of women ..." To achieve her mission, she opened schools to teach young women her dance philosophy. The first was established in 1904 in Grunewald, Germany. This institution was the birthplace of the "Isadorables" – Anna, Maria-Theresa, Irma, Lisel, Gretel, Erika, Isabelle and Temple (Isadora's niece) – Duncan's protégées, who would go on to continue her legacy. Looking at Isadora, not even the wildest fantasist would have imagined she was a dancer. She was fairly stout, her build nothing like a ballerina's. She could not dance en pointe. This was offset by a plasticity that appeared to have been modeled on the dancers of Ancient Greek bas reliefs. This likeness was not fortuitous. Isadora had thoroughly researched Greek and Italian dances. Her obsession with Greece reached absurd proportions. She would even go out and about in a tunic. Imagine Europe at the close of the 19th century: prim and proper ladies and top-hated gentlemen, bowing to one another at a distance of 50 yards. And there was Isadora – disheveled, barefoot and dressed like a Grecian dancer. When she went to Greece like that, she was very nearly dragged off to the police station as she walked down the street in Athens. Isadora was not only invited to perform in theatres but at society functions too. She became famous for dancing naked. For her, this symbolized freedom from convention. Casting off her clothes, returning to her natural state. But few people grasped the concept and most were convinced they were simply watching a strip-tease. Interestingly, her best-known successor was the legendary spy, Mata Hari. She became a dancer essentially under the impression of Isadora's dance performances. Naturally, she danced naked, as well. When she wasn't engaged in espionage, she would mimic Malay and Indian dancing, but from today's standpoint, it was stripping, pure and simple. It cannot be said that Isadora deliberately set out to shock. It was just that her emotions overwhelmed her. In the minds of the viewers of the day, the spiritual and physical were kept strictly apart. Art was art, and sex was sex. In Isadora's mind, however, they were inseparable. Isadora Duncan danced her last dance in Nice. She got into a car after the performance, her famous red scarf round her neck. She said to her companions, "Farewell, my friends, I go to glory!" The car set off, the scarf became caught in the spokes of the wheel and strangled her. If Isadora's claim is to be believed, she began to dance in her mother's womb and so her life was one long dance. She danced from beginning to end.
$13,875
ABOUT THE ARTIST
Aristide Joseph Bonaventure Maillol (French, 1861 - 1944)
Aristide Joseph Bonaventure Maillol was born in Banyuls-sur-Mer, Roussilon. He decided at an early age to become a painter, and moved to Paris in 1881 to study art. After several applications and several years of living with poverty, his enrollment in the Ecole des Beaux-Arts was accepted in 1885, and he studied there under Jean-Leon Gerome and Alexandre Cabanel from 1882 to 1886.
His contemporaries, Pierre Puvis de Chavannes and Paul Gauguin strongly influenced the artist. In 1893, Gauguin suggested him to join the artist group "Nabis". Around the turn of the century the Nabis developed an anti-naturalist, symbolist pictorial language with two-dimensionally-decorative, simplified color shapes and black contours. This style influenced his early paintings and tapestry designs.
Gauguin had also encouraged his growing interest in decorative art, an interest that led Maillol to take uptaspestry design. In 1893 Maillol set up a small tapestry studio at his home village of Banyuls, where he employed local women for weavings and began producing works whose high technical and aesthetic quality gained him recognition for renewing this art form in France. Up to 1900 he produced wall tapestries in the Art Nouveau style, but then an eye disease forced him to concentrate on sculpture, mainly small statues made of wood and clay from which he developed his monumental stone and bronze statues.
The main subject of his sculptural work was the female nude, which featured a classic calmness and a clear, closed plasticity. His works done between 1902 and 1905 reveal
NUDE
ART NOUVEAU HIGH BRONZE RELIEF BY ARISTIDE MAILLOL
an approach to classical, statuary forms and his striving for a closed sculptural volume, a harmonious balance and a calm classical expression, which was adopted from Hellenistic Antiquity. Aristide Maillol's compact, voluptuous female figures, reminiscent of Gauguin's women as well as of Renoir's later nudes, considerably influenced European and particularly German sculpture.
Maillol also produced important graphic works - drawings, lithographs and particularly series of woodcuts, which the enthusiast for Antiquity made to illustrate antique literature.
A first overview of his creations was shown in Paris in 1937, as part of the exhibition "Les maîtres de l'art indépendant", which was held at the Petit Palais simultaneously with the World Exhibition and occupied three room.
The artist was awarded with large orders, and 1936 - the biggest one of them all, the monumental sculpture "La Montagne" for the then planned Museum of Modern Art in Paris. But these plans were not destined to come true makes it possible for his tragic death in a car crash in 1944 ...
Maillol is often remembered as the "Cézanne of sculpture", as he, like Cézanne - paved the way to abstraction...
RELIEFS
Bas-Reliefs or low-reliefs, as they are also called, are a very fine type of reliefs. For the most part, they can be found on coins or on the sides of artworks and every-day objects that are ornamented with the help of this device. But, bas-reliefs can also be parts of a second, more widely-spread type of reliefs, the so-called high relief. Often times, it is very hard to separate the two, as they are combined in one single relief. One of the best examples for this would be a scenery in which the background is merely indicated with the help of a bas-relief, while the foreground contains more detail and sticks out a lot more as is typical of high-reliefs...
Date of manufacture : c.1900

Period : ArtNouveau (1890 - 1914)

Country : France

Sculptor : Signed: "M" (for Aristide Maillol) in lower left corner

Remarks: There is a foundry hallmark "Valsuani"

Height : 9 5/8 inches

Width : 9 1/4 inches

Medium : Bronze

Inventory number : S-1900-0001
$24,000
This provocative, desk-size bronze statuette of a semi-nude Oriental dancer in a sensuous, rather candid pose is rendered in the best Art Nouveau traditions - of cold-painted bronze, enamel and glass, by the world-famous Viennese foundry of Franz Xavier Bergman. It is in excellent original condition with only some light wear, and has an original pink/white/brown round marble base. In addition to the extremely elaborated outfit and headdress of the dancer, as the part of the composition, the base is partially covered by a crumpled multicolored cold-painted bronze rug, which makes the whole sculpture even more realistic.
Art Nouveau Vienna Bronze Erotic Oriental Dancer by Franz Xavier Bergman
Franz Xaver Bergman (1861–1936) was the owner of a Viennese foundry who produced numerous patinated and cold-painted bronze - Oriental, erotic and animal figures, the latter often humanized or whimsical, humorous objects d'art. "Cold painted bronze" refers to pieces cast in Vienna and then decorated in several layers with so called dust paint; the know-how for the mix of this kind of paint has been lost. The color was not fired hence "cold painted". The painting was carried out mainly by women working at home, a typical cottage industry. Noted for his detailed and colorful work, Bergman was signing his creations with either a "B" in an urn-shaped cartouche, or "Nam Greb" - for "Bergman" in reverse. These marks were used to disguise his identity on the erotic works. This particular statuette is SIGNED WITH BOTH, "B" in an urn-shaped cartouche AND "Nam Greb".
Date of manufacture : c.1900

Period : ArtNouveau (1890 - 1914)

Country : Austria

Foundry: Signed in back "B" & Nam Greb"

Total height w/ base: 5 3/4 inches

Base' height : 1 inch

Base diameter: 2 1/4 inches

Medium : Patinated & cold-painted bronze

Inventory number : S-1900-0006